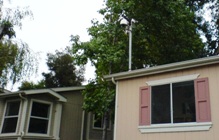 Bosch Security Systems tells Zalud's Blog it was selected by CBS Studio Center to provide video surveillance technology for the facility's security operations. CBS Studio Center is using Bosch analog cameras and IP video encoders and decoders to keep a close watch over the facility's 40 acres in Studio City, California.

More than 150 Bosch AutoDome and Dinion cameras capture video of the 18 sound stages, three permanent outdoor sets, 213 star dressing rooms and 180,000 square feet of production office space at the facility. To meet CBS Studio Center's demanding requirements for image quality, the cameras stream high resolution video to Bosch VideoJet 8008 multi-channel encoders, which convert multiple analog camera signals into digital format and transmit them across CBS Studio Center's network. At the facility's new all-digital, high-definition Broadcast Center, which houses two 5,000 square foot newsroom sound stages and 600 employees, the director of security and chief of security use PC workstations with CCTV keyboards for live viewing and to playback digital video. Bosch VIP XD decoders also send video to a monitor wall made up of 12 Bosch analog monitors in the facility's command center. Video management software was provided by Genetec, a Bosch software partner.
Video is recorded with a centralized network video recorder. The VideoJet 8008s' internal hard disks can also record video at the network's edge. This design ensures that video is not lost even if the network fails or there is downtime for scheduled maintenance. In this situation, security personnel could retrieve video recorded by the VideoJet 8008s for viewing once the network is restored. The hybrid analog and IP solution enabled CBS Studio Center to use the existing analog cameras already installed, while benefiting from the portability and flexibility of an IP recording infrastructure.
"Our security command center is a small room that was built when we had 10 cameras covering the entire property. Our facility has grown significantly and the amount of equipment and cabling has multiplied – quickly filling the command center to capacity," said Rob Haggard, security system administrator, CBS Studio Center. "With the Bosch IP-based recording system, we can have equipment located in the field and in our central MIS closets, which allows us to reclaim space for other storage." The new hybrid system also allows CBS Studio Center to add cameras more easily. Network switches and VideoJet 8008 encoders are housed in 15 locations spread throughout the facility. Cabling for new cameras now only needs to run to one of those locations, instead of the complete distance to the command center. CBS Studio Center plans to install 15 additional cameras before the end of the year.