Looking out over the Boston Inner Harbor, the 41-story skyscraper at One Post Office Square makes its mark on the city skyline. The historic building also plays a prominent role in the city's business world — the structure, which is located in Boston's financial district, is home to multiple retail tenants, a hotel, and a number of amenity spaces.
When leadership at One Post Office Square decided to renovate the over-40-year-old building to meet today's needs, they faced the dual challenge of keeping the facility open and secure, while implementing a new security design that better addressed the building's modern requirements.
Advanced Data Risk Management (ADRM), a risk management and security engineering firm based in Woburn, Massachusetts, took those challenges on. The firm performed the security design work for One Post Office Square, oversaw security construction, and currently provides ongoing managed services to the facility.
The security design firm retained services from BCM Controls and partnered extensively with the building architect and the property management team at Jones Lang LaSalle (JLL) to deliver an updated security design that was functional, on time, and addressed One Post Office Square's needs. ADRM's One Post Office Square project, which completed its first phase of construction last summer, was awarded the 2022 Elliot A. Boxerbaum Security Design Project of the Year Award by SecuritySpecifiers for excellence in security system design.
Maintaining Security During Construction
When the project began in July 2021, ADRM started with a security concept of operations, working closely with building leaders to determine exactly how the space would be used. One challenge of the One Post Office Square project was the need for uninterrupted operations and access to the facility.
While the building was under construction, offices stayed open — which meant that security needed to be seamless. "The building had to remain open during construction, so that required detailed planning on the security side. We had to keep legacy systems, such as the building's former video monitoring station, live as we worked to install the new systems," says ADRM President and CEO Dan O'Neill.
Other technologies, including the building's new access control turnstiles, required quick installation to maintain facility security during construction. The project team worked through the night to make technology changes seamless for tenants occupying One Post Office Square. "It took a lot of coordination and a lot of planning, and the team was able to make it happen," says O'Neill.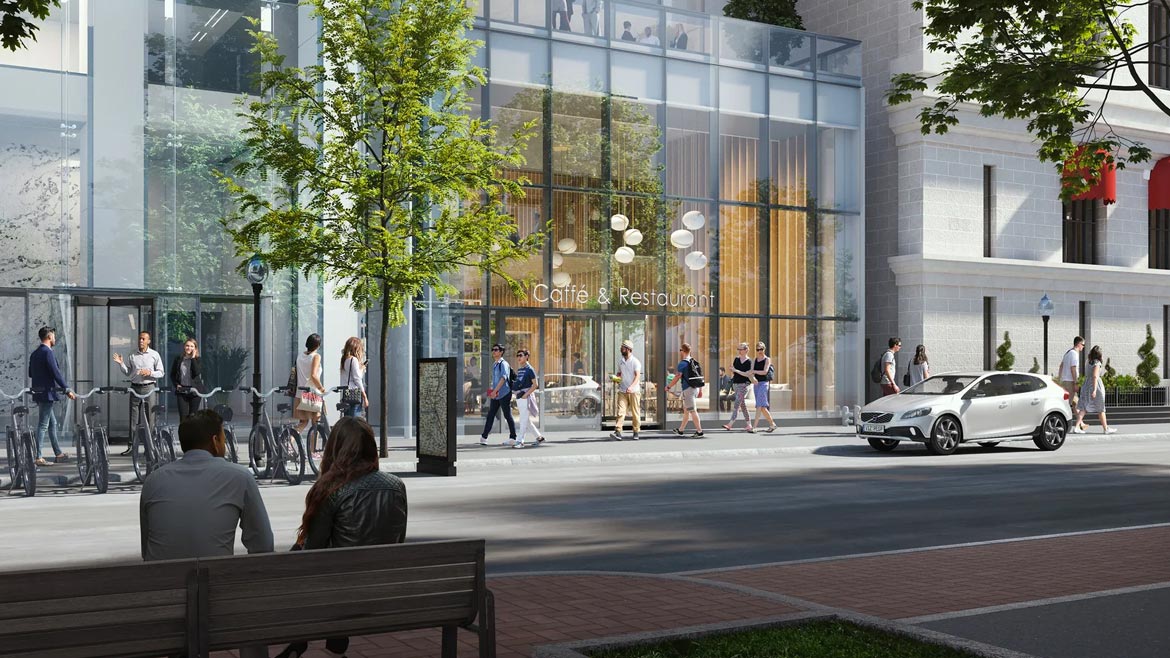 Images courtesy of One Post Office Square, LLC

Integrating Smart Building Technology
Aside from the challenge of keeping One Post Office Square open and secure during the construction process, ADRM dealt with other technological challenges head-on, including integrating a smart application for building tenants with access control measures and visitor management; securing a five-story automated parking garage; and working directly with the building's architect to incorporate surveillance cameras at in- and egress points that fit aesthetically with the renovated building's appearance.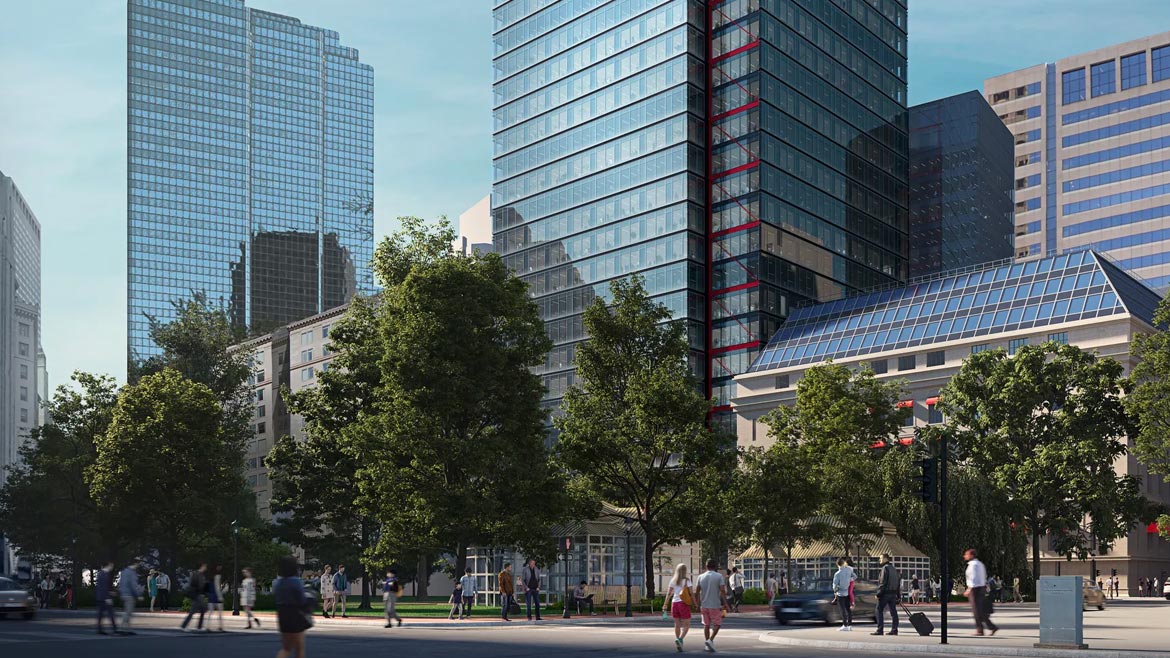 Images courtesy of One Post Office Square, LLC

With the renovation project, One Post Office Square leadership set the goal of updating the facility with smart building technology. Integrating access control and visitor management was a central part of the smart transformation. ADRM worked to incorporate an external smart building app into One Post Office Square's security design to enable QR codes and Bluetooth credentials, allowing building tenants and their visitors to use mobile credentials to access relevant workspaces and amenities. "We spent a lot of time talking about how that would all work — how to issue Bluetooth credentials, how it would appear on tenants' phones — and then we also talked a lot about how tenants would coordinate visitors," O'Neill says.
During and after the building's construction, visitor management has remained a top priority for One Post Office Square, as different tenants require various levels of access for their employees and visitors. The ADRM team had to identify and answer a number of questions relating to the smart system: "What will the QR codes look like? How will they be issued? How can we keep them secure? How will this work with our turnstiles?" says O'Neill. "We knew that visitor management was going to be a real challenge, so we set up weekly meetings across the life of the project to make sure we accomplished everything that had to be done."
That level of collaboration has been a recurring theme throughout the One Post Office Square security design project. "ADRM was great to work with," says Kristen Faia, Senior Vice President and Group Manager for property management firm JLL. "There was a lot of coordination throughout this project, specifically with the visitor management system, mobile device access credentials and exterior post-mounted cameras," she says.
Installing security cameras to monitor the facility presented an interesting design challenge for ADRM. In addition to working with the systems integrator and property management teams, ADRM collaborated with the building's architect to design security measures that fit the aesthetic of the skyscraper. The building's renovation, which included a curtain wall, left no space for security cameras mounted on the skyscraper itself. In response to this design requirement, ADRM had special camera pedestals manufactured and fitted with surveillance cameras that maintain a ground-level view of One Post Office Square's environment. "We worked closely with the architect to make sure that the pedestals matched the building," says O'Neill. "With this design, we met the aesthetic needs as well as the security needs."
Providing Managed Security System Services
Being responsible for construction and providing ongoing managed services made all the difference throughout the security design process, according to O'Neill. "When you know that your end goal is to manage the security systems, it makes us better assessors and designers on every project — because we really know each detail of what it takes to run and maintain the security systems when they are turned over to the client."
And after the security design and first construction phase were completed at One Post Office Square, ADRM initiated managed services, using a ticketing system to maintain security systems, address errors, and patch software as necessary. ADRM wrote safety and training policies for security staff at the building's front desk and trained building staff on how to use the access control and visitor management systems they installed to ensure that One Post Office Square had everything it needed once construction was complete.
O'Neill noted that integrating managed services into the project both during and after the construction phase was paramount to maintaining a proactive security posture at One Post Office Square. "There's oftentimes a real gap when you turn over a system to clients because if they're not ready to maintain security systems, those systems can become out of date relatively quickly," he says. "Managing those updates is a win for us because we're providing a high-quality recurring service. It's a win for the client because they know that their system has been well-maintained, updated and professionally managed. And it's a big win for the integrator too, because we are staying ahead of major issues and coordinating services in a professional manner."
The managed services structure has helped reduce risk at One Post Office Square, says Faia. "Having ADRM provide managed services ensures that our systems stay up in running in a proactive manner. They are constantly monitoring the health of the systems and they address issues early, so we are not waiting for things to break," she says. "We like having moved away from a break-fix model. This increases security and reduces risk at our facility."
O'Neill, who personally knew and professionally competed with Elliot Boxerbaum for many years during their security design careers, emphasized the importance of the former security consultant's legacy on this award. "He was an icon of the industry and somebody that helped a lot of companies out, including my own," O'Neill says. He says that Boxerbaum's legacy highlights some of the strengths that make a security design successful. "It's an honor to win an award named after Elliot. He was a great man, and it's tremendous that this award is keeping his legacy at the forefront of security design excellence."