Mayo Clinic reaches far beyond its first location in Rochester, Minnesota, treating and accommodating approximately 3 million patients and visitors each year at medical campuses in Wisconsin, Arizona, Florida, England and Abu Dhabi.
Because of the diversity of the patients and communities the organization serves, executive leadership believes in reflecting that diversity, equity and inclusion (DEI) within the employee population as well. This commitment to diversity is woven into the fabric of Mayo Clinic and, over the years, the organization has invested hundreds of millions of dollars into these initiatives, including recruitment, talent development processes, supplier programs and best practices, and has been recognized as a DiversityInc Top Hospital and Health System annually since 2011.
Matt Horace, Chief Security Officer, Global Security — along with the rest of the security team — treats DEI as a business imperative where a culture of allyship, sponsorship and mentorship is intentional. Horace says the team celebrates individuals and looks at an entire person, including background, experiences and skillsets for hiring, promotion and retention.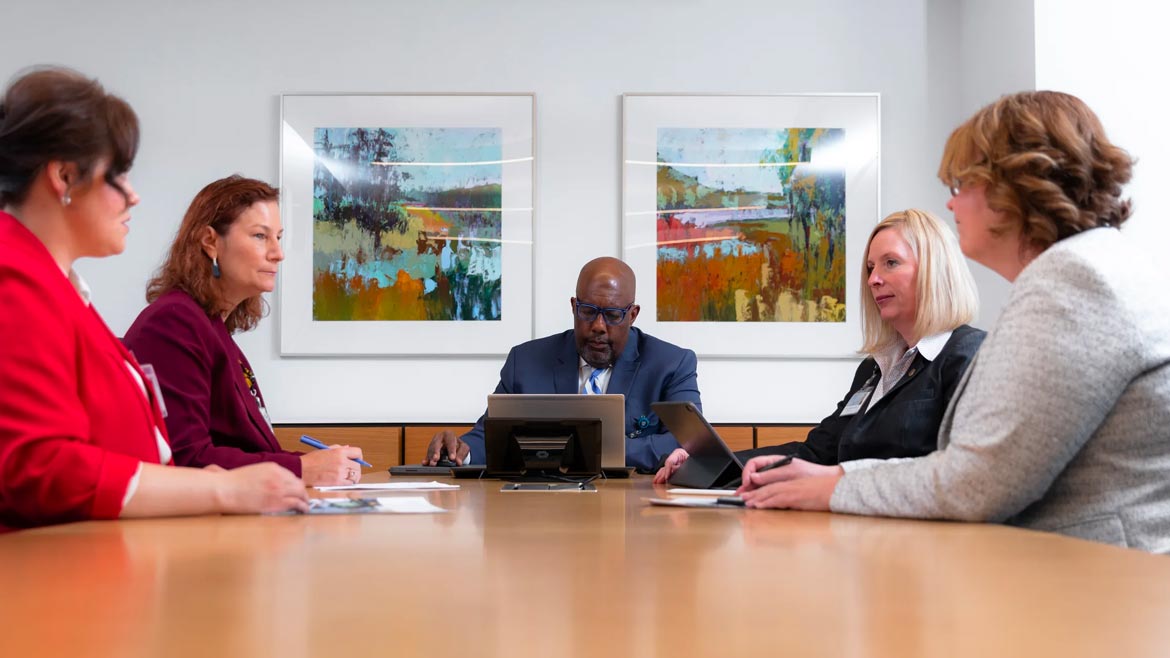 Mayo Clinic's Global Security team, led by CSO Matt Horace (center) and a team of diverse security practitioners with unique backgrounds and skillsets, focuses on collaboration, information sharing and mentorship.
The focus on DEI is inextricable from the Global Security team's focus on collaboration, openness and support. Together, this culture and these initiatives naturally allow the Global Security team to remain agile and forward-thinking when it comes to security.
"When you are unafraid to talk about diversity, and when you make diversity important and intentional, you get your strongest ideas and your strongest outcomes as an organization," Horace says. "It's important to take steps to ensure you are providing a pipeline for future leaders and succession plans for staff at every level in underrepresented groups and, in the end, everyone benefits."
Surrounding Horace are a number of senior leaders, each bringing their own unique stories to the security function to protect Mayo Clinic's several hundred buildings and more than 73,000 employees across the enterprise. Separately, they are strong security leaders with varying backgrounds and skillsets. Together they are Mayo Clinic's Global Security, working to maintain a proactive security posture.
Let's take a look at four of these senior security leaders — each one of them being the first female to serve in their respective role at the organization — and how their individual journeys help Global Security in its mission each and every day.
"I am extremely fortunate to have a staff of professionals who have bought into the idea that DEI is a critical business imperative," Horace says. "Because we have that commitment, behind every one of these phenomenal women leaders is someone who has served as an ally or advocate for them, pushing for their success."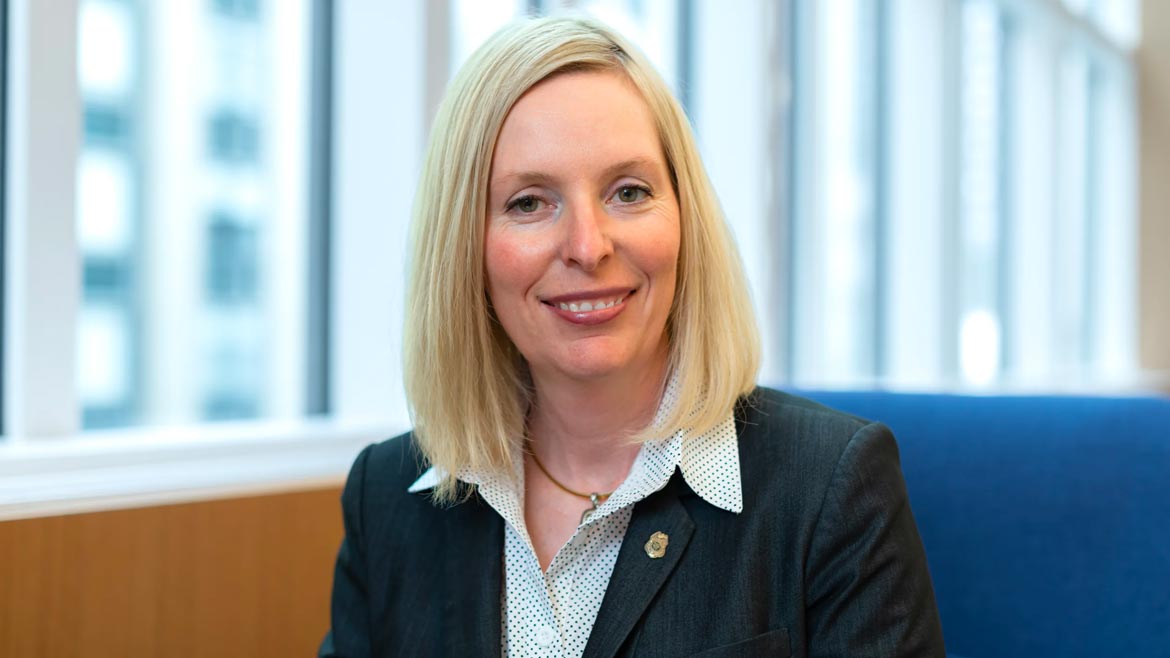 MISSIE ZWIEFELHOFER
Senior Manager, Global Security, Rochester
Mayo Clinic
At Mayo Clinic's flagship campus in Minnesota, Missie Zwiefelhofer, CPP, Senior Manager for the Global Security operations team in Rochester, leads close to 200 security officers, security ambassadors and hospital resource officers in their efforts to secure and support employees, visitors, patients and assets.
For Zwiefelhofer, who loves frontline security work and helping others, the transition to taking on a senior leadership role in December 2021 was a tough pivot point in the beginning. "There is certainly less frontline work, but as one of my mentors said to me, 'Missie, would you rather help one person or train 20 other people to do that and be so much more effective?'" Zwiefelhofer recounts. "This work is so fulfilling to me, and it has become even more fulfilling to watch others become passionate about our work and make a difference."
All of the senior security leaders within Mayo Clinic were chosen for their distinct character traits, backgrounds and experiences, and Zwiefelhofer is no different. Zwiefelhofer spent more than 18 years in law enforcement, with two hiatuses to raise her sons. "I always tried to balance and prioritize family first, work second. It's not the popular choice and it's really hard to make those kinds of decisions, especially when you enjoy what you do — but I think it's important to talk about," she says.
When a law enforcement colleague told Zwiefelhofer to consider coming to work at Mayo Clinic in 2016, the healthcare environment wasn't what she expected. "The healthcare security function is so much more than locking doors and patrolling, and I was immediately impressed with how our mission of providing world-class healthcare is so intertwined with our role in security," she says. "There is so much teamwork, collaboration and respect. It was everything I wanted in a job to be able to make such a difference."
During those first few years, Zwiefelhofer used her natural curiosity and passion for the job to ask questions and suggest operational improvements. "I volunteered to take on extra roles, and it was wonderful because management encouraged me — that made me want to work harder, challenge myself and keep moving," she says.
Over time, Zwiefelhofer became very interested in threat assessments, proactive threat mitigation, and how security could ensure safe outcomes from incidents. With support from her mentors and management, Zwiefelhofer began to pursue a Certified Threat Manager certificate through the Association of Threat Assessment Professionals (ATAP). With only about 130 certified threat managers worldwide, the certification process is difficult to obtain. She earned her certification in January 2020 and is currently pursuing recertification.
Since then, Zwiefelhofer's studies, passion for assessing and mitigating threats as early as possible, and her certification have helped change how Mayo Clinic looks at, responds to and mitigates risk.
"The message I have brought back to the organization is to work harder, work faster and get in front of a situation — that's how we protect our people," she says. "My number one focus is shifting our team to early identification of any issue. Detect, deter, prevent and respond if necessary, but prevention and detection are the focus."
Since obtaining her ATAP threat manager certification, Zwiefelhofer has implemented new threat assessment processes and procedures and focused on collaboration, hiring and training to proactively mitigate risk within the Rochester campus and the entire organization.
Zwiefelhofer says she is encouraged by the support and cooperation within the Global Security team. "I feel valued and encouraged to better myself and to find my niche, my specialty, while contributing to the greater security of our organization," she says. "I have had more freedom to impact, influence and ensure safety and security here than I did in law enforcement, and I think I have done more good and helped more people."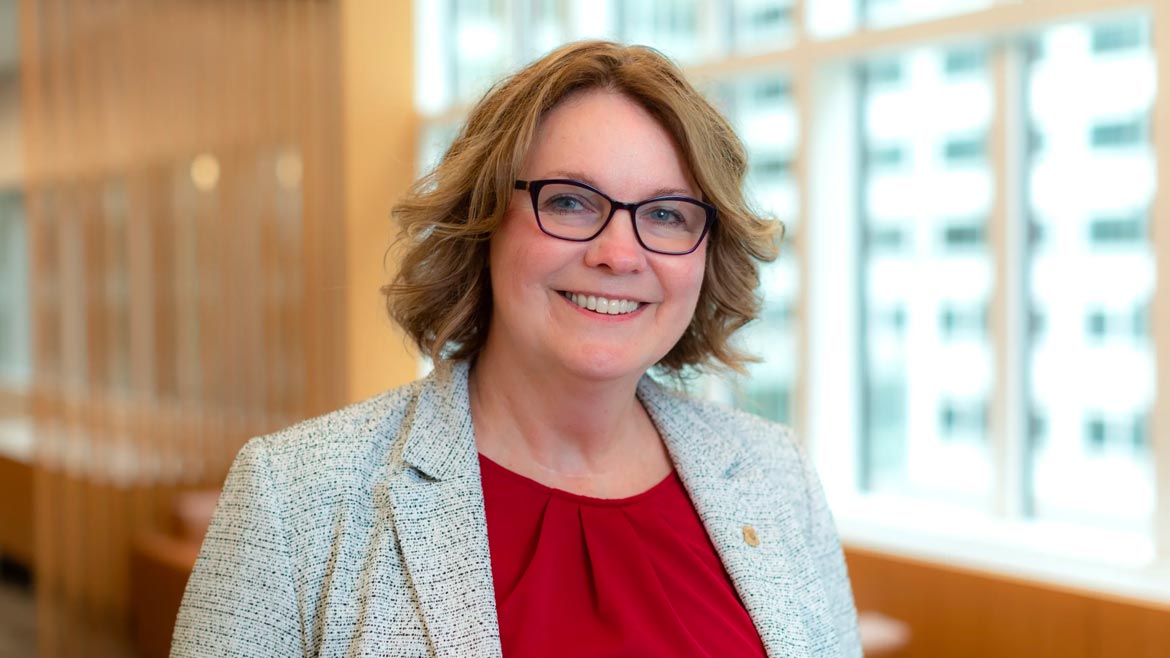 ANNE VERBSKY
Manager, Global Security, Northwest Wisconsin Region
Mayo Clinic
Anne Verbsky also has a natural inclination to help people, but she originally got into law enforcement because she didn't want to sit at a desk all day. "I have a degree in accounting, and I realized once I started working that it wasn't for me," she says.
Verbsky joined the Chippewa County Sheriff's office, where she spent more than 20 years in a number of roles, including jail administration. As she was nearing retirement from the force, Verbsky wasn't ready to get out of the business of helping people.
Her friend and former colleague Missie Zwiefelhofer encouraged Verbsky to become a part of Mayo Clinic's Global Security family. "I still have that passion and interest in helping people and I knew how much [Missie] enjoyed her work here. It felt like a good move," she says.
She came on board as a Supervisor for the Northwest Wisconsin region in 2019, and in 2021, she took over as Manager for the region, which encompasses five hospitals and a number of clinics. For Verbsky, her time as a supervisor allowed her to transition into the private sector and understand how security fit into the healthcare environment. "Security is the biggest partner with healthcare, allowing our team members to provide that world-class healthcare that they do in a safe environment," she says.
Keeping Mayo Clinic's Northwest Wisconsin region safe entails using technology, people, processes and training, according to Verbsky — and that technology piece is one of her focuses and a critical tool to optimize security operations and improve intelligence and visibility.
The Eau Claire Wisconsin hospital within Verbsky's region was the first Mayo Clinic hospital to implement a passive weapons detection system. In addition, Northwest Wisconsin was one of the first regions to phase out its local security operations center and become part of a centralized global security operations center (GSOC) in Minnesota.
"The GSOC is a fantastic resource for us," she says. "Centralizing our communications empowers us to focus on uniform response, intelligence and groundwork." Eventually, after sharing knowledge, insights and best practices into the Wisconsin region's use of technology and operational efficiencies gained from centralized communication, Verbsky says, the Global Security team aims to bring more locations into its GSOC.
Aside from technology, Verbsky is also highly focused on training for security and non-security staff, utilizing a number of tools available to all regions, including Verbal Judo, AVADE and Suspicious Indicators Recognition & Assessment (SIRA) training.
For nursing, scheduling, registration staff and others, Verbsky says teaching verbal de-escalation skills is imperative. "We are always thinking about how we can help improve our employees' situations and proactively help keep them safe. Training is one of the biggest pieces to that," she says. "For example, verbal de-escalation is something you can teach everyone. Helping them recognize those skills — many of which they may already have — and empowering them to implement [those tools] has never been more important."
Another imperative to push Global Security into the future and allow the team to remain agile in an ever-evolving threat landscape, according to Verbsky, is support. "I am so lucky to work in a place with such supportive leadership and great teamwork," Verbsky says. "When leadership really wants you to succeed and focuses not on gender, race or orientation, but whether they have the right person for the job — that's refreshing, and it propels us to continue the important work we all do together."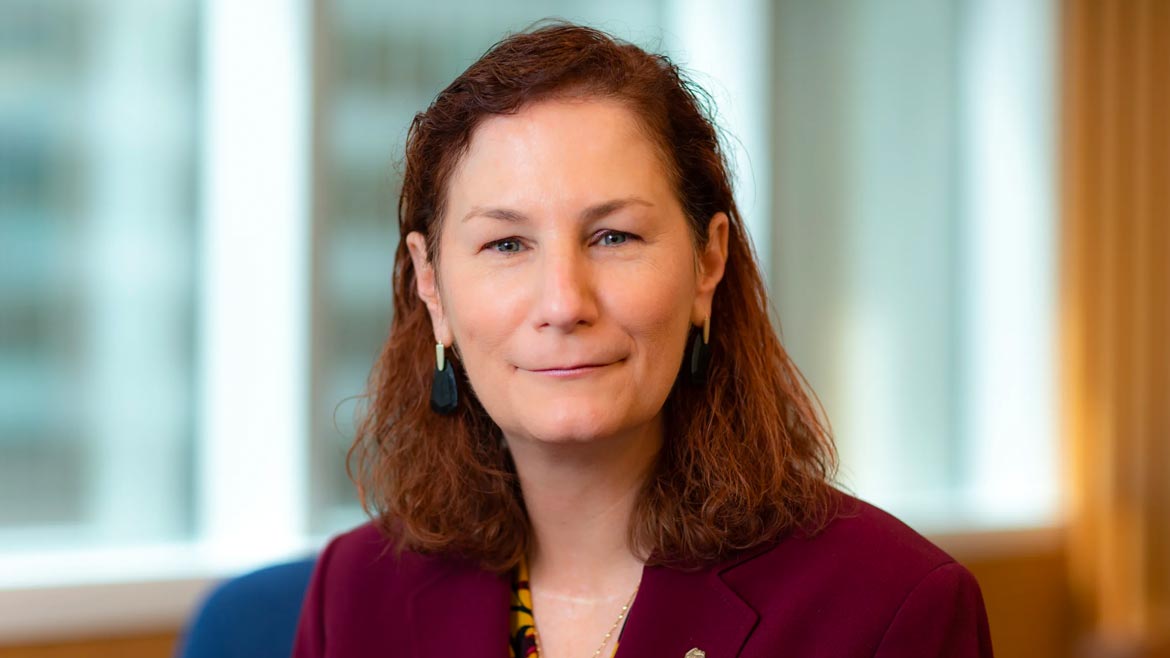 LORRI HALL
Senior Manager, Global Security, Florida
Mayo Clinic
At Mayo Clinic's Florida campus — which is divided into several different locations — Lorri Hall, Senior Manager for the Global Security operations teams in the state, has internalized the belief that each individual needs to be celebrated, mentored, supported and encouraged to think differently. "That's perhaps one of my biggest takeaways from my time here [thus far]," Hall says. "You have to understand the person and listen to new ideas. That's how we can evolve as a security function."
In addition to embodying Global Security's belief that furthering DEI works as a business enabler, Hall also believes in the strong collaboration and support senior security leaders across campuses and the enterprise engage in. "In my role overseeing the security department in Florida, it's a role where you have to collaborate with everybody on this campus, but also with the enterprise security team. It's that teamwork that really pushes us forward in my opinion," she says.
When Hall came on board as a security supervisor in 2014 after retiring from a 28-year career at the Jacksonville Sheriff's office, she brought her unique skills and background in investigating pharmaceutical diversion cases. Her expertise working with other agencies, hospitals, pharmacies and doctors during her law enforcement tenure eventually led her to work with Florida's state government and state-wide prosecutors on the "Pill Mill task force" formed to focus on changing the laws surrounding drug diversion crimes.
"At the time, Florida was the number one state for prescribing illegal pharmaceuticals. To be able to testify in front of the Florida House and Senate and influence laws in that area was certainly one of the coolest parts of my career," Hall says.
Upon retirement, Hall was courted to join the University of Florida Health Jacksonville as a drug diversion specialist, where she spent a little over a year. From there, a former colleague, who was then at Mayo Clinic, asked Hall to come on board. "Your path is never your own, and I think sometimes opportunities are put into your life for many different reasons. I've been here ever since," Hall says.
Last year when Hall was promoted to her current role of Senior Manager overseeing Florida's security operations, she made a conscious decision to focus on mentoring and coaching not only security staff, but also other employees. "I collaborate with so many groups and units both inside and outside of security, and I get the most pleasure from being able to teach what I know," she says. "Everybody has a role here and it takes every one to keep us safe."
This notion became even more clear during the height of the COVID-19 pandemic, Hall says. To focus on proactive response and violence mitigation, the Global Security team expanded its reach of de-escalation and response training outside of the security department. "Training is a great tool to give everyone," Hall says.
As part of the enterprise security risk management team within Global Security, Hall helps provide direction and support on high-level risks and threats and works with her colleagues on strategic planning for continued agility and evolution of the program into the future.
Though she no longer focuses solely on drug diversion programs and investigations, Hall still remains a part of the collaborative drug diversion team when needed, lending a helping hand, sharing best practices and supporting the program in any way she can. "We all bring different skills to the table and, from an enterprise standpoint, that's where you really see the benefit because it pushes you to learn to grow and to open your mind," she says. "Security truly takes a village, and it all goes back to teamwork."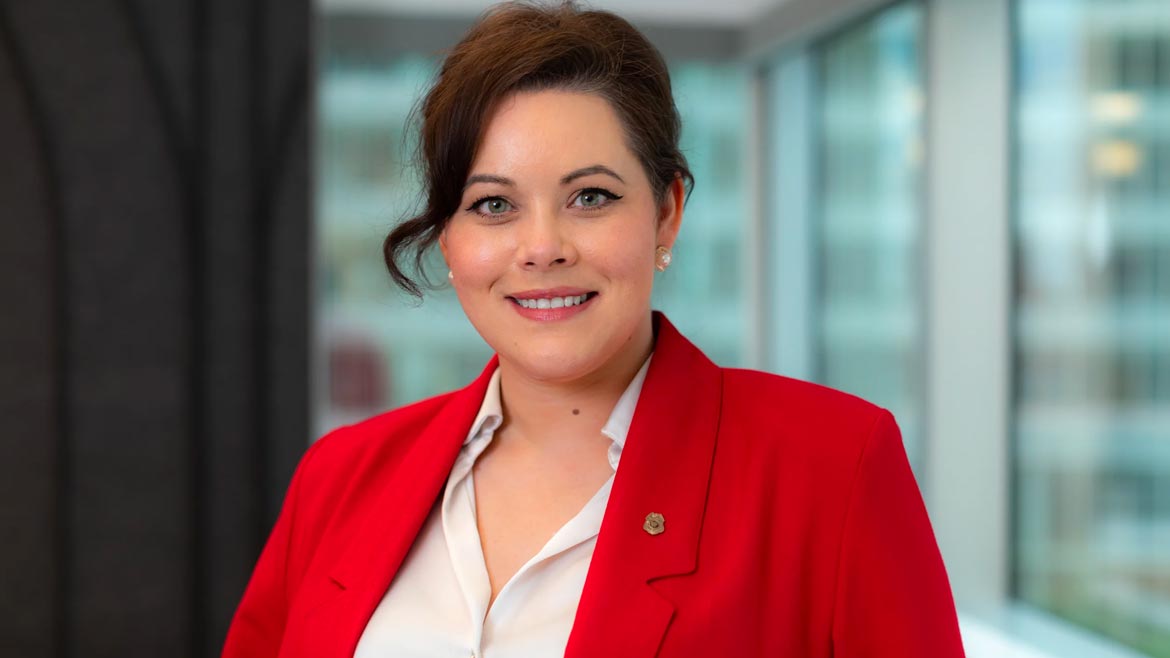 KASSANDRA GARCIA
Industrial Security Specialist and Facility Security Officer
Mayo Clinic
Teamwork is one of the aspects of the Mayo Clinic Global Security culture that Kassandra Garcia, Industrial Security Specialist and Facility Security Officer (FSO), also believes is essential to meet the organization's goal of providing a "Gold Standard" security posture — and she enjoys working behind the scenes to make that happen.
"Enabling and empowering teams is about respect, support and trust, and those all feed into teamwork," Garcia says.
In her position, which she's held since 2019, Garcia oversees the Facility Security Clearance program and assists employees in maintaining personnel security clearances. She facilitates enterprise-wide sponsorship research efforts by acting as a resource for all security-related issues. She tracks government security policy changes and develops internal practices and policies to maintain compliance. She strategizes with other senior security leaders on safeguarding facilities and locations, supporting traveling employees, and training staff members.
"I enjoy doing the jobs nobody wants to do," she jokes, "keeping track of policies, new clauses, requirements and equipment. It's my passion. Supporting everyone on the frontlines is critical to helping security be successful and provide protection."
The breadth of Garcia's role requires her to build and maintain strong working relationships with external security stakeholders — such as public and private agencies, professional societies, and sponsor security counterparts — as well as across institutional teams, such as HR, personnel, supply chain, travel security, physical, cyber, and more.
"Mayo is trying to take challenges and risk head on and craft strategies and solutions that solve issues proactively," she says. "It's my job to figure out solutions, share ideas and filter information to help them all do their jobs."
Garcia brings varied, sought-after knowledge to her position at Mayo Clinic, which enables her to provide insight across her wide-reaching responsibilities. She began her career in the U.S. Navy within IT security. Later, Garcia embarked on multiple deployments to Afghanistan as a contractor, expanding her resume to communications security and personnel and physical security supporting special operations.
"I added all of these multifaceted areas of security to my skillset over time that have really afforded me specialty qualifications that not everyone has," she says.
After working in risk and security-related roles at both NASA and Sierra Nevada Corporation, Garcia found herself at Northrop Grumman Autonomous Systems as a Communications Security (COMSEC) Manager. There, she administered the COMSEC program for eight aviation platforms, served as the primary international liaison, and administered employee training, indoctrinations and debriefings.
"It was an amazing experience, and I've been able to bring most of those skills and external best practices from other industries and experiences into my current position and to our current security posture, supporting Matt [Horace], Missie [Zwiefelhofer], Anne [Verbsky] and Lori [Hall]," she says.
Garcia is passionate about executive leadership and Global Security's intentional focus on DEI as part of the company culture, and she says it's particularly important for veterans such as herself that have a variety of expertise and experiences but lack college degrees or formal educations.
"By looking at the whole person, I believe it allows us to see that versatility. Real-world skills are not only an asset to a team, but an asset toward resiliency," she says. "By looking at people outside of a traditional industry or without a certain certification, you can look for those well-rounded individuals that will help an organization move faster, craft solutions faster and create better solutions. That's how organizations can push forward, and that's what Matt and Mayo are doing. I really believe in that."