You may already be familiar with the term "PropTech," short for property technology. Wikipedia defines it as "The application of information technology and platform economics to real estate markets."
What does this have to do with smart buildings? A lot, it turns out, particularly as the hybrid work concept grows in popularity.
PropTech  is high on the desirable list for many companies, possibly including yours. But it hasn't previously been on the radar of most security systems integrators. That will change, according to Steve Van Till, CEO of Brivo, who was speaking to a very interested audience at the recent PSA TEC conference, held in May in Denver. 
"PropTech is about using access control for things that are totally outside of security," he said. "Ever since I came into the industry 20 years ago we always want to add more value to the businesses our customers are running."
PropTech is a logical way to do that, he said. 
Kerstin Demko, vice president of marketing at Brivo, added her thoughts about PropTech in a recent SDM-sponsored webinar, "PropTech and the Future of the Hybrid Work Model."
"Physical security and PropTech are very much intertwined, she said. "As the use of software is accelerating in the market, we see physical security as part of this transformation."
 PropTech also goes hand-in-hand with another big buzzword: digital transformation. 
Smart building trends that help companies understand what is happening in the space, and the rising app economy round out some of the reasons PropTech is going to be more of a conversation from the security side going forward, Demko said.
"Real estate is the largest asset class in the world — it is a big deal. There is a lot of money in the property and real estate market. The impact of digital technology on real estate can't be underestimated. Physical security is part of the smart real estate trend we are seeing in the PropTech market."
One major driver of all of this is the push for hybrid work environments, which are bringing up different needs and conversations. 
"Hybrid work is changing workspaces," Demko said. "Integrations are very important to building that full tech stack." 
These can include anything from presenting ways to make the workplace more attractive in a tight labor market; to increasing cybersecurity; to offering hoteling and analyses of how spaces are being utilized; to simply knowing what a previously remote worker looks like.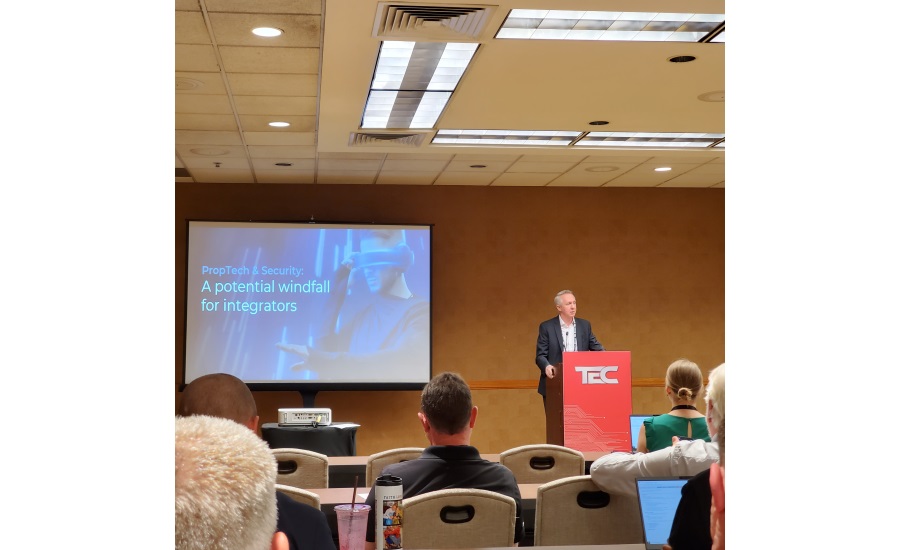 "When we went remote we did what needed to survive," said  Ainsley Close, President of Seattle-based Guardian Security Systems Inc., co-presenter of the webinar. "When people started to think this is ongoing and we have to manage our businesses, that is when red flags came up. 'That person left, and did we get their credentials? What does the new person even look like? We need to shift to a system that is going to protect us against threats and also bring us to next phase.'" 
A key component of that is cloud-based solutions, along with more integrations, Demko added. "We see organizations adding [security-related] technology like visitor management and biometrics, but also other things such as hot desking or room reservations. This underscores that PropTech and access control are increasingly sharing the same platform. We are seeing that tenant experience, that building management experience included in some of these integration needs."
That just make sense, according to Van Till. "When we think connected buildings, we think smart buildings," he said in his presentation. "Others think of connecting to a portfolio. The experiential applications are the part of PropTech people are paying the most attention to."
Yet buildings in general are one of the least digitized things people experience today. "There is an app for my washing machine and my car," Van Till said. "My building doesn't have an app."
Access control in particular has the potential to fit into this arena, collecting hundreds if not thousands of points of data every day that can be repurposed into a PropTech environment, which is more about productivity and happiness.
"When people look at security and where it fits, it is just a small part of it," Van Till said. "But we can grow that circle. … If a product is only seen by 10 people and not every day it is not top of mind. Access control is used every day."
Click here to view the webinar.