The world has been living through a period of intense uncertainty since March — struggling with an unprecedented pandemic and the economic distress it has caused. To provide some clarity on the issues facing American businesses, Kastle Systems has been studying keycard, fob and KastlePresence app access data from the 3,600 buildings and 41,000 businesses we secure across 47 states. The company is analyzing the anonymized data to identify trends in how Americans are returning to the office and updates the findings each week.
In this week of February, half of the cities measured experienced drops in building occupancy rates last week, bringing the 10-city national average slightly down to 23.8%, a 0.3% decline from the week before. Philadelphia experienced the greatest drop in occupancy, falling 2.8% to 23.6% — just below the national average.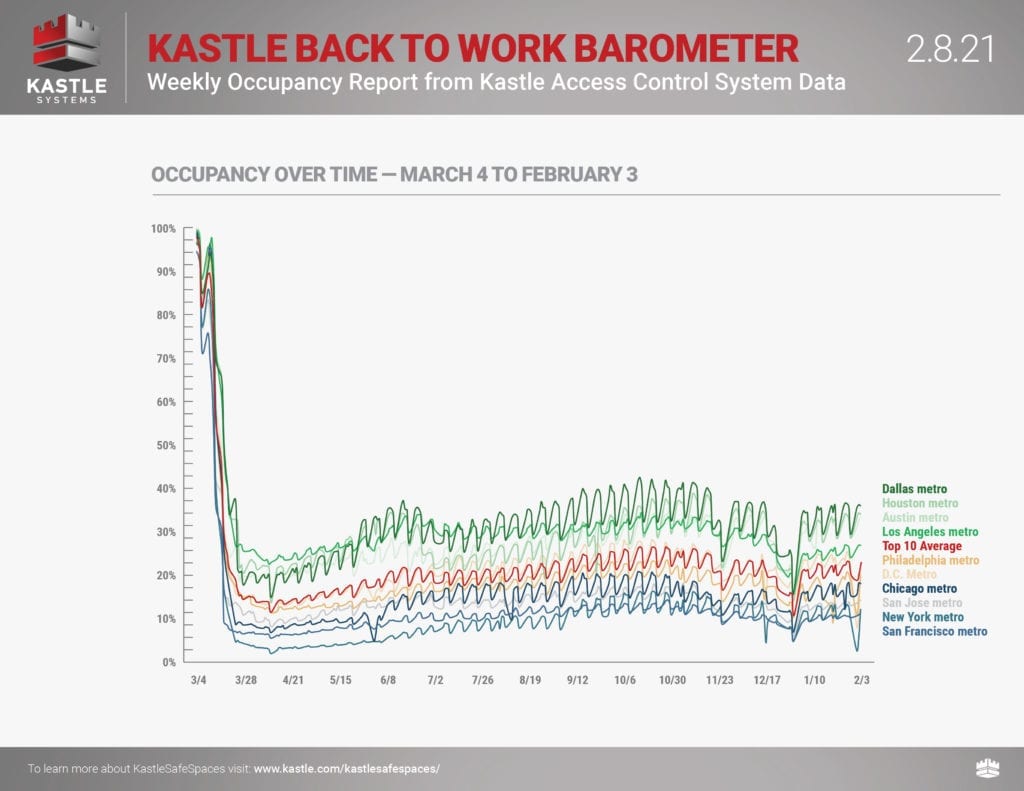 Dallas maintained its status as the most open city on the Barometer, despite seeing occupancy rates drop 0.5% last week to 36.8%. Meanwhile, the least open city on the Barometer, San Francisco, experienced an uptick in occupancy, increasing 0.8% to 12.5%. 
Kastle's reach of buildings, businesses and cardholders secured generates millions of access events daily as users enter office complexes, and individual company workspaces. Charted percentages are based on daily unique authorized user entries for Wednesdays in each market relative to a pre-COVID baseline.