A new Axios/Ipsos Coronavirus Index finds an increased in social & professional distance, along with climbing mental and emotional stress, with coronavirus.
More than half of Americans, or about 175 million people, say they are self-quarantining as in-person social contact continues to dwindle.
In-person social contact continues to decline with only 13% reporting 'going out to eat' (down from 25% last week and 56% two weeks ago) or 23% visiting friends or relatives (down from 32% and 48% two weeks ago).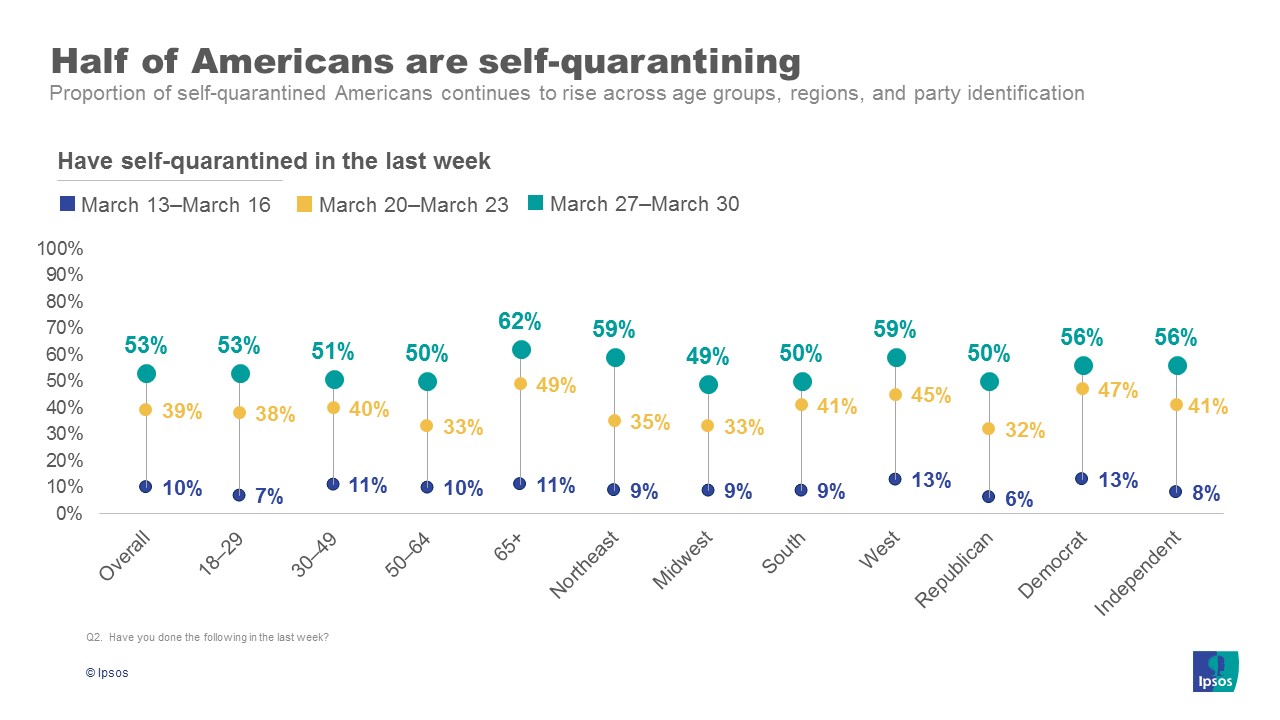 2. The sudden shift to the American workforce appears to be, at the moment, stabilized, the poll says.
From last week, roughly equivalent numbers reporting being told to work from home (42% vs 40% last week), their employer shutting down (16% vs 18% last week), or being furloughed (20% vs 22% last week).
9% of (formerly) employed respondents report being laid off.
Likewise, the number who report their employers shutting down has almost doubled (to 16% from 10%) as has the number being furloughed or otherwise told not to work (to 20% from 10%).
3. According to poll results, Americans appear to be adapting to the new normal of the coronavirus pandemic with stability on mental health and work efficiency measures.
Slightly fewer Americans report worsening mental health compared to last week (30% worse vs 35% last week) and emotional well-being (37% from 43% last week), while worsening physical health has remained stable (at 14%).
Among working adults, about the same number report worsened ability to do their jobs compared to last week (43% vs 44%).
The worst of supply chain shocks appear to be last week as the number attempting, but failing to buy basic foods (at 18% from 23% last week) or toilet paper (at 34% from 37% last week) has stabilized.