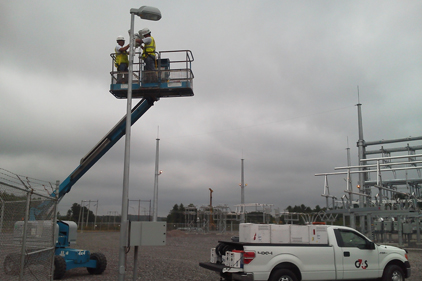 IMAGE COURTESY OF G4S TECHNOLOGY
G4S Technology was selected by Iberdrola USA (IUSA) to help upgrade existing access control systems (ACS) and closed circuit television (CCTV) systems. IUSA, a subsidiary of global energy company Iberdrola S.A., wanted to create a single, centrally monitored and administered electronic ACS and video management system (VMS) across its New York and Maine territories. In addition, Iberdrola S.A. has a long-term security plan to develop a global standards-based platform for ACS and other security platforms including CCTV and intrusion detection.
Facilities that received upgrades included electrical substations, hydroelectric stations, and service centers. The project required the replacement of access control panels at the IUSA facilities, replacement of existing cameras with thermal cameras, replacement of existing ACS systems with AMAG Symmetry, replacement of existing analytics and VMS, and an upgrade of the security operations center (SOC), new security equipment racks, integration, installation, and project management.  By the end of the project, G4S Technology not only had assisted IUSA with security upgrades, but actually assisted the energy company with creating standards for the utility and energy industry.
"Through our value-added engineering, G4S Technology LLC was able to provide Iberdrola USA with a comprehensive analytic solution and an enhanced thermal design that will help serve their needs both today and for many years to come," said Sam Belbina, president of G4S Technology. "We are honored to be working with this prestigious energy company, and to help them realize their goals."
"G4S Technology was selected after a thorough proposal and evaluation process," said Dave Lathrop, manager – Security Technical Services. "We were very impressed with their response to our request for proposal. Their experience was noted as they provided significant value engineering to the design."
The result of the Iberdrola USA/G4S Technology partnership was a new gold standard solution that met and exceeded government mandates. By thinking beyond the obvious, G4S Technology was able to not only help this customer secure its facilities, but also assisted them in establishing themselves as a security front-runner in the energy industry, commented G4S Technology.