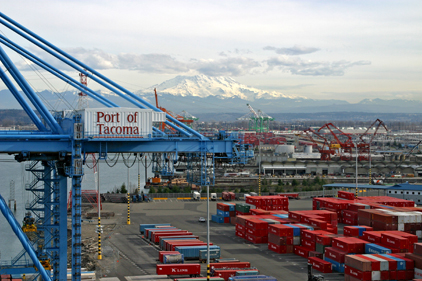 The Port of Tacoma works proactively with federal, state and local officials to harden the security of the facilities, an essential mission of critical infrastructure. Photo courtesy of G4S Technology
Known more as a logging town before the Northern Pacific Railroad entered the area, Tacoma, Washington, did not truly become a booming metropolis until a port operation was developed. "That is what's interesting about Tacoma's maritime history," says Foss Waterway Seaport's Working Waterfront Museum Curator of Collections Joseph Govednik. "In many cases, cities were built first, and ports were developed later. But in Tacoma, the port came first, and the city followed."
Today, the Port of Tacoma is a significant economic engine, where double-digit growth in both imports and exports propelled a 16 percent gain in its 2012 container volumes. Breakbulk cargo volumes ended 68 percent higher for the year. In shipping, breakbulk covers goods that must be loaded individually, and not in intermodal containers nor in bulk as with oil or grain. This year, port officials forecast 14 percent growth in container volumes, along with a seven percent boost in auto imports and moderate gains in grain and log exports.
And speaking of firsts, the port is first of all committed to protecting the safety of people and facilities, and supports programs that protect the surrounding community, too, according to Louis Cooper, the port's senior director of security, labor relations and operations.
Like any large enterprise, the Port of Tacoma's security and life safety strategies include policies, procedures, technology and officers. But, being a critical infrastructure serving an international client base with diverse goods arriving and departing by water and truck, the port's security mission also must meet maritime and Homeland Security rules and regulations, points out Cooper. He adds, "We work proactively with federal, state and local officials to harden the security of our facilities. In partnership with the Port of Seattle, we have led federal efforts to strengthen the security of the international supply chain."
The bottom line: Security procedures are designed to prevent illegal acts against facilities, personnel and vessels.
On the maritime side, the port is in compliance with all U.S. Coast Guard safety and security regulations, which are in place to protect commerce, assets and personnel. Maritime law enforcement and border control are the oldest of the Coast Guard's numerous responsibilities. They date back to its founding as the Revenue Marine in 1790. That first Congress established the Revenue Marine specifically to patrol U.S. coasts and seaports to frustrate smuggling and enforce the customs laws of the fledgling nation. More recently, the Homeland Security Act of 2002 divided the Coast Guard's numerous statutory missions between homeland security and non-homeland security. Reflecting the Coast Guard's historical role in defending the nation, the act delineated ports, waterways and coastal security as the first homeland security mission.
Numerous legislative acts and agencies aim at identifying vessel types and U.S. port facilities that pose a high risk of being involved in a transportation security incident (an incident that involves a significant loss of life, environmental damage, transportation system disruption or economic disruption) and then assess vulnerability of U.S. port facilities and vessels that may be involved in a transportation security incident. So Tacoma's security is designed to prevent illegal acts against facilities, personnel and vessels and is in compliance with all U.S. Coast Guard security regulations as well as other national and international measures, according to Thais Howard, engineer and project manager.
One essential access control program, points out Howard, is use of the Transportation Worker Identification Credential or TWIC. Entry to restricted areas of the Port of Tacoma requires a TWIC. All port employees, terminal operators, longshore workers, merchant mariners, truckers and others who require regular, unescorted access to restricted areas and vessels are required to carry a TWIC.
TWIC and upgrading of the general access control and identification systems (using an Amag Technology solution) all are evaluated with an eye to cost of ownership, according to Agnes To'o To'o, administrative specialist, security at the Port of Tacoma.
The tech source, Amag Technology, is part of G4S Technology. Early last year, G4S Technology was awarded a contract that includes engineering, project management and system configuration in the port facilities and port-operated terminals with emphasis on security systems integration services. Covered: the enhanced access control system with TWIC readers and a new video management system with video analytic capabilities.
G4S Technology, with over 20 years of experience in the protection of critical infrastructure, knew how to identify the best options for the Port of Tacoma that would not only protect them today, but would allow for future upgrades. "We wanted to be sure to identify custom solutions for Port of Tacoma that will keep them secure and also TWIC compliant," says Vince Vorster, senior manager, business development, G4S Technology. "Port of Tacoma is now up and running with greatly improved access control capabilities that include TWIC readers, wireless TWIC verification readers and a new video management system."
The port's security mission, no doubt, is massive by a number of measures. It covers about 5,000 acres with a mixture of public and private property. It handled 1.7 million TEUs (20-foot equivalent units) in 2012, marking its best year since 2008. TEUs are an industry-accepted measure of cargo capacity often used to describe the capacity of container ships and container terminals based on the volume of a 20-foot-long intermodal container, a standard-sized metal box which can be easily transferred between different modes of transportation such as ships, trains and trucks.
The port, an essential contributor for South Puget Sound, links to more than 43,000 family-wage jobs in Pierce County and 113,000 jobs across Washington State. A major gateway to Asia and Alaska, it is among the largest container ports in North America.