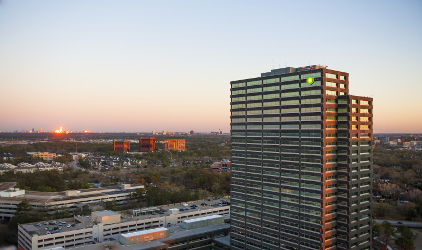 The BP America headquarters at the WestLake campus requires employees to follow basic rules for safe, responsible operation. Photo courtesy of AlliedBarton.
BP is not only a major global energy supplier; its roots run deeper in the United States than anywhere else in the world.
The company's largest American presence is located at the WestLake campus in Houston's Energy Corridor. The campus is home to the BP America headquarters, and with more than 10,000 employees and contractors onsite, safety and security are the top priorities. WestLake staff, as well as all visitors and vendors are required to be familiar with the campus safety and security procedures.Safety is one of BP's core values and the BP Code of Conduct clarifies the basic rules employees must follow, including expectations for operating safely, responsibly and reliably. BP leaders reinforce the message that it is not just 'what' you do, but 'how' you do it that is important.
Challenge
With such a large workforce on a campus with numerous high-rise buildings, multiple parking structures and ongoing redevelopment construction, incidents can happen.
"We have a very busy environment here at WestLake, and how safely we work reflects directly on organization," says Meco Choates, BP's Business Security Manager. "We are extremely safety conscious and must keep it front and center in every decision we make. To do this effectively, we have to partner with organizations that have a safety culture comparable to ours."
Choates continues, "We want to ensure each partner's program complements and aligns with BP's safety program. This alignment allows us to share best practices and create more safety awareness."
As BP WestLake's security partner, AlliedBarton Security Services often takes the lead to enforce safety measures on campus. An opportunity was identified for AlliedBarton to place an even greater focus on the power of safety.
"BP is a leader in safety, so it should be a high priority for each security team member and other individuals on campus," says Brigid Roberson, AlliedBarton's Security Account Manager. "As a security partner, we needed to create a safety program that was comparable to BP's and one that could merge with their already well-established safety culture. We also had a chance to increase the energy and emphasis for safety. This didn't mean that accidents and injuries were occurring, but that we needed to clearly make safety our number one priority at AlliedBarton, just like it is at BP."
"Safety and security work hand-in-hand," says Choates. "We never want to lose the security aspect because our workforce could be affected if we had a less than stellar security program. However, safety is just as important and if enthusiasm for a safe culture isn't present by any of our partners, then we need to quickly evaluate the situation."
Solution
Knowing that safety is a top priority, value and goal for BP, Roberson took it upon herself to increase the AlliedBarton team's awareness.
"We have 85 security officers at WestLake, and I knew I had to make our safety culture more personal and relatable to the team and a younger generation," she says.
Roberson developed the I'm a B.O.S.S. program - Big On Safety and Security.
"While the program acronym 'boss' is powerful and speaks to accountability, it also ties back to a popular song that resonated with our AlliedBarton team," she said. "No matter what kind of 'boss' they are, they are accountable – a leader – and the AlliedBarton team requires them to be safety leaders."
The security team wears 'I'm a B.O.S.S.' pins to help drive safety awareness.
"Many people will ask our security officers what kind of 'boss' they are when they see the pins on their lapels – and it inspires conversation about why or how they are 'Big On Safety and Security'," says Roberson. "Our security officers are proud of their role and excited to engage in a safety discussion. This grassroots approach helps drive attention to both AlliedBarton and BP's safety cultures."
The security team is responsible for documenting any near-miss or hazardous conditions that could cause an accident when they are patrolling the site. Yellow B.O.S.S. cards are used to report safety concerns to AlliedBarton and BP management, and can also be shared as safety tips with visitors and vendors.
"Each security officer has a keen eye for safety and security," says Roberson. "If we notice anyone - an employee, vendor, or visitor - performing an unsafe task, we ask them to stop what they are doing, have a safety conversation, and assist them if necessary."
Each month, an AlliedBarton employee is honored as the Safety Ambassador for reporting the most near-miss or potential for accident B.O.S.S. cards, or for attention to detail that made the biggest impact on safety.
Result
"We have had serious situations with potentially negative outcomes," says Roberson. "But because our security officers are 'Big On Safety and Security,' accidents were prevented."
AlliedBarton has one of the longest records for zero accidents and injuries at the WestLake campus. For six years and counting, AlliedBarton has been accident free. Since the B.O.S.S. program began, security officers have increased their focus on safety.
"Before we began the program, we submitted a monthly average of five Great Catch cards – a safety-inspired BP property management program that sought to recognize personnel for speaking up to correct a hazardous situation," says Roberson. "After B.O.S.S., we turn in more than 100 submissions monthly, and are working to actively prevent injury to people."
Not only is the 'I'm a B.O.S.S.' program bringing more energy and awareness to the AlliedBarton team, but it is helping put BP's Great Catch program front and center.
"The Great Catch and B.O.S.S. programs complement each other very nicely," says Choates. "We have the safety and security elements working together in each program. They are both important to our business and an integral part of BP's safety culture."