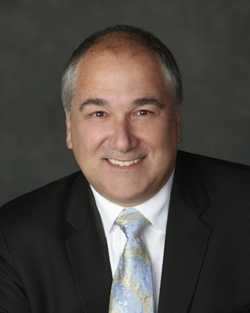 The West Edmonton Mall receives "strong support from our tenants" when it comes to security, says Joseph Schuldhaus, vice president of information technology for Triple Five Group of Companies, the shopping mall owner and operator. Photo courtesy of West Edmonton Mall
With malls turning into today's town squares, complete with a community full of strollers, bands and holiday decorations, it's not a place where hazards should intrude.
So, while incidents are rare, mall owners and managers, working with their tenant and local law enforcement partners, have increased prevention measures and hardened protection at these new-age town squares while constantly educating staff and retailers on their essential roles in the event of an emergency.
Take, for example, the West Edmonton Mall, the pride of Edmonton, Alberta, in Canada, and, forgive us Texas, where large looms very large indeed. The mall boasts the world's largest indoor amusement park, largest indoor lake and largest parking lot, among many feats.
It's monthly lock-down drills also loom large as part of the mall's security and safety commitment aimed at providing a trusting, comfortable shopping, entertainment and dining experience.
It's also an indication of the "strong support we receive from our tenants," says Joseph Schuldhaus, vice president of information technology for Triple Five Group of Companies, the shopping mall owner and operator, which is a hotel operator and real estate company, too. Triple Five Group also owns the Mall of America in Minneapolis-St. Paul.
Those monthly training sessions, during which tenants invite people from the common area inside and lock down their facilities until given the all-clear by mall security, are only part of a total security and safety program that includes cutting-edge technology and a deep, ongoing relationship with local law enforcement. "In fact, the Edmonton Police Service operates a community station (Summerlea) at West Edmonton Mall," adds Schuldhaus.
A total security approach matches the totally super-sized mall operation.
At 5.3 million square feet, West Edmonton Mall is home to more than 800 stores and services including ten world-class attractions, two hotels, over 100 dining venues, the widest variety of unique retailers and entertainment for all ages. Average yearly visitation is approximately 30.8 million.
Not surprisingly, "security and safety are paramount. On the physical security side, policing, monitoring and access controls" are among solutions, says Schuldhaus. The technology also "lets us use dispatch more effectively" with a security officer force that operates 24/7.
The integrated approach to IP-based security video and access control (Genetec and its unified security platform), as one example, automatically can aim a camera to an access reader area where there has been a reader alert. And security video monitors overall to alert on certain behaviors for additional investigation. "It's exception notification through smart algorithms. We also have cameras on the roof of the mall and other non-public areas to alert to any intruders there," adds the vice president of information technology.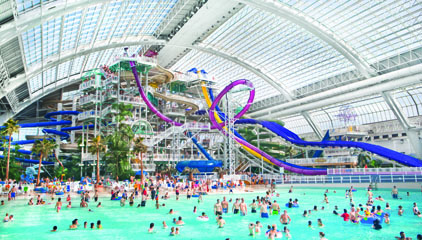 It is a big security assignment at the West Edmonton Mall, which itself boasts many "world's largest" achievements including the world's largest indoor wavepool and indoor lake. Photo courtesy of West Edmonton Mall
For potential future implementation, security and IT are exploring license plate recognition software as part of the security video system to cover the extraordinary expanse of the parking facility. "If a vehicle is abandoned, we want to know sooner," comments Schuldhaus.
The Triple Five Group executive takes pride in the ongoing productive relationship with the Edmonton Police Service. "They come to us to review our security video to help assist in crime investigations that did not originate on our property. On occasions, it has proved useful."
Training. Technology. Policies and procedures. But it is a keen focus on customer service by the mall's highly trained security officers interacting with mall visitors and tenants' staffs, who have security responsibility for their own areas, that helps set the security and safety department above and beyond. With such a sprawling and diverse property and so many visitors from out-of-town, that customer service attitude pays off in satisfaction, return visits and a healthy cash register ring, too, according to Schuldhaus.