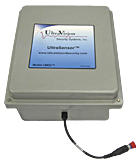 Introducing the CMD2 (Concealed Motion Detector) from UltraVision Security Systems
Finally, a highly reliable, cost effective perimeter detection sensor is a reality. Designed to be installed underground, in building sidewalls or above ceilings, the CMD2 "sees" through walls, roadbeds and obstacles to detect both motion and breathing. Because it is a concealed sensor, the CMD2 is impervious to any weather or lighting conditions. Nor can it be tampered with if intruders don't even know it's there.
Find out more at
www.ultravisionsecurity.com/
.