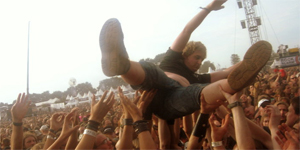 Photo courtesy of Limited Risk
An Institution of Occupational Safety and Health (IOSH) poll found more than one in ten people have been hurt at a large sporting or music event in the last five years, while a third of people have experienced a crowd surge.
One in three of the 3,000 sport and music fans polled said they had feared for their safety at a large event. Of them, half blamed overcrowding while 18 percent cited drug or alcohol misuse; 16 percent blamed rowdy crowds; and 13 percent said fighting was the main cause of their fear.
Nearly two-thirds of people who took part in the survey said they had been reassured by the presence of police officers, security officers and stewards.
The IOSH launched a new Sports Grounds and Events Group which warned that some organisers of large scale, one-off events cut corners when it comes to safety. It will campaign for formal on-site training for stewards, improved crowd management and for stadiums to offer seating rather than standing areas, which can cause more crowd problems.
Event stewards, security and blue-light services play a vital role at events, the prevention of crime, public disorder, fire and medical emergencies require an immediate and professional response. Event organisers should ask for training records, previous experience and full security management plans from any event security or crowd safety company they employ.
With numerous companies offering these services it is hard for event organisers to make an informed decision on what company best suits their event. Unfortunately in today's market a low rate card seems to outweigh quality and experience.
The way security and crowd safety personnelinteract with your customers, react to incidents and understand the need of your event will have a direct impact on the reviews you receive.

I have attended many post event de-briefs where the event has gone without a hitch, but the reaction has been "we can reduce our security spend next year".

We are currently compiling a manual on Special Event Contingency Planning, that will be made available free of charge to event organisers later this year and will form part of the free members area within our website. This free area allows event organisers to download information and document templates for areas such as Risk Assessments, H&S Policies, Event Safety Management Plans and advice on attending an ESAG "Event Safety Advisory Group."