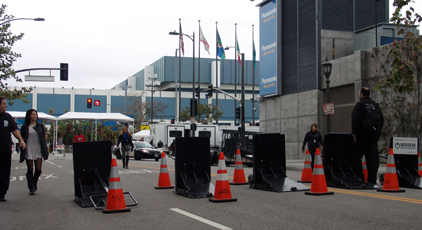 Portable barricades were used to block a main entrance to the Grammy venue without impeding pedestrian traffic. Photo courtesy of Meridian Rapid Defense Group 
Grammy weekend 2013: The city of Los Angeles was on edge. Police had LA's downtown area in a near security lockdown. As usual, nearly a thousand police were on the streets around the Grammy venue, STAPLES Center. But on this particular day, they had a more serious problem to deal with than the usual concerns about crowd control and keeping stars such Beyonce and Justin Timberlake safe.
The former Los Angeles police officer turned rogue ex-cop Christopher Dorner was still on the loose. He'd already murdered three people and would eventually kill another officer before his killing spree came to end killing himself to avoid capture in the mountains outside of LA.
Dorner had declared war on the LAPD. He was heavily armed with high-powered weapons and explosives. Even a suicide vehicle attack on a high-profile target such as the Grammys was something the LAPD could not rule out. The police, while declining to discuss specifics of their presence at the Grammys, beefed up an already tight security cordon because of the potential threat that Dorner could use the worldwide TV event for another deadly attack.
For the first time at the huge musical event, a new protection device was deployed. While traditional drop-down concrete barriers were used to block unwanted vehicle traffic entering pedestrian areas and the Grammy Red Carpet zone, the event organizers brought in ballistic-rated rapid deployment barriers to barricade a key entrance to STAPLES Center. The barriers could be quickly dropped into place by one person without the need for heavy lifting equipment.
At the Grammys, the new system was successfully used to block a main entrance street. Eight barriers, each with the capability of stopping a vehicle at top speed, were set side by side, but leaving enough room for pedestrians to move comfortably through while providing protection from vehicle traffic. In several cases where a truck or car needed to get into the secured area, one or more barriers could be quickly moved to one side and then returned, to once again secure the zone.
These systems are already being used by military and government organizations to protect ports, dams, water treatment facilities and oil and gas operations.
Four days after the Grammys, Dorner reappeared guns firing at Big Bear Township three hours drive from Los Angeles. It was to be his last stand. As it turned out police fears he might use the Grammys to stage an attack were unfounded. But no one chose to take that risk.