Industry Innovations
Enables Covert Surveillance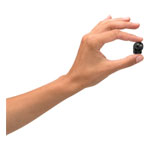 For surveillance in tight spaces or operations where discretion is key, this miniature HDTV camera consists of a small sensor unit that includes the camera head and progressive scan image sensor, which is connected up to 26 feet away from the main unit that contains the camera electronics and features. Designed for applications in retail stores, banks, ATMs, hotel lobbies and building doorways, the cameras can be powered over Ethernet or via an optional external power supply.
Find out more at www.axis.com


I want to hear from you. Tell me how we can improve.