When Daniel Casillo swam from his sinking jet ski in New York's Jamaica Bay last August, he had no idea he was going to be at the center of a huge perimeter security breach.
Casillo climbed over the 8-foot-high perimeter fence and walked across two runways to Terminal 3 of New York's John F. Kennedy International Airport, all without being noticed by the airport's state-of-the-art perimeter intrusion detection system.
Although the castaway – dripping wet and clad in a bright yellow life jacket – was not a serious threat to the airport, his arrival was enough to startle Port Authority security to step up its patrols and reevaluate the airport's perimeter security system.
But malfunctioning equipment is not the only challenge that faces facilities on the waterfront. At the Port of Virginia, security system was needed to continuously monitor the footprint of all the Port's perimeters.  The ever changing environment involving traffic, weather, access control and construction projects presented the need for a proven, reliable, smart fence monitoring system.
"We deal a lot with the footprint of the surrounding area," says Colonel Mike Brewer, Police Chief for the Virginia Port Authority. "We also have a lot of construction projects that we're not in charge of, so we have to keep changing the perimeter.
"We started out years ago with all of this technology that wouldn't integrate; what we needed were systems that conversed as the technology improves," he says.
"Now we have an overall security management system," adds David Stevenson, Project Manager at the port. "We monitor doors, cameras, fences, access control points, fire alarms, panels… They used to be disparate systems. Now we have a centralized version that's viewed through one system at the Port's Command Center."
One of the key components of the Port of Virginia's perimeter security is the fence itself – 8-feet tall, topped with barbed wire and infused with fiber optic cabling. The fence and fiber has to be adaptable to the ports ever changing environmental and traffic conditions. If there is an opening in the fence perimeter; such as entrance gates or railroad tracks, the fiber had to continue seamlessly.  
"We're a high-traffic facility," says Brewer. "The nature of our intermodal business involves trains, vessels and motor vehicles.  It is our responsibility to monitor all."
Surveillance cameras operate through the same Optellios fiber optics that follow the fence, and they are monitored closely, especially after inclement weather, to check if any portions of the fence's security have been visibly affected. 
"We have our own internal operating company that fixes those maintenance issues immediately," Brewer says. "They fill in the holes under the fence; they cut the grass, trim all foliage – everything is mitigated quickly."
"We have four maritime terminals, so we have to follow strict mandates to comply with federal maritime regulations," says Stevenson.
But ports aren't the only facilities affected by maritime problems. The New York State Bridge Authority (NYSBA) manages operations at five major bridges over the Hudson River, which together serve more than 1 million crossings every week.
In an effort to cut costs, the Authority plans to reduce physical toll operations at these bridges every evening, substituting the toll collectors with virtual versions during low-traffic periods. However, with the reduction of eyes watching the bridge, Greg Herd, Director of Information Technology for NYSBA, says the Authority needed to add virtual to physical security as well.
"Eight months ago, we had color cameras, security personnel that did the rounds and some perimeter fencing," says Herd. "But we didn't have any alarms other than on actual buildings. We looked into putting alarms on the fences, but it would have been a considerable amount of equipment, and it would have been isolated to the fence itself, meaning that someone would have had to physically touch the fence to trigger the alarm.
"We would have no knowledge of a person approaching a fence or an area," he says.
NYSBA invested in motion sensors and thermal video analytics systems from SightLogix. Herd has the option to configure alarms for certain events, such as small animals or foliage movement, while specifying what events are key.
"We're looking to detect unauthorized human access to the grounds," Herd says. "And we also check for stopped vehicles, either cars or water vehicles. We configure the sensors to ignore the moving water, as well as small floating objects on the Hudson, but watercraft trigger that alarm."
Adding more value to the system is its ability to detect stopped vehicles on the bridge itself – signaling the response team immediately to determine the reason for stopped traffic, such as a stalled vehicle or crash, and to notify the proper authorities. This function gets the bridges back up to full working capacity as soon as possible.
Similarly, at the Port of Virginia command center in Norfolk, Va., operators are using the data sent in by the smart fence system to verify and respond to all alarms.
"We've been lucky that we have not experienced any major breaches in well over 10 years," says Brewer. "Technically, the breaches we encounter are just human error."
But even a human error can still be a breach – just ask Daniel Casillo. Operators in the Port Command Center can push out information through mass notification programs to security personnel at each of the system's five facilities.
However cost is another strong factor in the adopting of this new technology in Virginia.
"We're like everybody else – we have to do more with less," says Brewer. "We're truly using technology to reduce manpower and man hours by verifying every alarm in our command center. We don't have to walk the fence line, but that doesn't mean we aren't watching it." 
This article was previously published in the print magazine as " Securing Perimeters Over Land and Sea."
Six Tips for Better Perimeter Fence Lighting
By Stephen Parrott, CAST Lighting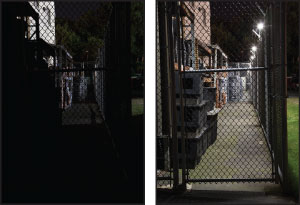 By adding lighting to the scene on the left, security officers can have better visibility of the area, maximizing their efficiency. Photos courtesy of CAST Lighting (www.cast-lighting.com) 
While fences and cameras are a frequent requirement for perimeter security, don't underestimate how much a few well-placed, well-chosen lights can do to increase a security guard's efficiency, produce better camera images and reduce costs.
1.         Minimize Spread
 When perimeter fences lie adjacent to areas with general illumination, the best solution is often to extend that illumination to the perimeter. Remote perimeter fences are best lit by luminaires that project a highly targeted region on both sides of the fence – usually no wider than 20 feet on both sides.
2.         Optimize Illumination.
IESNA guidelines provide illuminance values for various secure locations. They advise use of these values or twice the illumination of surrounding areas (whichever is greater). The guidelines don't, however, specify the proper illumination of remote perimeter fences. When a fence extends into areas of complete darkness, consider minimizing illumination as much as possible – just enough for cameras and guards, so there is less contrast between unlit and lit areas, and officers will be better able to detect intruders.
3.         Minimize Glare
Glare produced by direct exposure to bare light sources can disable a guard, causing significant discomfort and after-images. Most security lights cause this type of glare and must be positioned on tall poles or high on buildings. A better approach for long perimeter fences is to use a luminaire with heavy diffusion or reflection. Such a light can be positioned within the security officer's visual field and still allow visual comfort.
4.         Optimize Color
Two color qualities influence the effectiveness of security lighting – correlated color temperature (CCT) and color rendering index (CRI). CCT relates to the proportion of blue to yellow spectrums. A light source with a low CCT (such as high pressure sodium - HPS) is more yellow. A light source with a high CCT is more blue. Studies show that lights with higher CCTs are perceived as brighter than those that are more yellow. Using a bluer light allows you to reduce the illuminance values and maintain effectiveness – resulting in energy and cost savings.
Color rendering index (CRI) relates to the ability of light to reveal colors accurately (compared to daylight). This is critical for security officers, who must know if an intruder's shirt is red or blue.
5.         Maximize Efficiency
The efficiency of a light source is measured by quantity of light projected (in lumens – lm) divided by energy consumed (in watts). Efficiency is also dependent on how well the light is targeted toward where it is needed. New LED luminaires have good efficiency (25-75 lm/watt) and the additional benefit of more precise beam control and higher CCT and CRI.
6.         Minimize Cost
The cost of perimeter fence lighting has four main components – cost of materials, installation, maintenance and energy consumption. For typical pole-mounted luminaires, the high of cost of materials and labor are primarily due the excavation, poles and mounting apparatus. For fence-mounted luminaires, significant cost-savings are achieved since luminaires and wiring are attached to the fence itself. Maintenance for typical HPS and MH lights involves periodic replacement using cranes and trained personnel. Maintenance for LEDs, that have a predicted life of 10 to 15 years, is much less costly. Lastly, energy consumption can be greatly reduced by use of highly targeted LEDs rather than poorly targeted HPS and MH lighting.
Stephen Parrott, Communication and Marketing Director of CAST Lighting, has 20 years of experience in the lighting industry. He is a frequent contributor to trade journals and maintains a lighting blog at www.cast-lighting.com/blog.
"Crunch Time" for Vehicular Perimeter Security Systems

By David Dickinson, Senior Vice President, Delta Scientific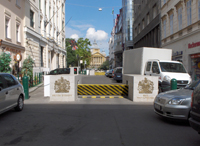 A barrier at the British Embassy in Budapest, Hungary, prevents vehicles from speeding into the area while still integrating into the architecture. 
From embassies and universities to transportation hubs and used car lots, a wide variety of organizations protect themselves from errant drivers and truck bomb threats with barriers, bollards, barricades and crash gates.
Remember when, in April of 2010, barricades at the United State Consulate in Peshawar, Pakistan, helped retain the attackers. They prevented the bomber's vehicle from crashing past the pedestrian gates and forced the attacker to detonate the truck bomb far from the building. This saved many lives and the building. 
Bottom line – terrorists typically don't go where they see barricades, so placing them wherever possible attacks can happen reduces security risks dramatically, even if the need is only short-term. Temporary barriers can protect facilities during events, such as a college football game or presidential visit, until permanent barriers are installed, and where physical conditions preclude permanent solutions, such as the State Department does to protect our embassy on Paris's city streets.
A High School Physics Reminder
A vehicle moving at 50 mph has 25 times as much kinetic energy as it would at 10 mph. Thus, an armored car weighing 30 times as much as a Toyota Corolla and moving at 10 mph would have less hitting power than the Toyota moving at 60 mph.
Because of this, every effort must be made to force a vehicle to slow down before it reaches the barricade. The most frequently used technique is to require a sharp turn immediately in front of the barrier. When vehicle speed is reduced by 50 percent, the "hitting power" is reduced by four times. If the speed is reduced by two-thirds, the force of impact will be reduced by nine times.
Upon designing a way to slow down vehicle approach, precautions should also be taken that the attacking car cannot make a "corner cutting shot" at a barricade. Often, only a light post defines a turning point and a speeding car can take it out and not even hesitate. Knolls and other impediments should be considered. If the approach to the facility is long, it's best to create curves along the access roads as a natural obstacle to speeding cars or trucks.
Overcoming Common Design Deficiencies
Without adequate testing, there is no assurance that the barrier will resist the threat. Testing is normally by an independent testing company or government agency, such as the Department of State (DOS) and the military.
Today's barriers are capable of stopping and destroying a truck weighing up to 65,000 pounds and traveling at 50 mph. Such barricades can be raised or lowered at will to stop traffic or let it through. In an emergency, the thick steel plates or bollards pop out of the ground within one second. A mobile barrier can be towed and set up in only 15 minutes. Nonetheless, it will stop a 15,000-pound vehicle going 40 mph.
One final area that should not be overlooked is aesthetics. With today's smart designs, it's no longer necessary to choose between form and function – you can have them both. Designers are creating secure environments with more compatible and aesthetically pleasing architectural elements.
For organizations striving to create as green of an environment as possible, barriers, barricades, bollards and crash gates can be operated either manually, electro-mechanically, pneumatically or hydraulically on FDA-approved vegetable oils. There is a growing trend to use pneumatic barricades to be greener.
No Application Too Large or Small
Protecting perimeters of facilities is a big responsibility. You need to have the right equipment in place to secure your facility and to prevent harm and damage. Carefully researching available options and consulting with experts will lead you to the right solution.