Securing Data Centers with Hand Readers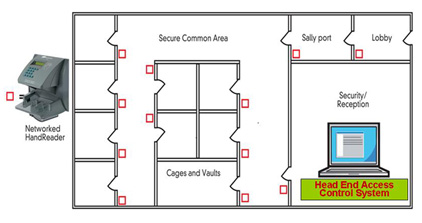 Biometrics often is used for access control of staff into data centers. Pictured is a design using hand geometry readers.
For data centers, mass data storage and communications operations, security and dependability are at the forefront — but firewalls and encryptions are only part of the solution. If somebody breaks into a facility and steals the server, everybody is in big trouble. That is why hand-geometry readers stand guard at many data centers, according to Vijay Kumar of Ingersoll Rand Security Technologies.
Typically, larger installations use biometrics such as hand readers at the entrance, on the security corridor and on the individual user areas of their data centers. Administration of the system, with features tailored for this type of application, include import/export and remote enrollment for multi-facility management, and expiring privileges for temporary access. These hand readers interface to most access control panels and can be configured to control a lock, independent of a panel.
Internet data, telecommunications, interconnection and co-located facilities around the world are using biometrics for their physical access control.
"Hand geometry is the best biometric solution for data center needs," suggests James Callahan, a long-time veteran of the security industry and retired federal counter-intelligence agent who has been in charge of data center security for leading companies ranging from MCI and Verizon, among others. "It is important that data center clients know that their information is secure both logically and physically. Data centers need to provide a high level of assurance that people are who they claim to be. They must prevent unauthorized access to hardware and critical information."
Callahan adds, "Data centers also need flexible, fast authentication with a biometric that handles a large population without holdups. It is important to get employees quickly in and out. According to my research, approximately four percent of the population can't use fingerprint technology because of dry skin. This makes finger scans impractical for large populations. If you have 1,000 people to push through a day, you can't afford to create a work-around for the 40 who can't get through. Iris is accurate but too slow. Data centers need to get people through in a reasonable amount of time."


I want to hear from you. Tell me how we can improve.