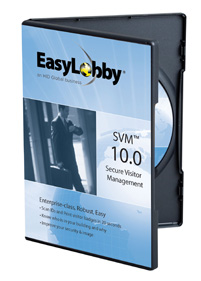 Government organizations face unique challenges, making reliable and secure visitor management a must have.
In many environments, professional visitor management from EasyLobby can enhance security and the professionalism, as well as meet help meet security regulations. Still, however, visitors often are asked to enter their information in a paper logbook. While this method is perceived as quick and easy, a paper sign-in book provides little security and leaves visitor information available for anyone to see.
HID Global's EasyLobby Secure Visitor Management solutions automate the process of registering a visitor, printing a badge and capturing detailed information in seconds by electronically scanning an ID such as a driver's license, business card or passport.
The solution is flexible enough to meet the needs of small and enterprise organizations with diverse requirements. Some key benefits include the ability to provide customizable visitor badges for all guests; identify exactly who is in a facility and the reason why; create watch lists to screen against unwanted visitors; capture detailed visitor information accurately and distinguish between different categories of visitors; perform analysis and reporting on visitor data across multiple locations; integrate with access control systems; allow employees to pre-register guests they know will be arriving using a Web-based form; and even allow visitors to self register using a kiosk or tablet computer.
The EasyLobby software is simple to learn and easy to install. A free Web demo is available so that organizations can see how the solutions will help them manage visitor data, support their lobby and reception desk, and improve security.