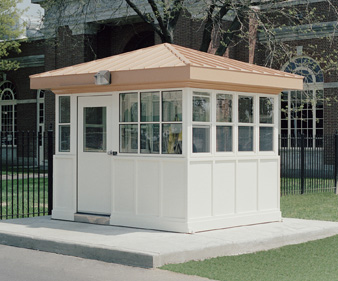 Government parking facilities and data centers have an array of options when it comes to guard and security buildings.
For a destination's parking lot that needs an upgrade both image wise and in the critical area of providing a safe haven for security personnel, a perimeter protection plan can incorporate a high-end colonial style, Par-Kut Presidential Series security building. These booths include a high degree of "gingerbread," namely, extra window mullions, crown molding, copper standing seam hip roofs, and raised rib architectural trim on the exterior wall panels.
These security buildings come in standard and built-to-order, factory assembled models to provide the specifier and owner with a high level of convenience and customization. Par-Kut security buildings are complete with windows, doors, insulation, factory finish paint, HVAC systems and factory installed electric (lights, outlets and circuit breaker panel).
Physical security upgrade options for the gatehouse security buildings include bullet-resistant glass, ballistic steel-plated walls and doors, and even blast-resistant construction. For 24/7 locations, unisex restroom facilities can be included in the security building.
Other adaptations for Par-Kut guardhouse security buildings include platforms and towers as well as trailer-mounted security booths. Platforms stand 6 to 10-feet tall or higher. Ultra portable, trailer-mounted security buildings allow for rapid deployment or special events and can include generators for self-sufficiency. Transit and other types of standard and custom waiting shelters are available as well.