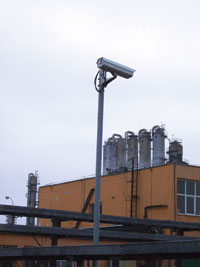 Special care had to be taken at Romania's largest refinery to ensure there are no problems with electro-magnetic interference, radio frequency interference, cross-talk or ground loops.
Neither snow, nor rain, nor heat, nor gloom of night stays these courageous couriers from the swift completion of their appointed rounds.
But forget the postal service, look at security cameras, often installed at locations where a letter carrier would never go. Video is popping up in harsh and hostile environments that can range from extreme temperatures, dirty air and potential explosions to electrical interference and even bullets shot by a gangbanger on a west side Chicago street.
In the worldwide petrochemical and hydrocarbon industries, for instance, there are inner threats, part of the processes and materials, as well as external threats from employees, visitors and terrorists. Shutdowns can be extremely expensive. And when an incident threatens safety concerns, refinery personnel want to be able to pinpoint its location immediately for responders.
That was the thinking behind Romania's largest refinery. Executives and their security officers realized they needed direct images of the operating installation. The decision: create a new video surveillance system over multiple facilities.
The refinery's security team called upon Global Security System SA (Bucharest), a major security systems integrator, who, in turn, brought in Infinova video technology.
Interference Challenges
"With fiber optics, the refinery has no problems with electro-magnetic interference, radio frequency interference, cross-talk or ground loops," emphasizes Liviu Vladulescu of Global. Now, "the refinery does not need to worry about short circuits, sparks or fire hazards with fiber. In addition, the large signal-carrying capacity of optical fibers makes it possible to provide not only many more signals, but also more sophisticated signals than could ever be handled by a comparable amount of copper wire."
Camera specifications had to be IP66 certified and meeting rugged construction requirements. IP stands for "ingress protection." The first "6" defines that no wiring touches any part of the camera that could be dangerous and cause sparks, such as the power source. It also means that the camera is sealed against dust. The second "6" means that the camera is likewise sealed against water, a pressing need at this refinery.
A Romanian refinery is one thing; Mount Erebus, the second highest volcano in Antarctica, is another, according to William McIntosh, associate professor of geochemistry, and a volcanologist and geochronologist at the New Mexico Geochronology Research Laboratory.
An extreme environment camera from Bosch Security Systems is an integral part of the permanent recording equipment at the edge of the Mount Erebus crater. The camera records passive convention of the volcano's lava lake and is ready to capture video of the next transition to explosive activity. Conditions on Mount Erebus are as extreme as they get – with winter temperatures below -67 degrees Fahrenheit, icy and stormy weather, and corrosive gases produced by volcanic activity.
Temperature Changes
One key camera feature: Injection-molded nylon construction is IP67, NEMA 6 and 6P rated to withstand corrosive and cold environments from -76° F to +140° F (-60° C to +60° C). An insulated inner chamber eliminates the need for internal heaters and blowers.
After Antarctica, you can't get more down to solid ground than, well, cement.
Rohrer's Quarry delivers ready-mix concrete to customers surrounding Lancaster County, Penn.
Eleven Bosch FlexiDome IP day/night cameras now stream video of the most critical points inside the plant. Outside the plant, cameras are positioned to view into transit mixers. A camera installed on the roof of the building that houses the plant also provides surveillance of the surrounding property.
Due to conditions inside the plant, the cameras feature a clear polycarbonate dome bubble with a UV blocking anti-scratch coating and can operate in temperatures from 14 to 104 degrees F and in 20 to 80 percent relative humidity.
Of course, challenging environments can also encompass cameras which must work all the time, no matter what.
A case in point: integrator Signet Electronic Systems and its deployment of an IP-based video surveillance system at the Rhode Island Judiciary Garrahy and Kent County courthouse facilities.
Always Working
The Rhode Island Judiciary requested Signet propose a solution to upgrade its existing analog system.
The new system has more than 180 megapixel cameras at the two facilities. The cameras range from 1.3 to 3.0 Megapixel resolutions in both the fixed and PTZ form factors. A dedicated IP network was deployed utilizing power over Ethernet network switches with fiber-optic interconnectivity between floors. This network architecture is less susceptible to power ground loops and external RF interference. The architecture of the new system is based upon redundant local recording servers at each facility along with a redundant directory (main application server) between the two facilities. This provided the client with the required level of system resiliency and the foundation for future system expansion.
When it comes to cameras in harsh and hostile environments, Clint Hilbert, former vice president of security for Paramount Pictures and former Commander of Protective Services for the U.S. NATO Delegation in Belgium, says, "Stay with the major brands. Reputable vendors carry a wider selection of replacement parts," are more easily accessible and provide "more diverse services."
Weather conditions, obviously, are a challenge in some locations for outdoor cameras. Depending on a number of factors, "domes might not work as well when it comes, say, to icy conditions, freezing and sub-zero weather and even the blazing heat of the desert." In addition, "there are lots of moving parts in PTZs that will require more maintenance," Hilbert points out.
Look for "no moving parts. IP based. No physical iris or heaters or blowers," says Phil Lisk, director of information technology for the Bergen County Sheriff, the largest county in New Jersey. "There are many ways to avoid even minimal repairs and maintenance."
No matter what, harsh environments can take a toll on cameras, observes Steve Surfaro of Axis Communications. In some challenging environments, "the lifespan of a camera can diminish." So he suggests enterprise security leaders and their integrators take a closer look at construction of the camera itself. "You don't necessarily need to spend the money on a third party housing" if you pick the right camera upfront.
But, in some cases, environmental housings bring protection to surveillance cameras from the rigors of harsh outdoor environments, vandalism and physical damage.
What about Enclosures?
According to Kostas Mellos of Interlogix, "Camera enclosures are typically determined by the environment in which they are installed. For example, cameras installed in cold, rainy environments may require specific enclosures that include heaters. Cameras installed in department stores and in many industrial/commercial locations such as hospitals, colleges and government facilities may require an aesthetically pleasing design."
There are still scenarios where specialized cameras should be used.
His examples:
•  For night environments or environments with little or no light, infrared illuminators provide additional clarity and enhance the picture.
•  When cameras used to record building entrance activities are directed toward a reflective surface, such as polished floors, mirrors or glass, using cameras with advanced wide dynamic range capabilities help eliminate the glare from these surfaces.
"The National Electrical Manufacturers Association (NEMA) rates camera housings on their ability to withstand environmental conditions. Protection from cold, heat, dust, dirt or other elements is needed to ensure optimal performance and extend the life of the camera," Mellos says.
"In adverse conditions, for example seaports, it is important that the electronics within the housing are protected," he says. "One way to do so is to pressurize the housing (mostly domes) with a substance such as dry nitrogen. Higher pressure does not allow external elements, such as salt or dust, to enter the housing where the electronics are located thus extending the life of the camera.
"In environments with extreme heat or cold, it is important to clearly understand the manufacturer specifications and what happens when the environment exceeds these tolerances. Electronics are not meant to be exposed to adverse conditions and care must be taken to provide the appropriate enclosure."