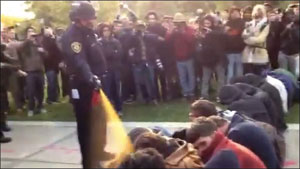 Want a tough guy reputation? Think again. Two officers and the campus police chief at the University of California Davis are on leave after a pepper spraying of students.
As enterprise security executives cozy up to the C-suite folks, there is more focus on protecting the brand and the organization's reputation.
It may be a more complex assignment than first thought.
Balled up inside the Pennsylvania State University scandal with former coach Jerry Sandusky, for example, is grand jury testimony that campus police had conducted a "thorough" investigation of one victim's allegations in 1998 along with local police and state investigators, only to have the district attorney decline to prosecute.
A mother of one of the victims came forward, saying two "campus police detectives" eavesdropped on conversations in May 1998 when the mother confronted Sandusky. Police later monitored a second conversation that month, in which the mother told Sandusky to stay away from her son.
Who Knew What When?
And the grand jury report says university police were never notified by anyone at the university of assistant coach Mike McQueary's 2002 report he'd seen Jerry Sandusky assault a boy in a campus shower. Former vice president of finance Gary Schultz, who has been dismissed by the university, oversaw the police department, but he is charged with failing to report the accusation to university police officers or other law enforcement authorities.
More recently, McQueary e-mailed a colleague, stating that he did have "discussions with police" about allegedly witnessing Jerry Sandusky's shower incident. But State College (Pennsylvania) Police Chief Tom King says McQueary never talked to police. "Absolutely not. We don't have any records of him coming to us."
Penn State has asked former FBI Director Louis Freeh to investigate the university's role. Freeh seems to be a busy boy; he also has been tapped by the trustee for MF Global's Chapter 11 bankruptcy case in which about $1.2 billion is missing.
The U.S. Department of Education (DoE) has instituted an investigation into whether Penn State violated the Jeanne Clery Disclosure of Campus Security Policy and Campus Crime Statistics Act when it did not report child sexual abuse allegations to the proper authorities. Under terms of the Act, campus officials beyond security have a responsibility. According to the 2011 Handbook for Campus Safety and Security Reporting, "Even at institutions with a police department on campus, a student who is the victim of a crime may be more inclined to report it to someone other than the campus police. For this reason, the Clery Act requires all institutions to collect crime reports from a variety of individuals and organizations that Clery considers to be campus security authorities."
Who Has Responsibility?
In another tragedy that goes back to 2007, Virginia Tech University is now fighting $55,000 in DoE fines, saying it acted appropriately in alerting the campus in what became the deadliest mass shooting in modern U.S. history. The government disagrees, contending the school was too slow in notifying students, faculty and staff and in violation of the Clery Act. While obviously able to afford to pay the fines, Virginia Tech is fighting for its reputation.
Then there is the University of California Davis and the images seen by millions around the world.
There is a line of young students sitting, arms linked, at the front edge of an Occupy UC Davis protest. As campus police stepped up, students chanted "the whole world is watching" while officers pepper sprayed into the faces of the seated students.
UC Davis President Mark Yudof suspended two officers and UC Davis Chancellor Linda P.B. Katehi placed Police Chief Annette Spicuzza on administrative leave pending a review of the incident and the allegations of excessive force. Former Los Angeles Police Chief William Bratton, now chairman of Kroll, will lead the investigation. But the Bratton choice has been criticized. The Council of University of California Faculty Associations (CUCFA) contends that Kroll has provided security services to at least three UC campuses for the past several years. "This in itself would disqualify Mr. Bratton from participating in the investigation," says CUCFA president Robert Meister. "You would be illustrating the kinds of connection between public higher education and Wall Street that the Occupy UC movement is protesting."
Protecting reputation.
Securing the brand.
For some, with their feet stuck in the mud, it would be better if their focus was not on what their bosses wanted but what the organization's stakeholders expected.