That swamp-loving movie star Kermit got it wrong. It's getting easier being green. And for security operations, and thanks to advances with integrated systems, enterprises can reduce costs, improve productivity, boost return on investment, attract new business from other green-leaning firms and add value to the brand.
Far away from the Muppet world, Paul Oswald has seen the green light of day.
The president of Environmental Systems Inc. (ESI), a building and facility system integrator in Brookfield, Wisc., Oswald jumped at the chance to write sustainability with a capital "S" in a new headquarters, a 34,100 square foot, Class A office building. The underlying strategy: improved building performance and an integrated security system that would reduce operating costs, improve productivity and generate measureable return on investment.
BETTER INTEGRATION OF SECURITY INTO BUILDING SYSTEMS
The plan was obviously in the ESI wheelhouse. The firm provides solutions for control and automation, systems integration, security, life safety, energy services and building operations. Oswald points out that "We decided it would be beneficial on a number of fronts to be in a sustainable building and use the technologies we apply and use in a wide range of buildings for our business." Inherent in his goals, Oswald also wanted to achieve LEED certification.
ESI's pathway, and one that can be shared with existing facilities as well as with today's more rare new construction, includes design, architecture, engineering and security technology aspects.
Ironically, with the rising cost of energy and the C-Suite's focus on reducing operating costs, it turns out that sustainability and going green have hit a slight speed bump for some.

A bump in the sustainable road? In the face of economic uncertainty, Americans now see more value with financial stability over environmental responsibility. Government agencies and enterprise facilities may have more interest and incentives to go green.
For example, amid a climate of economic uncertainty, Americans generally now place a higher value on financial stability over environmental responsibility, according to the 2011 Green Gauge U.S. Report from GfK Roper Consulting, a division of GfK Custom Research North America. While most think concern about the environment is at least somewhat serious, fewer are saying that concern about the environment is "very serious and should be a priority for everyone" (33 percent in 2011 versus 46 percent in 2007).
REFLECTING AN ENTERPRISE'S OVERALL COMMITMENTS
Still, while business and government budgets are tight, there is now more proof of cost savings relative to spending on sustainable, green and integrated building systems. In addition, owners and managers of office buildings, multi-tenant facilities, some chain stores, healthcare facilities, colleges and firms such as ESI view the advances as a way to highlight their corporate culture and commitments; showcase achievements to clients and customers; and qualify for certain tax rebates, zoning allowances and other incentives.
LEED certification is one measure of accomplishments.
LEED, or Leadership in Energy and Environmental Design, is an internationally-recognized green building certification system. Developed by the U.S. Green Building Council, it provides building owners and operators with a framework for identifying and implementing practical and measurable green building design, construction, operations and maintenance solutions.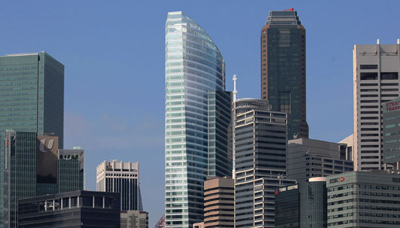 New construction is a prime place for a green approach which more closely integrates security with building controls. Pictured is the just opened Ocean Financial Centre in Singapore. The 43-story tower is rated LEED Platinum for sustainable design.
At ESI, the process began with design decisions based on a number of criteria, one of the most important being that every design decision had to provide a positive impact on the business. Where some design decisions were not the lowest initial cost, they would provide cost savings to the business over their lifecycle and justified in the final cost of the building.
ESI's new corporate headquarters is operating 41-percent more efficiently than baseline design. The building is 10,000 square feet larger than the previous location; however, the utility costs in the new building are running at 33-percent less. And visitors can visualize the difference that a sustainable design can bring to a facility as well as its overall profitability.
At the heart of systems side of the ESI effort is a Niagara Framework from Tridium, Inc.
When it comes to lighting, building occupancy from the access control system is used as part of the lighting control strategy. If any employee enters the building in off hours, their task and egress lighting are enabled.
LIFE SAFETY, SECURITY BENEFITS
When it comes to security, in addition to access control, the building incorporates 18 security cameras inside and outside the facility. Video history is stored for 30 days.
For fire monitoring and alarm, the building features a fire alarm system connected via BACnet to the building automation system to monitor all initiation and annunciation devices that are part of the fire alarm systems. In addition, the system monitors fire extinguishers for proper pressure that they are physically in place and are not obstructed.
To showcase the systems to visitors and clients, the ESI lobby features a large flat-screen monitor displaying real-time information about the building's performance. Many parameters are monitored and calculated, including energy metering, energy analysis and sub-metering including HVAC, lighting and plug load.
FACE OF SECURITY TECH IS CHANGING
There are now a number of sources, in addition to Honeywell, that have building control systems that include or integrate with their own or others' security and life safety systems. For example, Johnson Controls' Metasys building management system brings together various systems – comfort controls, lighting, fire safety, security and equipment – to operate together.
So there are enterprise solutions that address sustainability and going green, ranging from facility systems that have integrated security and life safety inside them to security and life safety systems that can integrate with building controls. But there also are security product and system providers who offer technology that is Energy Star rated or ways to leverage security video storage from in-house energy-hungry devices to more efficient in-house virtual memory or outsourced hosted, or in the cloud solutions.
SAVING MONEY WITH SECURITY GEAR
There is no doubt that corporate America has entered an age when social responsibility is more than just altruism. So the latest access control systems, secure printers and managed print services (MPS) programs help.
Enterprise security leaders and their integrators can choose readers and secure print solutions that are designed from the ground up for improved energy efficiency.  For instance, the use of power management technology in next-generation reader platforms reduces energy consumption by up to 75 percent compared to standard operating mode, according to a spokesperson at HID Global: and Energy Star-rated printers/encoders provide high-performance, energy-efficient solutions for producing professional-quality color ID cards with security encoding.
Energy use can be further streamlined by implementing MPS programs with controlled document printing.  A key component is a secure document print release system coupled with a contactless smartcard and integrated reader system that, in most cases, is already being used for physical access control.  The system requires employees to present their card to a reader integrated into the printer and be "authenticated" before a document can be printed. Users can be granted or denied certain rights and privileges based on department, hierarchy and position. This approach enhances user convenience while promoting responsible use of natural resources by reducing paper and electricity consumption. Studies show that a typical employee prints 10,000 pages per year, and 17 percent of those pages were considered waste.
Those same 10,000 printed pages consumed 51.5 kilowatts per hour (kWh) of electricity in the print process, and the 1,700 wasted pages consumed almost 9 kWh of electricity during the printing process. Meanwhile, manufacturing those 10,000 pieces of paper produced 284.5 pounds of greenhouse gases, or the equivalent of just over 1 week of car exhaust. By eliminating each employee's 1,700 wasted pages of printing, annually, controlled document printing and other print management initiatives can save as much as $102 to $221 per year, per employee.
In addition to saving resources by only releasing print jobs when an authorized user presents a contactless card to the reader on the device, print management solutions also eliminate wasted paper by deleting print jobs that are not released in pre-set timeframes. Toner use is also reduced, there is less wear and tear on the equipment since fewer documents are printed, and electricity consumption is reduced since devices can remain in a low-power mode until a card is presented. Print management systems also enhance accountability by giving administrators the ability to track MFP usage by user or department, and offer users the convenience of using the same contactless card that gets them into the building.
UPGRADING WITH SUSTAINABILITY IN MIND
Finally, security professionals can deploy greener projects by specifying flexible access control solutions that support multiple technologies and are compatible with earlier systems to avoid wholesale "rip and replacement" when the need to upgrade arises.
With the evolution to megapixel and high-definition cameras and the desire or requirement to store more security video, the growth of digital video, network video and dedicated video servers increases the cost of the hardware and the cost of running and cooling them.
One energy efficiency solution is virtual security video storage, basically when an integrator or IT sets up storage among fewer servers that handle numerous applications including security. No doubt, surveillance users are running up against hard power and cooling limitations as they record more cameras, introduce higher resolution cameras and lengthen video retention times. Simply adding conventional servers and storage means that power and cooling needs to grow linearly with camera requirements.
Whether the application is a small county jail looking to store 30 days of video using two servers or a large airport with 1,200 cameras and 20 servers, the savings from replacing physical servers with virtual servers are immediate and long-term.
Sustainable Security: Sharing the Business Benefits
Integrating appropriate security systems into building controls creates environmental, energy as well as overall enterprise benefits. Participation by all building systems stakehaolders creates the tools they need to have an immediate and measurable impact on facility performance.
•  Lower operating costs and increase asset value
•  Reduce waste sent to landfills
•  Conserve energy and water
•  Be healthier and safer for occupants
•  Reduce harmful greenhouse gas emissions
•  Reinforce the corporate culture and commitments
•  Enhance the brand's profile
•  Emphasize security, IT collaboration
• Qualify for tax rebates, zoning allowances and other incentives in hundreds of cities
Look for these Bright Stars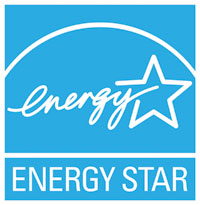 Sticker stock, in a sustainable way: Some security-specific products and IT gear are Energy Star rated.
Enterprise security leaders may be aware of Energy Star from those stickers on clothes washers, refrigerators, and televisions. But products specifically made for security systems as well as off-shelf IT gear also can be Energy Star rated by this joint program of the U.S. Environmental Protection Agency and the U.S. Department of Energy.
Because a strategic approach to energy management can produce twice the savings – for the bottom line and the environment – as typical approaches, a proven energy management strategy helps in measuring current energy performance, setting goals, tracking savings and rewarding improvements.
Security-specific products, which can carry an Energy Star, range from video monitors to access card printers.
One example: Fargo direct-to-card printer/encoders are Energy Star rated to support corporate green initiatives and help organizations reduce costs.
Little things also can make a difference. Some identification cards biodegrade faster than others. For instance, HID's UltraCard Eco is a biodegradable non-technology card for printing high quality photo IDs.