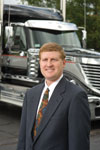 Mike Scribner remembers those sign-in books at the reception desk, but not with fondness. At Navistar, the giant holding company whose individual units provide integrated and best-in-class transportation solutions, he now has a centralized visitor management system deployable to multiple locations.
From the viewpoint of security, facility and building management, there are a variety of ways to control access of visitors and contractors. The trends? More controls, use of databases for repeat vendors and audit trail, integration with card access, security video and turnstiles as well as the growing insistence on pre-registering people before they arrive. It's that balance between convenience and inconvenience that's the mark of a solid security approach.


For Adrian Mayers, with Nokia North America's corporate security, lobby and visitor management is a matter of the culture of the enterprise. With tight entrance protocols, Mayers also sees the receptionist as concierge with a set of knowing security eyes. "I have internal customers with common as well as diverse needs," says Mayers.


It was the challenge of bringing in lobby security that would blend with the architectural integrity of The United Building, a mixed-used facility in Chicago, anchored by United Airlines, according to Myrna Coronado of Jones Lang Lasalle, the property management firm. In came digital security video in the lobby as well as elsewhere in the building's public areas.


In Toronto, Georgetta Semlyen of Kindle Property Management matched business goals with a mixture of monitored security video services in a condo lobby. Eschewing the need for a receptionist or concierge, tenants can receive packages, dry cleaning and visitors under the watchful eyes of a firm looking in by security video linked with audio.

Moving to the Campus Gate
When power and fuel firm SCANA Corporation's headquarters moved from a high-rise building to a campus with five buildings, it pushed visitor admissions to the campus entry gate. As a result, it became critical to verify visitors before they are allowed on the campus grounds. So, according to Scott Cleary, employees must pre-register people into the visitor management system.
Scott Volin, director of security for a Class A building located in Chicago's downtown Loop, mixes a staffed security desk with a self-service kiosk that can generate barcoded visitor passes for use in the lobby's optical turnstiles.


The business bottom line, no matter the use of a receptionist or a security officer or the type of visitor management system, includes reflecting the organization's culture, providing the needed level of "customer" service, increasing security while investing the right amount of time and money in the approach and its ongoing operation and maintenance.


Scribner, covering health, safety, security and productivity - technical support and development at Navistar, says he used a three step plan when considering a visitor management system. "I first identified best in breed. I narrowed down the choices based on budget and then tested the remaining programs." He picked EasyLobby.


Among his requirements: a system that is centrally managed with a central database and one that is deployable to multiple locations. "We collect some basic information. We have a guarding service at some locations, receptionists at some others and self-service, too." While some employees pre-register their visitors, Scribner sees future value in extending pre-registration as a requirement.

Links to the Core Business
Mayers, Nokia's deputy head of security for North America, believes visitor management must enable and enhance the core business. "We practice security from both a corporate cultural and operations standpoint." The two dozen plus Nokia locations in Canada and the U.S. include many sensitive research and development facilities. Still, receptionists with a concierge feel also ask questions of a visitor and require them to provide identification to meet a host's needs. "Everything is under security cameras but the human element still remains important. And that includes the involvement of all employees as we remind them (of visitor management). At the end of the day, an unwanted visitor could affect a host and his or her livelihood," Mayers says.

With a trophy tenant in United Airlines and an architecturally-stunning United Building, Coronado of Jones Lang Lasalle, the property managers, sought ways to have discreet lobby security that works with and doesn't fight the lobby's look and feel. She went with high-definition security video (from Avigilon) working with the security director, officers who check identification and courtesy telephone calls to announce visitors. The video is NVR-archived and monitored at three separate locations.


While Coronado looked for a polished visitor experience, Kindle Management's Semlyen was looking for spit-and-polish for tenant-residents at two smaller condos in Toronto. "Each has different location challenges and we could not afford a 24-hour concierge for security and services," she comments. With cameras in and around the condo, an off-site monitoring center can patrol the area but also offer many levels of virtual concierge services. "The remotely monitored camera from Axis Communications sees a courier, who gets buzzed in and is instructed to place a parcel in, say, slot number one while a resident is alerted to the delivery," says Semlyen, who uses technology from 
UCIT Online Security
. Outdoor cameras can control visitor parking spaces while also providing a strong level of security.
There is almost no end to the types of services this approach can supply, according to Semlyen. "It really boils down to a business decision as to where we go with it. A future step may be to include remote monitoring into building automation and maintenance."

Third-Party Services
Grubb Ventures, which handles residential, commercial, and development properties in the Charlotte and Triangle areas of North Carolina, goes remote monitoring for its traditional building access controls through Brivo ACS WebService. Bill Burgess, Grubb's facilities manager, added access in elevators in a newer building. In addition to real-time protection provided by the complementary access control and video surveillance systems, if tenants want to investigate an incident or request a report, Burgess and staff can comply easily and immediately.
Also in the Carolinas, SCANA Corporation, bringing power and fuel to South Carolina, North Carolina and Georgia, faced a visitor security challenge when it moved from a high rise building to a campus with five buildings, according to SCANA's Scott Cleary. "The visitor management system provides a method for verifying that a visitor is expected without security officers having to track down an employee for access authorization."


He adds, "The system we have adopted 
from CapSure (info at www.capsure.com) 

requires employees to pre-register a visitor prior to their arrival on the campus. Once the visitor arrives and is admitted by the security officer, the system automatically notifies the host via email or text message or soon by phone. The host employee then meets their visitor in the main lobby to escort them while on-site. The automatic notifications don't tie up the security officer making phone calls to locate the host." Web-based visitor control software integrates with property access control systems as well as an enterprise's IT-controlled Active Directory. Such an approach enables a property to print automobile passes, visitor ID badges, and scan driver's licenses. VMail+ and online visitor registration makes it easy to communicate the arrival of pending guests to security, too.
In addition to visitor management software, security video and integrated card access controls, many security leaders employ turnstiles in their lobby areas, often on the way to a bank of elevators.


For Volin, quickly and securely giving access to all vendors and visitors is a significant business challenge. "We have an access card system for our tenants and vendors; as for our visitors, we have a kiosk and a Web-based visitor system so tenants can pre-approve access for visitors or contractors. They can go to the security desk for assistance or to the self-serve kiosk." Badges are printed with a barcode for access through our turnstiles. There are business bonuses. "We were able to save 140 security hours a week, a tremendous annual savings." In addition, the visitor system works in concert with optical turnstiles from Smarter Security Systems, which have embedded barcode readers. He says turnstiles allowed him to reduce officer hours, which in turn, reduced costs.

Card Access Connections
For many, some type of connection from visitor management to card access controls including turnstile and elevator links is a must have.
There's that access control/visitor connection at a St. Louis engineering firm. With customers in the aerospace, defense and pharmaceutical fields, Innoventor has a particular need to safeguard sensitive customer materials and company information stored in its facility as well as to contend with the comings and goings of many contractors. With a new facility that spans 26,000 square feet, employees also needed a method to determine if their colleagues remain in the building before arming the alarm system each night.


To meet those and other needs, Bret Bachmann of integrator Associated Engineered Systems recommended Bosch Security Systems' browser-based Access Easy Controller. Bachmann was able to install an LCD touch screen, which is continuously logged into the access control system, near the facility's existing alarm keypad. Employees can now see up to the minute reports of employees in the building right from the LCD screen. The last employee to leave each evening no longer has to walk the entire facility to determine if any of their colleagues remain in the building before arming the alarm and exiting. The information is right at their fingertips near the exit.


The connection between visitor management and traditional access control is the inherent belief of Karl Perman, manager, corporate security programs, with energy giant Exelon Corporation. "Access control systems control the physical entry to a particular area. Visitor management systems are paper or electronic badges that track the names and other information. However these systems, unless tied into an access control system, do not control physical entry to an area."


Another expert, with deep and long focus on office building security, agrees with Perman and sees business benefits to tightening visitor access, especially after carefully conducting a risk assessment. Author of High-Rise Security and Fire Life Safety (for sale on Amazon.com) and vice president at Universal Protection Service, Geoff Craighead says, "The question of what solutions are better to handle visitors and contractors is really dependent on conducting a thorough risk assessment. Only after the assets to be protected are known, the threats that exist to those assets are clearly identified, the vulnerabilities that exist that would allow the threats to potentially materialize are evaluated, can the appropriate security solution be recommended for a particular facility. Of course, the decision-making process is also impacted by budgetary constraints."


He continues, "Stand-alone visitor management systems play an important role in the access control solution, particularly if they are linked to the facility's access control system. When a person's privileges are deleted from the access control system, it can automatically communicate to the visitor management system that this has occurred. This alleviates the possibility of a terminated employee authorizing others to access the facility. Electronic access control systems with an embedded visitor application have this built-in feature to facilitate this type of communication."


No doubt. Visitor management is evolving quickly. Web-based systems, integration with other facility systems, and new functionalities are transforming visitor management, observes Thomas Condon, senior consultant with SDI (System Development.Integration).


"Building managers are more often seeking to tighten their perimeters and track who is coming and going. And the multitude of people who move through a large facility makes it very difficult," says Condon. Visitor management is becoming the norm in environments that are sensitive to the risks of undocumented visitor traffic. When it comes to the Web, he cautions that, while it may be critical because facility tenants need to be able to access the system to register their visitors, "remember that means you need the highest level of security. Look for a system that encrypts all transmissions between the building and the host server and uses SSL technology. A facility is only physically secure if its data is also secure; hacking into an access control system or visitor management system opens the door to intruders."


When it comes to procedures that insist on the host employee or tenant pre-registering a visitor, Condon adds, "Make it difficult for them to NOT use the visitor management system. Require unregistered visitors to call their host and have the host enter them in the system. Don't do it for them or they will take advantage and expect the lobby officers to always do it."

Visitor Badging Basics
Visitor management is a fundamental electronic and procedural security system for building management to balance two different objectives – the safety and security of the building's occupants and the efficient management and tracking of a visitor's whereabouts and entry/egress. These systems can be deployed as stand-alone solutions or integrated with existing systems such as access control, intercom and electronic surveillance.
Technology has elevated badging from label-based stickers to smart badging technologies that provide instant visual verification of visitor status such as TEMPbadge identification products from Brady People ID. Such badges can be engineered to expire within hours, or after a day, week or month.
Level One – Paper Label Badges: This system employs standard paper badges (basically labels) and delivers a minimum level of security.  Badges can be issued either manually or electronically.
Level Two – Paper Label Badges with Color Photos: Badges with photo identification scanned from driver's licenses or captured via an on-site camera offer a medium level of security. To further help identify visitors, these badges may also contain additional use of color, symbols and words.
Level Three – Electronic Badges: Included are proximity, magnetic strip and barcode badges, as well as those containing biometric information.  These badges can be programmed for pre-determined levels of access and integrated with access control and video surveillance systems to electronically monitor activity.
Level Four – Smartcards: Time-expiring badges and indicators can be added to existing smartcards to provide instant visual verification of visitor status.
A View from the Tech Side
Stripped away from the hype, technology experts at electronic access control and visitor management companies have valuable insights.

According to Matt Barnette of AMAG Technology, a good visitor management system can use technologies such as driver's license scanners, business card scanners or passport scanners. This has the added benefit of capturing facial pictures as well as a signature off of those official credentials. 
Still, with stand-alones, you have an extra application that needs to be managed, serviced and supported which increases your overall costs, he says, adding that often, end-users get star struck with a lot of options, but in reality only use a few of them in their deployment. So it's important to analyze not only upfront but also the ongoing software support and maintenance.


To Richard Goldsobel of Continental Access, integrating an enterprise's access control system with visitor management should not lead to one database. He recommends separate databases or partitioning. One interesting idea which may appeal to some organizations, he suggests, is to include a nondisclosure or confidentiality agreement with signature capture within the visitor sign-in process.


Establishing rules can also embed within visitor management software. Beth Thomas of Honeywell tells Security that an organization can establish different policies for an escorted visitor and a contractor based on different requirements and collected data. Likewise, an organization can establish multiple policies for different types of visitors or contractors as needed to meet specific facility/security or regulatory needs. She adds that visitor management systems can also include site communications and customer relations.

Crucial Lobby Elements
According to Bruce Gibson of Express Entry Exit, the lobby is the single-most important security point in any building or facility where protection of personnel and property is paramount. A complete lobby system must be in place that supports security physically, electronically and procedurally. Among lobby elements:
• Accurately and quickly capture pertinent visitors' personal ID information – everything from contact information to photos.
• Authenticate the ID or credentials.
• Perform discrete security checks using watch lists such as terrorist, sexual predators and custom lists centering on staff members facing domestic violence threats.
• Create one-time-use visitor badges with the visitor's name, affiliation, host name and authorized areas of access, as well as the badge's expiration time.
• Allow employees to register visitors online ahead of time and be notified electronically or by phone when a visitor arrives.