What a difference a year makes with identification and badge card printers.
Just a year ago, a Security Magazine reader survey found that buyers ranked five printer elements highest: ease-of-use, performance of the printer, durability of the card, image quality and security features.
Convergence, even higher security requirements and the growing diversity of uses of ID cards and badges have combined to bring new printer requirements including high definition output, anti-counterfeiting capabilities, radio frequency identification (RFID) and smart card options.
When assessing card and badge printing needs, determine what printing technology will work for your application. Two main types of printing technology are direct-to-card and reverse transfer or retransfer printing. Direct-to-card is by far the most widely sold type of card printer, though reverse transfer use is increasing as smart card use in the United States continues to grow.
Direct-to-card printing means the card printer prints directly onto the card's surface. Ideal cards would be PVC, composite, magnetic stripe and barcode cards. The dye goes underneath the surface of the card. Standard plastic cards, called PVC, and composite cards are the most widely used materials for direct-to-card printers.
To simplify the process, reverse transfer printers print onto a clear film, which then goes on the actual card. Reverse transfer is perfect for smart card applications because the surface of smart cards is not always perfectly flat, and the print head of direct-to-card printers is completely rigid.
Card printers traditionally run on Windows drivers, making them compatible with most outside vendor software. Network capability is now a given with many printers. Options include automatic feeders for large-volume printing, double-side or oversized card printers, laminators, and a variety of security options preprinted on the card or directly from the printer. Oversized cards typically are used for sporting events or other large social events.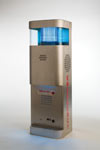 SIDEBAR: Identity Help Moves into Emergency Phones
Numerous types of security technology now boast better ways to identify people, assess situations and get the word out to selected people and areas.
Facial recognition has seen its smiles and frowns from end-users.
One recent breakthrough: The Pierce County (Wash.) Sheriff's Department used a facial recognition application from Sagem Morpho to identify a suspect by comparing an automatic teller machine photograph against the department's digital database of 350,000 mug shots. More in News & Analysis.
Emergency telephone systems, originally designed to allow people in parking facilities and on office, college and healthcare campuses to call for help or information, now have the added ability to identify the people calling and the situation they face through integrated security video.
In fact, some phone systems can become mass notification tools. For example, Talk-A-Phone's
Wide-area Emergency Broadcast System, should occasions arise when security officials need to disseminate crucial information in a timely manner, enables communications – whether as an all-call or to specific areas – by broadcasting loudly and clearly though the high-powered speakers concealed within each wall-mount, tower, and paging unit.