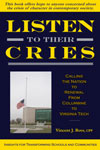 Shock. Outrage. Sadness. Americans wrestle with many emotions as we reflect on the senseless killings at Virginia Tech. I am reminded of the words of philosopher George Santayana: "Those who cannot remember the past are condemned to repeat it." I implore all those in positions of responsibility for school safety and security: It is time for action.
Countless hours of expert resources and millions of dollars have already been spent studying school tragedies over the last ten years. Results and recommendations have been written and made available – many times at little or no cost – to assist schools in implementing plans, protocols and procedures to keep our children safe. Yet, in the vast media coverage accompanying these events, an all too common response from those in positions of responsibility entrusted with safeguarding our children is, "We'll have to look into that. We'll form a task force to review the situation and make recommendations."
It is time to put the lessons learned from school tragedies over the last ten years into practice. In my presentations throughout the United States since the Columbine tragedy, I have found many individuals in educational and school security related positions unfamiliar or unpracticed with the preparedness insights from documents such as:

1. EARLY WARNING, TIMELY RESPONSE: A GUIDE TO SAFE SCHOOLS – AUGUST 1998
This outlet offers research-based practices designed to assist school communities in identifying warning signs early on, and to develop plans for prevention, intervention and crisis response.
   
This guide includes sections on:
Characteristics of a School that is Safe and Responsive to All Children
Early Warning Signs
Getting Help for Troubled Children
Developing a Prevention and Response Plan
Responding to Crisis
Resources
Methodology, Contributors, and Research Support
Find out more at www.ed.gov/about/offices/list/osers/osep/gtss.html
2. SAFEGUARDING OUR CHILDREN: AN ACTION GUIDE – APRIL 2000
On April 28, 2000, the U.S. Department of Education and Department of Justice released a jointly developed Action Guide to help schools and communities prevent school violence. The guide follows up on the 1998 Early Warning, Timely Response: A Guide To Safe Schools, which offered guidelines for school safety and was also co-authored by the U.S. Departments of Education and Justice.
   
Find out more at www.ed.gov/admins/lead/safety/actguide/index.html
3. THE FINAL REPORT AND FINDINGS OF THE SAFE SCHOOLS INITIATIVE: IMPLICATIONS FOR THE PREVENTION OF SCHOOL ATTACKS IN THE UNITED STATES – MAY 2002
In 2002, the U.S. Secret Service completed the Safe School Initiative, a study of school shootings and other school-based attacks that was conducted in collaboration with the U.S. Department of Education. The study examined school shootings in the as far back as 1974, through the end of the school year in 2000, analyzing a total of 37 incidents involving 41 student attackers. The study involved extensive review of police records, school records, court documents and other source materials, and included interviews with ten school shooters. The focus of the study was on developing information about the school shooter's pre-attack behaviors and communications. The goal was to identify information about a school shooting that may be identifiable or noticeable before the shooting occurs, to help inform efforts to prevent school-based attacks.
   
Find out more at www.secretservice.gov/ntac_ssi.shtml
4. PRACTICAL INFORMATION ON CRISIS PLANNING: A GUIDE FOR SCHOOLS AND COMMUNITIES – MAY 2003
Taking action now can save lives, prevent injury, and minimize property damage in the moments of a crisis. If you do not have a crisis plan in place, it is time to develop one. If you have one, review, practice and update your plan. This brochure is designed to assist schools and communities in either situation. Although every school's needs and circumstances are different, these checklists provide general guidance that can be adapted as appropriate to each district's or school's circumstances.
   
Find out more at www.ed.gov/admins/lead/safety/crisisplanning.html
These are only four of the federally funded resources published over the past ten years; there are hundreds, perhaps thousands, of federal, state and local resources available.
   
The safety and security of American youth can no longer be compromised. We must respond now without reservation. The nation cannot wait for plans to be submitted to a task force, reviewed by layers of politically appointed bureaucrats and then tucked away on a shelf to collect dust. A plan is absolutely worthless without leadership, readiness and training, especially in school and campus environments where education should be the order of the day.
   
Readiness must be exercised through awareness, training, tabletop planning, partial and full-scale drills and collaboration of all those with roles and responsibilities in the school security spectrum. This includes school administrators, teachers, students, parents, school resource officers, mental health professionals, law enforcement, fire and emergency personnel as well as community leaders.
   
Most schools and campuses already have safety and security plans in place. These plans need to be reviewed, modified and/or enhanced immediately through uncompromising leadership and unity of effort. Most importantly, they must be practiced. A culture of preparedness must be ignited and intensified daily with full-force determination and vigilance at each school, district and campus nationwide.
   
The time for apathy and continuous reinventing of the wheel is over. Brilliant minds have collaborated on many dynamic reports, recommendations and resources.