High Performance LCD Displays Available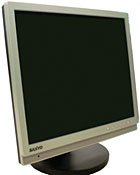 High contrast and high resolution monitoring is possible with LCD displays. Sanyo Security Systems offers 19-inch and 17-inch LCD monitors, which can accommodate virtually any video source. The monitors feature an outstanding contrast ratio and are equipped with noise reduction, picture-in-picture (PIP) freeze panes and underscan.
Find out more at
www.sanyocctv.com


I want to hear from you. Tell me how we can improve.