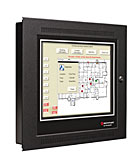 With its commitment to life safety and early fire detection, Montclair State University (MSU) has gone above and beyond code requirements with its installation of the latest in fire detection technology. As the second largest university in New Jersey, Montclair State University's campus incorporates a total of 58 academic, administrative and recreational facilities that serve the school's 15,000 students – 3,500 of which live on campus in its dormitories.
University Hall, the newest building on the MSU campus, is a seven-story building, which houses 40 percent of the university's total classroom space. It also features a 500-person banquet hall on the top floor, two cooking labs and the school's entire IT department, including all of the university's servers.
PROTECTING THE HUB
Needless to say, University Hall is clearly one of MSU's most important buildings. As such, it was imperative to install a fire alarm system that could quickly detect a fire emergency and direct emergency responders to the precise location of the incident – helping them respond quickly, safely and be better informed.
Robert Ferrara, MSU's director of fire safety, explained, "Of the school's existing roster of buildings, all of which play critical roles in the school's overall success, University Hall's stature, combined with the fact that it was brand new construction, made it a perfect fit for Notifier's Onyx FirstVision."
A graphical touch screen interface for firefighters and emergency responders was installed in order for response times to be shortened. The system, installed by New Jersey-based Automatic Suppression & Alarm Systems Inc., graphically displays critical information on the origin and spread of a fire. This helps incident commanders quickly locate the emergency and make fast, well-informed decisions to extinguish the fire, reduces property loss and save lives.
Ferrara acknowledges that fire detection often does not receive the same attention as suppression. "Everybody keys on suppression," he said. "Suppression is excellent and has its place, but early detection is critical as well. It's a combined effort." Fire alarm systems protect life safety, whereas, suppression systems protect property. The fire alarm system alerts occupants of a fire emergency in the building and alerts them to evacuate immediately. Ferrara said, "We are putting in comprehensive fire alarm systems throughout all our buildings; that's where the system comes in."
As Ferrara knows all too well, the majority of buildings are built according to budget; typically, the first things removed are the fire alarms going into the basement, mechanical room and other places deemed lower priority in a bid to cut costs. MSU management, however, is in favor of fire protection and early detection.
"Although the system is designed as a firefighting tool, the majority of the time a firefighter responds to a building for an alarm it's a non-fire event," said Ferrara. "It's a pull station or a smoke detector, and a tool like this helps in dispatching manpower to the proper location."
First responders can investigate the situation, address it and get back on active duty, ready for the next alarm. But in an emergency, when time is of the essence, the system's intuitive graphical interface will help responding firefighters quickly and precisely locate any one of the 200 smoke sensors, 50 duct smoke sensors or 30 heat sensors installed in the seven-story University Hall building. They will spend less time trying to locate the fire and, as a result, can extinguish it faster.
In addition to identifying active alarm devices, the system will also help firefighters locate key resources like standpipe connections, emergency shut-off valves and stairwell locations, as well as any structural or chemical hazards that may exist.
"This system is going to play a major part in our larger buildings moving forward," Ferrara said. "We have a building, Schaffer Hall, for which we feel this sytem would be perfect. It is going have two recital halls, the larger of which will hold up to 300 people. It's an ideal spot for us to utilize this product." And based on the school's highly positive reaction to the recently added system, they're looking into implementing it university-wide.