Public Monitoring Also Offers Marketing Messaging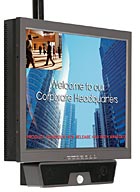 CBC's Public Display System is designed for full security monitoring as well as extended visibility for your marketing message. The built-in card reader displays multimedia presentations in a variety of formats, such as still picture slide show or video. An integrated high-resolution color camera displays the recorded area.
Find out more at
www.cbcamerica.com/cctvprod


I want to hear from you. Tell me how we can improve.