A natural disaster; a workplace violence incident; a terror attack. It's obvious that the first people on the scene will be private security officers, local law enforcement, firefighters or emergency medical technicians.
Just check the numbers. In the United States, there are about 1.1 million private security officers, 664,000 police officers, 353,000 firefighters and 192,000 emergency medical technicians. Outnumbering U.S.-based National Guard, Reserve and U.S. military forces by hundreds of thousands, these first responders have another leg-up – they are local men and women who are closer to the potential action and more knowledgeable of the geographic settings. Most emergencies, however, are not confined to one jurisdiction. Natural disasters, hazardous materials incidents, terrorist attacks and other situations often demand the involvement of first responders from several cities/towns/counties and officials from private, state and federal agencies.
So first responders face some challenges, especially in this era of homeland security. Top on the list is the need for better communications among the private and public officers responding to an incident. A second need is to quickly gather and share information at the scene, thanks to portable and mobile security video.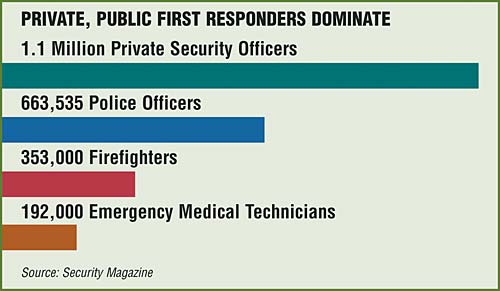 According to the First Response Coalition (FRC), America's first responders today face a crisis that drastically reduces their ability to effectively address emergency situations. Across the country, private and public safety departments cannot talk to one another, because their radios and communications systems are not interoperable. Different technologies, a lack of radio spectrum and frequencies, uncoordinated work on finding solutions and insufficient funding have all contributed to this problem.
Solving the interoperability problems is no easy task.
New equipment, training and additional spectrum are all required to achieve communications interoperability. Most importantly, providing interoperable communications to first responders will require enormous financial support. FRC estimates that $18 billion would be needed to replace all the public safety communications equipment nationwide.

Communications interoperability is the ability of first responders to seamlessly interact with other agencies and departments, sharing information and coordinating their responses to an emergency situation. Traditionally, this communication has taken place using radios and "walkie-talkies," but as technology evolves, more sophisticated systems that allow for data transmission, real-time video and other advanced communications will become tools for first responders. Interoperability links these systems of different private and public safety departments together, through various technological means.
The U.S. Conference of Mayors, in a recent survey of 192 cities, found that 60 percent of respondents indicated that city public safety departments did not have interoperability with the state emergency operations center and 88 percent have interoperability with the Department of Homeland Security. There is even a lower level of interoperability between private security and pubic agencies.
"There is a problem with governance, larger than technology issues," said Rob Strayer, counsel to the Senate Committee on Homeland Security & Governmental Affairs. "We've created the new Office of Emergency Communications in the Department of Homeland Security (DHS), established FEMA committees to look at regional solutions and called for DHS to create a National Plan for Interoperability." Strayer indicated it would be important for all these initiatives to be coordinated so that the best practices could be available to first responders.

Still another issue: the 24 MHz allocated to first responders from the digital television transition is crucial to interoperability. "Do we have enough spectrum? That is not a simple question," said David Furth, associate bureau chief, FCC Public Safety & Homeland Security Bureau. "We have to look at technology and costs. The definition of interoperability is still an issue to discuss."
There are some interoperability projects, often launched by business organizations.
For example, integrator giant Raytheon of Marlborough, Mass., just started a pilot program in the Midwest that will provide first responders and safety officials with new and dramatically improved communications services.
The six-month program, which will be conducted in the Quad Cities region of Illinois and Iowa, will enhance collaboration and improve existing capabilities among community first responders and public safety organizations by providing seamless interoperability and remote broadband access. The pilot will also introduce new capabilities, including mobile situational awareness.
"This public-private partnership will provide critical information to our incident commanders in real-time -- enabling them to manage emergency incidents safely and effectively," said Fire Chief Mark Frese of the Davenport (Iowa) Fire Department. "We are just beginning to understand the potential of this network."
In addition to Davenport, Bettendorf, Iowa, and Moline, East Moline, Rock Island, and Milan, Ill., will participate in the pilot. On the private sector side, Genesis Medical Center in Davenport will also participate.
"Raytheon is increasing its focus on the civil communications market and has the expertise to support first responders and public safety officials perform with improved speed and efficiency so they can provide enhanced safety in their communities," said Jerry Powlen, vice president, Integrated Communications Systems, a part of Raytheon's Network Centric Systems business.
Security video, especially mobile systems, will play an increased role with first responders.
For instance, the West Virginia State Police just agreed to new technology to integrate video into police rear-view mirrors. Digital Ally of Leawood, Kan., has received an initial purchase order from the West Virginia State Police for its DVM-500 Compact In-Car Digital Video Systems.

The contract allows for all state, county and municipal law enforcement agencies within the State of West Virginia to purchase the system under the same terms and conditions as those provided the West Virginia State Police. The State Police has placed an initial order for 124 DVM-500 systems. Orders from various individual law enforcement agencies throughout the State are being received as well.
"Law enforcement professionals are using more technology than ever before, and our DVM systems require less space in the patrol car," noted Stanton E. Ross of Digital Ally, Inc. "With laptop computers, radios, radar guns, shotgun racks and in-car video systems, there is very little room left in a police car. By integrating state-of-the-art digital video technology into a rear-view mirror unit, (the installations) retain the original utility of the mirror, while gaining the benefits of an in-car video system, thus freeing up critically important space elsewhere in the vehicle."
First responders are arming themselves with new-age communications and surveillance gear. Many also are pushing for better recognition.
The First Response Coalition (firstresponsecoalition.org) recently called on Congress to designate Sept. 22 as "National First Responders Appreciation Day" to recognize and honor the millions of first responders who risk their lives to protect America's communities.
FRC is a non-profit organization promoting the needs of America's first responders in the areas of communications interoperability and data/information preparedness. The FRC represents the broad spectrum of first responders and their "friends and family" -- the communities and individuals served by first responders everyday.

9/11 Commission Recommendations Act of 2007 May Complicate Compliance
Recent passage of H.R.1 [Implementing the 9/11 Commission Recommendations Act of 2007] calls the public's attention to issues of supply-chain security, and the potential threats faced by this nation and all those with a stake in the supply chain. The International Cargo Security Council (ICSC), a non-profit organization comprised of companies, individuals and government agencies involved in the safe and secure transport of cargo, believes that the 100 percent inspection provisions contained in H.R. 1 may further complicate implementation and compliance with existing laws and standards, including those required in the recent Safe Ports Act.
ICSC is the chief proponent and representative of those entities involved with the supply chain and its security. The ICSC agrees with Congress' intent that more can and should be done to secure our borders and supply chains against terrorist activities, and we commend them for focusing on this concern.
HR. 1, however, will impose additional cost burdens on the U.S. economy, negatively impacting businesses – both small and large – with the establishment of cargo security and inspection protocols that rely on unproven technologies and that do not ensure security improvements that are commensurate with the expenses incurred.
Without such assurance, the ICSC strongly opposes the provisions requiring 100 percent inspection of ocean containers and air cargo entering the U.S., as well as the use of an undefined electronic container security device. If passed, this proposal will add uncertainty and cost to the international supply chain, severely impacting the flow of legitimate trade but with little demonstrable improvement in security.
In contrast, the ICSC supports expansion of the C-TPAT model, continued testing of new technologies that might be employed when proven, and increased emphasis on intelligence and information sharing. A layered, risk- based, targeted approach to cargo security, rather than a one-size-fits-all approach, will provide more effective security with better utilization of limited resources.
The ICSC stands firm in ensuring that our member organizations have the resources and commitment to assist in the vital mission of preventing terrorism on our shores or any others. Striking the proper balance between security needs and the free-flow of legitimate trade will continue to be a challenge facing all of us. Unfortunately, slowing the international supply chain and adding significant costs by implementing unproven technologies is not consistent with that challenge.
Wall Street Technology Association Announces 2007 Committee
The Wall Street Technology Association (WSTA), founded in 1967, is a not-for-profit educational organization that focuses on technologies, operational approaches and business issues for the global financial community. The WSTA Vendor Affiliate Program offers organized opportunities for vendors to keep financial industry professionals aware of current and emerging technologies. In addition, the WSTA offers social events, networking opportunities, and its bi-monthly educational Ticker Magazine.
The WSTA has recently announced the appointed members of its 2007 Advisory/Content Committee. The Committee provides input and direction regarding the content for seminars, the Ticker magazine and web site. The Committee will offer new program ideas as well as ways to enhance existing programs and activities.
The WSTA is pleased to welcome the following industry professionals to the 2007 WSTA Advisory/Content Committee:
Andrew Bach, V.P., Communications Architecture, SIAC
John Checco, President, Checco Services
Jo Ann Cooper, Executive Director, WSTA
Clare Cunniffe, Manager, Financial Services, IONA Technologies
John Faccibene, V.P./General Manager Financial Services, PAETEC Communications
Anthony Ferrera, Industry Marketing Director, AT&T
Tom Gunther, Global Strategic Accounts, Nortel
Johna Till Johnson, President & Sr. Founding Partner, Nemertes Research
Tom Jordan, President & CEO, Jordan & Jordan
Phyllis Lampell, Executive Director, WSTA
Eric Latalladi, Chief Technology Officer, J.B. Hanauer & Co.
Mike Maffattone, Chief Information Officer, Caxton Associates
Jonathan Morton, V.P., Global Customer Solutions, IPC
Mark E. Sanders, Sr. V.P. & Chief Technology Officer, New York Life Insurance Company
Shyamal Sen, Consultant
Leslie A. Stevens, Director, Center for Global Technology Mgt., Stevens Institute of Technology
Monica Simms VanHorn, Catalyst Communications and Consulting
Multi-Million Dollar Casino Contracts Awarded
The gaming industry has chosen to work with North American Video (NAV) for the design and installation of several new integrated video security and surveillance systems. NAV is a security systems integrator and a premier provider to the gaming industry. The recent contract awards further solidify NAV's position as the leading supplier of integrated security solutions to the gaming industry.
According to Cynthia Freschi, President of NAV and Security Magazine Columnist, the company has been awarded the contracts from MGM Grand in Detroit, Isle of Capri in Pompano and Harrah's in Chester Downs, along with phase two of the massive system recently installed at the new Wynn Casino in Macao.
Freschi said, "North American Video is firmly positioned as a key provider of leading edge IT and digital video surveillance solutions to assist our gaming clients execute their security projects."
M. Malia and Associates (MMA), a subsidiary company in the NAV family of companies, will design the security and surveillance systems for the casino projects. The various systems will incorporate a variety of IT, digital and analog technologies and vendor partner products that will be integrated and installed by NAV teams. Partner products will include video surveillance solutions from American Dynamics, system management hardware and software solutions from Honeywell, video surveillance and control services from Nice Systems, and network and digital video recorders from Sanyo.
NAV has also announced the opening of their Asia-Pacific office in Macau to support their international clients. Industry veteran Sam Smith manages the Asia-Pacific office.
Conn. Prisons Secured with IP Surveillance
The Rhode Island Department of Corrections has chosen ACP, part of Chubb Security Americas and Red Hawk Industries to provide a fully integrated, Internet protocol (IP) based video surveillance solution for the maximum security facility in Cranston, R.I.
The contract, valued at approximately $1.6 million, calls for the installation of 300 IP based security cameras, a fiber optic network and a virtual video management system for live viewing and recorded video playback. ACP will install the cameras throughout the prisoner intake center, with all video inputs feeding directly through a network into the central security command center that will be connected to a NET-DVR recording and storage solution. The contract also calls for the removal of the existing analog camera and recording system.
ACP's experience and expertise with complex installations, including other prisons, such as the Bedford Hills maximum-security prison in New York, were major factors in winning this contract. ACP provided Bedford Hills with a digital video recording (DVR) camera system with fiber optic cabling in a rigid conduit system connecting more than 300 cameras throughout the prison. Valued at $3.4 million, the Bedford Hills contract was a two-year project completed in December 2006.
ACP and Chubb Security provide integrated security solutions to police departments, hospitals, schools, retailers, regional banks, gaming and hospitality clients throughout the U.S. Chubb is part of UTC Fire & Security, which provides fire safety and security solutions to more than one million customers worldwide.

San Diego Trolley Corporation Selects Video Analytics to Improve Passenger Safety
The San Diego Trolley Corporation has taken proactive measures to ensure passenger safety and security along its urban and border routes by selecting Cernium Corporation to monitor its expanding light rail system. Cernium, a video analytics solutions company, and systems integrator Electro Specialty Systems (ESS) of San Diego will jointly install Perceptrak to provide San Diego Trolley security staff with situational awareness that will deliver real-time information to preempt potential security incidents. If an incident does occur, the system's data mining engine will enable security staff to quickly identify, retrieve and archive critical forensic video data from the event.
Known as San Diego's "moving landmark", the Trolley serves millions of passengers each year as it travels to the International Border; Centre City; California's birthplace, Old Town; as well as Mission Valley, Fashion Valley, and Qualcomm Stadium at Jack Murphy Field. The volume of passengers and heightened security require an enhanced security offering which can blend into an existing surveillance infrastructure, as well as increase the effectiveness of the security response.
"We are proud to be partnered with Cernium and the San Diego Trolley Corporation on this project," said David Reed, V.P. of business development for Electro Specialty Systems. "Railway lines are subject to high levels of crime, constantly changing threats and vulnerability and by deploying best-of breed technologies such as Cernium's Perceptrak, the San Diego Trolley Corporation is proactively providing a safer environment for trolley passengers."
The video analytics system utilizes a master control station where each security camera can be set to look for a unique alert condition. A camera can 'watch' for a single behavior, such as a vehicle in a pedestrian zone or any combination of behaviors. The system's technology then analyzes the video to identify, record and alert on behaviors as soon as they occur.
"A rail system can be challenging to monitor because it is spread out over a large geographical area," said Bruce Whitaker, Cernium's Western regional director. "San Diego Trolley has the unique challenge of protecting an urban track that also serves areas close to the US border. Advanced video analytics are perfectly suited to assist in both of these environments."
ALOA Announces New Accreditation Requirements
The Associated Locksmiths of America (ALOA) is the largest international organization for locksmiths and physical security professionals, with more than 8,000 members worldwide. The ALOA announces a new requirement that all members of the association become certified to continue their membership.
The Certified Registered Locksmith (CRL), Certified Professional Locksmith (CPL) and Certified Master Locksmith (CML) credential provides an objective measure of an individual's knowledge and competency in locksmithing and physical security. Throughout the world, it is the locksmith profession's recognition of practitioners.
In order to earn these credentials, locksmiths must comply with stringent eligibility requirements, including demonstrating that they have met certain education and work experience qualifications. They also must pass a comprehensive examination that tests knowledge and skills in major areas of locksmithing and physical security.
In order to maintain this credential, members must apply for recertification every three years, at which time they must submit evidence of continuing professional development. This requirement is instituted in order to maintain proficiency and credibility.
The ALOA Proficiency Registration Program (PRP) was introduced in 1985, and currently there are over 4,000 physical security professionals who achieved certification and recognize its value.
The Proficiency Registration Program (PRP) of ALOA is charged with improving the practice of locksmithing through the testing and certification of security professionals who have met prescribed standards of performance, knowledge and conduct. ALOA is dedicated to increasing the effectiveness and productivity of locksmiths and security professionals.
SIDEBAR: First Time: Security Magazine in China
Security Magazine's October issue will be translated to Chinese and distributed at the Chinese People's Security Expo (CPSE) in ShenZhen Nov. 1-4. It's a unique opportunity for security-related publications within the BNP Media family.
The Chinese security market now exceeds $6.3 billion, growing at over 20 percent annually. Over 1,700 exhibits will be at the CPSE, held at the Shenzhen Convention & Exhibition Centre. "This is an important step in the continued leadership and growth of our brands as we attract new subscribers and reach new markets for our advertisers," said Security Magazine Publisher Mark McCourt.
At present, two important national strategies are driving forces for the China security market:
Peaceful Cities – By the end of 2007, 38 pilot cities will be accepted into the program. The government plans to invest $937 million in the first 26 cities. The other strategy is Strengthening Police through Science and Technology -- By 2008, the government plans to add 87 cities for a total 108, with equivalent investment.