Even in the wake of September 11th, Congress has been slow to pass legislation that would allow the Department of Homeland Security to regulate chemical plant security.
In the meantime, some states are taking matters into their own hands. New Jersey, for instance, not only requires strong security standards for its companies, it is even requiring the use of inherently safer technologies (or what this industry calls ISTs) such as alternative chemicals. IST requirements, however, have been one of the most hotly debated issues that have held up the federal legislation, as companies argue that it is nothing more than a backdoor means for the environmental lobby to micromanage plant processes.
Companies also argue that the growing patchwork of competing state laws would have a negative impact on the economy – starting with interstate commerce and ending with higher priced consumer products. Consider the impact state OSHA and EPA laws have had on consumer prices. Companies that ship to and sell products in California, for instance, are already required to meet safety and environmental controls that far exceed those of neighboring states.
AGGRESSIVE ACTION
At the same time, chemical companies have been constantly accused of doing too little to secure their facilities. Yet, to the contrary, many companies have taken aggressive steps to protect their plants, their employees as well as the thousands of people living in the surrounding communities. Even in the absence of federal security standards, member companies of the American Chemistry Council (ACC) have spent nearly $3 billion during the last five years improving security at their facilities. In 2002, ACC even enacted its own Responsible Care Security Code – which addresses facility, cyber and transportation security – and made it a condition of membership.
Still, there are a large number of chemical companies in the United States that are not members of organizations like ACC, and until Congress does finally pass and enforce legislation, it's impossible to know what steps, if any have been taken to secure these plants.
The stalled legislation has not, however, prevented the emergence of a set of best practices to protect these facilities. These steps include performing site vulnerability assessments, implementing the recommendations that stem from these assessments and integrating the plant's existing process control system with state-of-the-art security solutions. Now plant operators and chief security officers can instantly and seamlessly manage emergency situations – even anticipating situations well before they pose a serious threat. This security solution can also increase plant productivity and logistical efficiency by tracking employees, contractors, vehicles and products anywhere on the facility. Not only can that help plant managers, but also first responders will know where everyone is located in the event of an emergency. This kind of integrated solution can improve plant efficiency and productivity, while achieving the goal of enhanced security.
The steps companies have taken during the last five years to secure their facilities have caught Congress' attention, and a consensus for passing a true security bill is growing.

CONGRESSIONAL ACTION NEAR
In just the last 12 months, the Senate and House Homeland Security Committees have held six hearings on chemical plant security where expert witnesses testified, and statistics and data were submitted and carefully examined. Even tours of chemical plants were taken with one objective in mind – to write a good bill. After all this work, the "Chemical Facility Anti-Terrorism Act" was introduced (S. 2145/H.R. 5695). And while the Senate and House bills differ, they are both bipartisan. That progress, now fueled by the Department of Homeland Security signaling its support for legislation, appears to have all the ingredients for passage. Just recently, the Senate and House bills were reported unanimously out of their respective Homeland Security Committee and now await floor consideration. At the same time, appropriators have included a provision in the FY2007 Department of Homeland Security bill that would require the department to issue regulations within six months after enactment. Although it lacks prescriptive language, its inclusion in a bill that funds the department's FY2007 budget has elevated its chance of passing this fall.
In the end, the success of federal legislation really depends on how well our government works together with industry to ensure effective implementation and enforcement. While companies understand that occupational safety and environmental management are squarely their responsibility, security is a shared duty. Effective national security requires the sharing of intelligence about threats and potential terrorist attacks, something that the federal government may be best equipped to handle, but also requires consistent local implementation and coordination by private industry, first responders and government agencies. Once institutionalized, improving security becomes a continuous process. Strong precedents already exist in the nuclear energy and aviation industries and placing the chemical industry within that same framework would simply complement what has already been done and what works.
After five long years of gridlock, a consensus is within reach. The balance of our nation's security and economic future is far too important to delay federal legislation any longer. It's time for Congress to resolve the remaining issues and pass a good bill.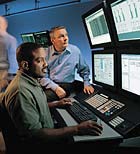 SIDEBAR: Security Blanket: How to Wrap a Seaside Facility
Honeywell holds a unique triple perspective on chemical plant security as a chemical plant operator, process controls manufacturer and security systems supplier.
CEO Dave Cote committed the company to driving the issue of industrial site security, which prompted it to develop its Geismar Specialty Materials plant on the Mississippi River in the southern Louisiana "chemical belt" as a showcase facility. As a showcase, Geismar has many integrated security technologies in an effort to illustrate the variety of ways chemical plant security – and public safety – can be significantly enhanced, especially in a regulatory environment that encourages best practices.
The facility presents the kind of significant security challenge that many chemical and petroleum production facilities face -- access via water, rail, highway and pipeline, as well as the presence of four other corporate tenants spread over 2,200 acres. Since Sept. 11, using $2 million of its own funds and a $1.2 million Department of Homeland Security grant – and after assessing potential threats facing the facility – Honeywell has designed and built a multi-layered approach to protecting this facility. Among the layers of technology:
The latest cyber security, effectively protecting the process-control system and network;
Advanced access control – from hand-geometry readers to keycard access for all employees and the hundreds of contractors who arrive daily;
Outer perimeter fence lines with sensitive vibration detection, microwave sensors, and strategically placed explosive-proof high-speed pan-tilt-zoom cameras;
Radar video surveillance on the water, with integration to high-resolution day-night cameras capable of tracking water traffic down to the size of a jet ski;
Strict visitor management policies and system to register, catalog and track each visitor to the facility;
A mustering system capable of locating an employee or visitor in the facility in the event of an emergency.
Because all the above is integrated, both the security and process operator operators are made aware of intrusions – or accidents – simultaneously and are able to more quickly make decisions, saving crucial seconds when events do occur.