Higher Performance Physical Access Biometric Reader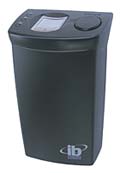 Integrated Biometrics' latest physical access control fingerprint biometric reader (TRU 650) outperforms competing readers due to its combination of a unique patented input sensor technology, one of the fastest match-time algorithms in the world that operates in a true 1 to N (many) environment, and a modern TCP/IP communication architecture. This unique input technology is live finger sensing, and is immune to electro-static discharge, nicotine, oils and other substances that negatively affect competing scanning technologies.
For information visit
(addy)
Links


I want to hear from you. Tell me how we can improve.