Gov. Rick Perry's throwing down the gauntlet, that is the IP camera, to fill what he calls gaps in border security from what the U.S. Department of Homeland Security's delivering. The state will create a virtual border watch program "by leveraging advanced video technology and the power of the World Wide Web, and…make our border stronger and our nation safer," Perry said.
With voluntary participation of private landowners, Texas will use $5 million to begin placing hundreds of surveillance cameras with night vision capability along criminal hotspots and common routes used to enter this country. Perry said the cameras will cover vast stretches of farm and ranchland located directly on the border where criminal activity is known to occur, and not the neighborhoods where families will continue to enjoy their privacy.
"Landowners will be able to monitor and defend their property from those who might endanger their families. We will make the video feed available to state, local and federal law enforcement agencies so they can respond swiftly and appropriately," Perry said. "And we will post this video on the Internet – in real-time – so that concerned Americans can help protect our nation through online neighborhood watch programs."

MOST WORRIED ABOUT TERROR, AVIAN FLU
According to a new poll released today, 80% of American voters believe a calamitous terrorist attack could happen in their lifetime while 74% believe that a devastating flu pandemic could occur in the same period.
The nationwide poll (with a margin of error of +/- 3.5%), for NBC News Productions and SCI FI Channel, also found that 37% of American voters believe the nation is unprepared for a major terrorist attack, while 40% feel the country is unprepared for a pandemic outbreak. Check out this month's News & Analysis for a lead article on avian flu.
Smart Card Alliance Challenges DHS
Contactless smart card technology best meets the objectives set forth by the Department of Homeland Security (DHS) for high throughput and the protection of individual privacy at the nation's border crossings for its People Access Security Service (PASS) card program. PASS cards would be required by 2008 for all U.S. citizens who cross the northern and southern borders of the United States without passports. The Smart Card Alliance wants DHS to use secure contactless chip technology vs. RFID. Go to
www.smartcardalliance.org
for a copy of the alliance's white paper.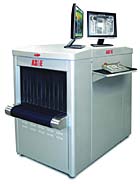 What About the Parcels?
There's been plenty of talk about the need to track and search cargo containers, but more large enterprises now seek ways to detect security threats and contraband in parcels, baggage and mail. More organizations now physically separate the handling of incoming mail and sorting from corporate headquarters, allowing for better inspection by hand and by emerging detection technologies.
An example is Gemini from Billerica, Mass.-based American Science and Engineering.
From Yellow to Orange to Red
What are an enterprise and the chief security officer to do when Homeland Security elevates its advisories?
One solution is, there's TAZ (Threat-level Adaptive Zoning). In perimeters of up to 50 continuous miles in length, it allows Future Fibre Technologies (Mountain View, Calif.) fence-mounted fiber optic "early warning" sensor to quickly tighten security along the entire perimeter in response to the Department of Homeland Security Advisory System. As an example, in advisory condition yellow, the individual alarm zone length may be a traditional 300 feet. In orange, it adapts to150 feet and in condition red each zone becomes 75 feet for a more detailed assessment. Besides the zone length, the feature automatically adjusts parameters related to alarm detection sensitivity. As Homeland Security raises the threat level, zones shorten and sensitivity increases at the click of a mouse.
Links