Linux DVR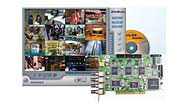 Milpitas, Calif.-based AVerMedia's AVerDVR DX5000, using the latest video capture cards, provides a digital video recording solution based on Linux system. It allows the user to capture true color images and videos from four up to 16 cameras simultaneously (cameras not included), with the newest motion detection technology and MPEG4 video compression.
For free information circle 242


Links


I want to hear from you. Tell me how we can improve.