Internet Protocol (IP) security video opens up a whole new world of opportunities for enterprise security directors, information technology (IT) managers and system operators. But to empower this technology, it's critical to develop a practical migration strategy that eases the transition and minimizes security budget demands by maximizing the return-on-investment of current assets.
Fortunately, upgrading from analog isn't an "all or nothing" proposition. Among advantages of network-based IP solutions is the flexibility to make that transition affordably, seamlessly and transparently – one step at a time. Using a hybrid migration strategy to make modest incremental investments in stages – adding new technology on top of old instead of substituting it all overnight – provides that seamless integration with the "zero" operator retraining.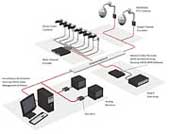 Making the Case
Making the case
So-called video over IP follows a well-established path already carved out by voice over IP – with the added advantage of a simplified transmission network relative to the cable-intensive infrastructure of security video.
Intelligent migration to IP-based security video systems in stages also lets you selectively adapt a variety of technical and logistical factors to your needs.
New construction cost savings –

It is estimated that using CAT-5 cables instead of coaxial cable can save 50-60 percent of new system construction costs. It is simpler and more economical than laying thick bundles of coax, fiber, audio wires, pan-tilt-zoom (PTZ) control wires, alarm input wires, relay output wires and power cables. And, when combined with power over Ethernet (PoE), the savings are even greater.

Power over Ethernet –

The ability to provide both power and video transmission through a single CAT 5 cable creates multiple advantages. It makes initial installation of new cameras less expensive where AC power is not readily accessible. And when supported by back-up power at a central control station, it can help maintain surveillance even during power outages.

Video quality and compression flexibility –

As with digital photography, digital video quality has developed rapidly. In IP video, cameras and encoders offer multiple format options – from powerful, broadcast-quality MPEG-2 to the more bandwidth-efficient MPEG-4 compression algorithms – to achieve very high picture quality and suit specific needs. Best of all, there is cost-effective flexibility when switching among formats for optimum efficiency.

Digital redundancy –

Reliability is an important attribute in distinguishing one IP security video solution from another. For example, choosing cameras with built-in memory "buffers" captures video in the event of a loss of connectivity. Then, when the network becomes available again, you can catch up on what you missed as if the network was never down.



Organizational changes –

The desire to centralize operations centers is putting control booths farther away from the cameras, at distances only IP-based local area networks or LANs and wide area networks or WANs can reach.

Scalability –

By its nature, IP-network technology is easily and economically scalable to suit any size of installation, and support growth after the initial installation.

Open-system standards –

The flexibility of network-standard hardware used in IP security video systems gives users more options for equipment acquisition, maintenance, upgrade and replacement

Assembling Building Blocks
The IP-based structure is not significantly different from analog. It might use some different terminology, but there are still four key components:
Image capture
Image transmission
Storage
Video management
Planning an optimum migration path involves integrating those aspects that will produce the greatest cost/performance benefits for your company's needs. The difference is that IP cameras on wired or wireless networks supersede analog cameras and miles of heavy coax cable. VCRs and DVRs are replaced by racks of hard disks attached to the network in ways that provide greater economies of scale.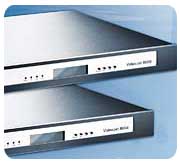 Permanent security rooms with dedicated monitor walls and fixed operator workstations are replaced by flexibly-networked keyboards, monitors and PCs. In the IP world, you can distribute your infrastructure – IP cameras or video encoders, network video recorders (NVRs) and workstations – wherever the network reaches. And as an alternative to analog matrix switches, today's digital systems use the IP network switch and video management software to enhance the switching function. In effect, the network is the switch.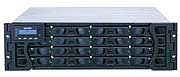 Building Blocks
Building blocks
An IP camera is a conventional analog camera with an embedded encoder so that it directly generates an IP video stream. Separate encoders can also be added to existing analog cameras to make output compatible with the digital network. As the bridge between fixed or PTZ analog cameras and the network, the encoders (video servers) create streams of digital video that can typically be viewed using video management software, a Web browser or a decoder to display it on an analog monitor.
Encoder selection criteria includes bandwidth-efficient MPEG-4 or broadcast-quality MPEG-2 either recording at the edge or just streaming, network outage protection, wireless or wired Ethernet and whether the encoder is serving one camera or many. There's also dual streaming – for example, one high bandwidth video stream for real-time viewing and one slightly lower quality and low bandwidth video stream for more cost-efficient recording.
Currently the most popular units are MPEG-4 devices as one/two channel encoders and their decoding counterparts. Some decoders can present a quad view on a composite video or VGA monitor for more flexibility. Multi-channel units with storage for edge recording, and optional automatic network replenishment, are frequently found in concentration areas such as closets and head-ends.
NVR solutions, typically based around proprietary software running on common off-the-shelf PC-based hardware, provide long-term storage and retrieval solutions for video and audio. Storage has three key components: NVR managemnt software, an NVR server platform, and storage capacity (typically RAID 5
While NVR technology might seem foreign to some, it mirrors the proven functionality and reliability of microcomputer networks used in virtually every major corporation. Capabilities like commercial-class redundant power supplies and NVR servers running the robust Windows 2003 Server guarantee optimum performance and reliability, and are available as preconfigured solutions.
Each NVR receives digital video from IP encoders across the network and streams it to one or more RAID disk arrays capable of storing multiple terabytes of information. Because NVRs (unlike DVRs and VCRs) are not tied to the coax, they can be securely positioned anywhere on the network. This simplification in cabling, and the added flexibility of system management in an IT-type environment, are major drivers in the adoption of IP video.
Perhaps the most significant leap forward is use of an IP network-based video system to replace the analog video matrix switcher. With the new technology, all signals are converted to IP and treated as digital data – including voice, video, alarms, relays and PTZ control signals.
Security and surveillance operators can take advantage of PC-based software to manage their world, with custom site maps that instantly correlate cameras to their physical location. Users can switch cameras to special video windows on the PC monitor, or onto one of many hardware analog/VGA monitors. They can manage alarms and relays and control PTZ cameras while monitoring the health of encoders, decoders and NVRs. And now, operators even have the choice of controlling it all with a PC keyboard/mouse or traditional keyboard – a simple, yet effective, and robust interface.

Cost and labor savings
Being free to choose exactly which performance enhancements to invest in over time can be one of the most attractive advantages of migrating from analog to digital systems, providing cost and operating benefits for both the short term and long term.
A true hybrid IP strategy can allow you to deploy any desired portion of a complete and pure IP solution in parallel with an existing analog matrix switcher, without forcing matrix switcher users to change the way they operate. This transparency enables operators to continue working with the same equipment and same user interface, without retraining, and with no perceptible difference between viewing analog cameras connected directly to it or viewing IP cameras connected as part of a satellite IP system.

Material for this article comes from Dr. Bob Banerjee, Bosch Security Systems, Fairport, N.Y. Bosch and other companies are working to smooth the transition to digital video. Of course, private security's adoption of integrated systems, digital video and use of IP-based communications has provided many advantages to enterprises using the technology. The evolution also has created challenges for the ways private security works with law enforcement. Organizations and security executives are addressing that challenge; one project is Video Access Portal for Public Safety or VAPPS.
Police Want Images Fast
According to the Security Industry Association (SIA), the use of security video systems in both the private and public sectors has provided law enforcement with crucial video evidence for many, many years. Since the migration from analog to digital video, the ease of recovery and playback of such video information has become more difficult for the law enforcement community. In early 2005, SIA was asked by law enforcement agencies to create an online database of hyperlinks to DVR manufacturers. Law enforcement personnel expressed a need to access DVR viewer software from all manufacturers that could be easily and quickly located from one single Web source.
So the industry trade group took this on as an industry project and has developed a solution by creating the Video Access Portal for Public Safety. This online resource will provide law enforcement with:
A single Web site that includes all DVR manufacturers and links to their individual sites.
White papers for DVR models to include technical data and the best method of retrieving quality images from the DVR (to include large amounts of data, more than CD amount, etc.).
VAPPS represents a step forward in forging a strong partnership between public and private sector organizations.
Business Advantages to IP-based Security
Some of the most common business advantages to adopting an IP-based system include: I
ncreased video management.
convenience and advanced playback functionality of digital recording.
Reduced cost of infrastructure cabling.
Full compatibility with the IT network technologies that are the backbone of today's corporate communications infrastructure.
Flexibility to easily move cameras and observation workstations.
Ability to respond rapidly to emergencies, by dynamically relocating cameras, monitoring stations and storage systems anywhere on the network, including the use of portable wireless, laser-based and microwave-based connections to extend the reach.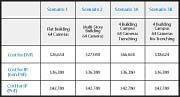 Bridging the IP Evolution
IP camera integration and network video recorders represent the future of the security industry. With any IP-based system, pushing the addressable structure as close to the edge as possible creates flexibility in managing the system.
As the industry embraces IP-based cameras, it is critical to consider the unique set of challenges that the technology presents, not the least of which is the industry's existing investment in analog cameras, according to Integral Technologies, Indianapolis. While it is easy to predict aggressive growth in the NVR/IP camera market over the next three to five years, it is interesting to note that the DVR/analog market will continue to grow as well. This trend, coupled with the existing install base, drives the need for a network video management system that bridges the technologies.
There is a proportional relationship between additional required bandwidth and the number of cameras, types of cameras and number of clients viewing video.
Video analytics and behavior recognition technology increase a security system's efficiency by allowing the user to limit network traffic to data truly related to security issues. As analytics move closer to the edge, through satellite NVRs with remote storage and ultimately the IP camera itself, security professionals will have a tool to help regulate the amount of video being pushed over the network.