A proximity card access control system, set up to serve multiple tenants, creates competitive value for the Tennessee complex and its developer.

Lenox Park is a 700,000 square foot office complex located in Memphis. The property leases to a variety of tenants seeking high-quality, high-tech workspaces, including a Fortune 50 and several Fortune 100 companies.

The complex is owned and managed by Clark & Clark, which has its headquarters in the space and was recently honored by the West Tennessee Chapter of Associated Builders and Contractors and the International Interior Design Association.

"When we built Lenox Park, we wanted to create a high-end, high-tech location for speculative Class A office buildings," explained Dan Chancey, commercial property manager for Clark & Clark. "Our product is the building itself and we want the best systems for it."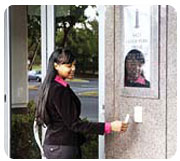 Superior Solution
Clark & Clark chose GE Secure Perfect (GE Security, Austin, Texas) access control system for Lenox Park. The company also uses GE proximity cards and 480 proximity card readers at as many access controlled doors across seven buildings at the office park. At any given time, there are about 2,000 users. All aspects of the security system are integrated into Secure Perfect.

"A multi-tenant building is a whole different animal. You don't have the procedural controls of a corporate facility. That's why we needed a system with a lot of reporting functionality and a lot of flexibility," Chancey said. "We use electronic Best hardware here (Best Access Systems, Indianapolis) and Secure Perfect integrates extremely well with that hardware."

Lenox Park tenants do not carry keys, unless they have a key to a private office within their individual suite. The complex uses magnetic locks on external doors. All internal doors have proximity card readers for access, including restrooms, stairwells and elevators as well as every external suite door. Various levels of access can be granted depending on each tenant's needs.

Chancey's office is responsible for creating employee badges and managing door security for each individual tenant. Some tenants have six levels of access control available that include time of day, doors and areas of which specific employees are allowed. Chancey and his staff can customize access levels for each employee.

"We have a customized sheet that each tenant fills out for each employee or vendor who will have an access badge," Chancey explained. "For example, if a particular tenant required access for a new employee, the authorized representative of that tenant sends over a sheet on that person, and we process the information into the system and send a badge in the new employee's name with the specified access criteria. We work directly with one or two people for each tenant and those people are responsible for funneling the information for the regular employees to us. We get an information sheet on every single badge we issue, even down to the tag number of their car."

Occasionally, Chancey is asked to remove certain employees from the system and this can be accomplished quickly and efficiently with the system.

"We had one tenant that went through a major corporate change, and everybody in charge was let go," he said. "We might be asked to disarm 80 badges at a quarter to five, and it takes us only 15 minutes to deal with all the badges and send a verification report back to that tenant that says the badges have been disabled."
 

Audit Trail Accountability
The security system's audit trail capability has already helped some tenants resolve issues with employees and contractors.

"The system reports who accessed, or tried to access, each and every door," Chancey said. "It can tell us who you are and what time you attempted access. The audit capabilities are very robust."

For example, Lenox Park hires a contractor to work on its air conditioning. One of the contractor's employees claimed that he had tried to use his badge to access a door and it denied him entry because he was there too early. What the employee did not realize is that the system records even failed attempts to access a door.

"That employee simply wasn't getting here on time," Chancey said.

Lenox Park tenants can access their own audit reports via the Internet. They use a password to access a server that stores information from the security system. They can then request a variety of reports for particular doors and/or time periods.

The system also simplifies guard reporting. Two contract officers who patrol Lenox Park do not have access to tenant suites. However, the officers do present their proximity badges to the card readers throughout the complex to show they have toured the grounds. Guard reports are easily run.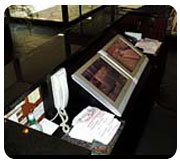 Making Money
Using an advanced access control system has both improved operations at the business park and saved money, Chancey reported.

"Good key systems cost a lot of money. If we lose a master key, it's a guaranteed 30 grand. You have to change every lock in here," he said. "We don't issue keys very much. Our vulnerability is so low in that regard it's amazing."

Even in Memphis' competitive real estate market for Class A office buildings, Chancey said Lenox Park is considered the high end of the scale and that is, in part, because of its superior security system. "The key is not just to have an advanced access control system, however, but to utilize it," he emphasized. "If you simply use it to unlock the door, it's a pretty expensive door latch. If you are going to utilize it, it will bring you profitability."

Clark & Clark believes the access control system helps its commercial office space gain an edge over its competitors.

"This is something almost no building in this market has," Chancey concluded. "No one is utilizing the system and integrating it throughout the building to the depths that we are. The key difference is that our product is the building – our security system has to be marketable. It needs to be both convenient and secure, which is difficult. With a multi-tenant facility, a security system must be integrated much deeper into the building than a security perimeter."
 

SIDEBAR: At an Upper East Side Co-Op
The residents of the 132 apartments at New York City's Upper East Side co-op known as Tower East can sleep better at night now that Nortronics Corp., a designer, installer and maintainer of security systems for residential, office and institutional clients, upgraded the systems that protect the building and its residents.

"Tower East, like many residential buildings throughout the city, was relying on outdated technology," said Maria Gonzalez of Nortronics. "The latest technology is not only superior in its ease-of-use and ability to detect crime, but it can be cost advantageous as well." During the upgrade at the 34-story coop at 190 East 72nd Street, the company replaced the building's existing VCR-driven system with a 16-camera network video recorder (NVR). It added two 15-inch color flat screen monitors in the lobby and one 17-inch color flat screen monitor in the manager's office. The company also added 13 new color cameras, which monitor the service entrance and ramp, second floor deck, gym, rooftop sundeck and the stairwell leading to the roof.

The new NVR is far superior to the old DVR because it can record video from almost any number of networked cameras. The NVR also has more hard drive space than the DVR, allowing more digital footage to be stored. Although none have been installed yet, it can also accommodate IP cameras, which can be controlled via the Internet.

The networked system allows the building manager to view the camera images over the Internet from any remote location. Video images can be watched in real-time, or recorded and saved on the computer hard drive or a DVD to be viewed later. Nortronics used open architecture in the upgrade, giving the building long-term cost advantages and ease-of-use superiority over single-provider systems.
 
Links