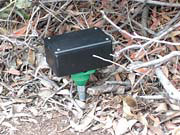 When Jim Drewett heard a radio ad for a vehicle recovery system, he thought "I can do that – only better." Ten years and several major government contracts later, Drewett is riding the wave of success by building unique security technology that can be used by numerous government agencies to track and apprehend anyone from illegal aliens to individuals harvesting pot on public lands.
Setting the trap
While Drewett started out working in his garage, his company, Applied Digital Security, Inc (ADSI) of Chula Vista, Calif., was poised to grow quickly. His homemade tracking device got into the hands of the Chula Vista police department and the device showed its worth early on when the equipment became an important part of a high-stakes surveillance operation. "We had gotten some information from a 'tested and reliable' informant that an individual was planning to purchase grenades," recalled former Chula Vista police agent Michael Cuellar. "This individual had a long criminal rap sheet."
Drewett installed the device in the informant's vehicle and then returned the vehicle to the informant to begin the operation. Once the police were able to pull the vehicle over under the guise of a routine traffic stop, they searched both the vehicle and the individual suspect. They didn't find grenades, but they did find that the suspect had concealed a loaded weapon. Because he was on parole, this offense landed him in prison.
This activity caught the attention of the U.S. Border Patrol and, using its guidelines, ADSI designed technology that could track individual Border Patrol vehicles in remote locations. That led the Border Patrol to ask ADSI to create a system of sensors that remotely tracked aliens crossing the border illegally.

Via the Internet
Drewett drew up plans for ADSI's intrusion detection system (IDS), designed as a hard-wired system using sensors to a VHF transmitter which would then relay data to the IDS control center and up link to a communications satellite. The data transmits to the Border Patrol via the Internet. Authorized users have access to the data, allowing officers to pinpoint and patrol the affected areas more efficiently; but ADSI needed additional resources to in order to design and get the IDS system operational.
In his search for new resources, Drewett learned that the Center for Commercialization of Advanced Technology (CCAT) center located in San Diego could provide assistance. CCAT offers funding to small companies that create technologies for use by U.S. Departments of Defense and Homeland Security, as well as commercial applications.
Assistance from CCAT allowed ADSI to move forward with the IDS design which included seismic, magnetic and passive infrared sensors. These highly perceptive sensors detect the slightest movement and are sensitive enough to distinguish between humans and animals. The system aims to detect and track humans trespassing or illegally crossing the U.S. border.
The first IDS system was purchased and installed in 2003, but, ironically, not by the U.S. Border Patrol. The U.S. Fish and Game Department had also heard of ADSI's successful tracking technologies and they purchased the first IDS system used to catch marijuana growers on public lands. The system led to the apprehension of several growers shortly after the system's installation. Late, the Border Patrol installed IDS near the U.S. border town of Campo, Calif., for surveillance of illegal immigrants.
Soon after the border installation, Drewett got an offer from a company in New York to buy ADSI. Drewett consulted a local venture capital consultant, who helped work out a deal between ADSI and a software engineering firm, Abaris Technologies, San Diego, to create a joint venture called AIRSIS, LLC.