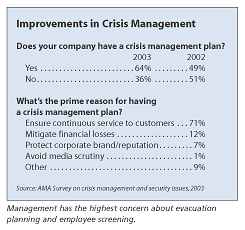 Numerous organizations outside of traditional associations and societies serving the security profession are getting on the bandwagon.
Beyond its fire roots, the National Fire Protection Association, for example, is working on premises security standards. Now the New York-based American Management Association (AMA) has just formed what AMA officials call a security council. The effort brings together experts in security, crisis management and business continuity to discuss security trends and challenges affecting U.S. businesses.
"Executives in AMA's security council will help [the association] focus on important global and domestic issues, from terrorism and SARS to evacuation planning, employee screening, cyber threats, workplace violence, travel safety, hazardous material and mailroom safety to natural disasters," Virginia O'Connor, AMA vice president of councils, tells the Zalud Report.
According to AMA research – and not surprisingly – crisis management and security issues are chief concerns among U.S. business executives. More companies had crisis management plans in place last year as compared to 2002. Specifically, 64 percent of the executives surveyed by AMA said their companies have a crisis management plan, up from 49 percent in 2002.
"One of our missions is to keep the management community abreast of products and services, what's reflective of what's going on. That's particularly true since the terror attacks. The issues of security were coming forth in one form of another. Our members were asking what they should do, and what are the best practices out there," O'Connor says.
The new AMA security council is made up of people from Fortune 100 companies, who have responsibility for security, facility management, human resources and other management titles.
"The council will share the best practices with our customers and members," O'Connor adds. Council members will get together at least twice a year. "The world has changed in terms of security and business wants to know how to do better."
One member of the AMA security council, Thomas Cook, is in the midst of publishing a second book on supply chain management and security issues. Managing director of American River International of Melville, N.Y., Cook says that some members of the security council will meet more often and there will be courses offered by AMA as well as information and printed materials.
The AMA research points to the need to continue to educate business managers generally. For instance, only about 40 percent of AMA-researched organizations offer formal training on security issues and, of those that do, most provide training only once a year.
Emphasis on more security, disaster and emergency training will continue to grow, even without the support of middle management. Local, state and federal government agencies are now working much closer with corporate and contract security operations. Such cooperation includes better communications among the players as well as more frequent testing of evacuation plans, for example. Depending on the type of organization, new laws and regulations mandate a higher level of security and audited training sessions. While the AMA survey shows that management wants better security to make sure the business continues, there also are numerous liability and anti-terror needs, too.