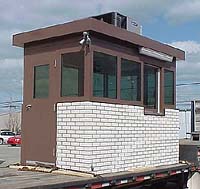 Paraphrasing a famous actor on Broadway, the best entrance is a safe and secure entrance. Security executives at private and public buildings, military bases, airports, power plants and even stadiums now embrace the need to harden security while improving safety at their street and parking entrances as well as driveways.
Undergoing a rehabilitation, the Macombs Dam Bridge, the closest bridge on the thoroughfare between Manhattan and Yankee Stadium in the Bronx, will soon boast sophisticated warning and barrier gates from B&B ARMR of Norwood, La., a subsidiary of Integrated Security Systems Inc. The equipment includes the B&B ARMR VT-77 warning and VT-6801 barrier gates. In this sector of vehicular access control, ranging from cantilever gates, bollards and plate barriers to tire shredders, environmental and stopping specifications are all important.
In the Macombs Dam Bridge spec, security required the gates be able to operate in such adverse conditions as 70mph wind coupled with a half-inch ice load on all exposed surfaces.
The VT-77 Automatic Safety Gate has a vertical to horizontal arm and is typically used as a warning, traffic control and access control barrier. The VT-6801 Positive Resistance Barrier Gate is a standard vertical to horizontal arm-type safety barrier for use on moveable bridges, railroad crossings and any other traffic barrier installation where safety is an important consideration.


Diversity of Gates, Barriers
B&B ARMR also makes a diversity of anti-terrorist barrier systems. Among them are hydraulic-operated sliding gates, sliding beams and cable crash beams. There is a line of bollards, too, which, according to executives at B&B ARMR, are attractive to security professionals seeking protection but also a way to allow in authorized vehicles. The cylindrical units, made of high strength steel, come in models ranging from hydraulic and pneumatic to semi-automatic operation. These and other types of barriers receive certification from a handful of government and military agencies.
Another barrier system manufacturer, Robotic Security Systems Inc. (RSSI), of Panama City, Fla., has a system that employs removable square bollard posts inside a welded steel vault that's buried flush with a street, entrance or access way. When coupled with a keypad, proximity sensor or computer-controlled at a command center, the bollard posts rise and fall, providing a higher level of access control.
Beyond the barriers, gates and bollards, there are other ways end users are better protecting their vehicle entrances. The solutions can include barcode readers, guardhouses as well as innovative kiosks for a secured, driver-does-it-himself access control.


IDing Vehicles
Some barcode readers, for example, have been developed specifically for automatic vehicle identification and access control applications. The BA-200 reader from Barcode Automation Inc. (BAI) of Winter Springs, Fla., is a moving beam laser scanner that reads retro-reflective barcode labels on moving vehicles. It can work with or without a vehicle detector loop. When a vehicle approaches, the reader decodes the decal and validates the identification number.
Of course, many organizations see value in positioning a security officer at a street or parking entrance or at a critical junction of a driveway leading to a facility. Here, guardhouses provide both a point of control and a place to keep the officer protected from the elements. There are scores of types of guardhouses most purchased as pre-assembled buildings.
One source of such pre-assembled buildings is Par-Kut International of Harrison Township, Mich., which markets a wide diversity of sizes, looks and external and internal specifications.
Some are the buildings are based on shop drawing driven by the needs of the end user. In these situations, normal lead-time is about six weeks. There is a lead-time for preparation of project specific shop drawings, too (usually 1-2 weeks after order). Fall and early winter tend to be the busiest times for firms making pre-assembled buildings for guard, reception and access control.
Par-Kut, for one, builds in one-foot increments, starting with the smallest, a three-foot by four-foot unit. while moving up to 12 foot by 25 foot facilities. Some special units have gone even larger.
Another firm, Hidden Eyes Guard Service of Sebring, Fla., aims at automating the traditional guardhouse while also increasing the level of entrance security.


Automated Guardhouses
It has developed a new tool implementing the latest in video conferencing hardware, Internet data transfer and database management to provide access control services for restricted areas.
The Hidden Eyes system replaces a security guard with a kiosk that transmits video and sound via a secure Internet connection to the Hidden Eyes central station or to a local guard or security operator. The system's database can handle a person's portrait and vehicle license plate numbers as well as more typical fields of data.


SIDEBAR 1: What About Location-based Services?
According to Dr. Stephen Colwell, president, C3 Location Systems, Boca Raton, Fla., popular applications for location-based services range from fleet tracking to emergency medical alerting and can "dramatically decrease transportation and manpower costs, customer wait time for deliveries, while providing new platforms of security, roadside assistance and safety," he says.
The firm has Alarm Central Enterprise or A.C.E., a software platform that boasts an object-oriented design, updateable map base and operator configurable screens.
Security operations can employ enhanced services such as global positioning system tracking, routing, panic response, roadside assistance, access to emergency medical services as well as fleet tracking and location-based asset management.


SIDEBAR 2: When Trash Kills
Protect those entrances but don't forget the trash cans.
That's the advice of Grant Haber, president of American Innovations Inc., of Spring Valley, N.Y. As receptacles are a necessity for waste management, companies such as American Innovations have bomb-resistant ones designed to look and function like ordinary waste receptacles.
However, unlike conventional trash receptacles, these can help protect people from the harmful effects of an explosion. "Unfortunately, there are currently no set guidelines for vendors developing bomb-resistant waste receptacles," Haber cautions. He advises that, before purchasing, it is important to obtain an official test report.