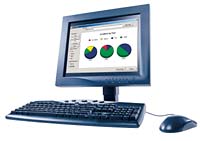 Ease of customization is one of the essential elements that attracted the British Broadcasting Corporation (BBC) to a computer-based security incident-reporting program. Incident reporting software can track incidents, manage investigations, analyze information, create reports, add graphs, monitor losses and liabilities, control insurance costs as well as justify a security department budget.
The BBC employs 26,000 staff around the world. It interacts with just as many contractors working in its 585 United Kingdom-based buildings and over 400 international bureaus and offices.
The flagship facility is the Television Centre in Wood Lane, London. It is home to over 7,000 staff, eight television studios and the BBC's international news headquarters. At the other end of the scale, there are unmanned broadcast studios in shared or multi-occupied sites elsewhere in the world.
Other London-based buildings include Broadcasting House in Portland Place (the home of BBC radio since 1922 when broadcasting by radio first began) and Bush House in the Strand (the BBC's World Service headquarters).
Like other organizations, the BBC takes security and safety of its staff seriously. Recent experiences such as the murder of news presenter Jill Dando outside her home and the terrorist bombing of the Television Centre highlight the seriousness of threats. Add to that the routine types of crime like theft, fraud and burglary that most businesses suffer, and you begin to see that the BBC needs a number of tools for addressing those risks.
 
Staff Support
For generations, it has employed a number of internal investigators and a strong health and safety support team. Additionally, there are a number of security risk advisors who carry out risk assessments on BBC buildings, staff and operations.
In the past, BBC investigators had maintained meticulous logs of their cases and paper files. They eventually moved on to a computerized recording system some years ago. That particular system was DOS-based and homemade. It was a leap into the future for the investigators of the day. The system successfully recorded much of the work that they were doing. But the system had to be supported by a paper file system.
Recently, it was recognized that the system was getting old, cumbersome to use and hopeless to search. So the BBC decided to look for an alternative.
Another in-house system was considered, and software suppliers were sought that might be able to provide a product that would meet recording, reporting and searching needs. In-house provision soon proved too costly and too difficult.
The BBC found the PPM 2000 site (PPM 2000, Edmonton, Alberta, Canada) on the Internet and discovered its Incident Reporting & Investigation Management software or IRIMS. According to BBC's Eddie Halling, "It seemed to offer all that we were looking for."
Says Halling, IRIMS was easy to customize to BBC needs. "All our building details were easily installed on the system. The investigators were trained in its use, and an administrator was appointed from within the team and further trained in IRIMS administrative work." Uniquely, IRIMS is also used in the BBC by information technology (IT) security for reporting and recording IT security issues.
The experience that staff reported in the use of the system was that it was simplicity itself. Adds Halling, "It was less complex than our old system and much more user friendly. Furthermore, the conversion of our old data by PPM into IRIMS format enabled us to access years of information in the new format."
He tells SECURITY magazine that once an incident is reported to investigators, it is recorded. As well as recording all relevant statistical and other information, IRIMS is used for crime pattern analysis. "From that analysis, we are able to deploy investigators and other resources to active crime locations in a proactive manner."
The security risk advisors use the same information to evaluate risks in the BBC facilities.
In addition, the system readily identifies repeat victims. This is particularly useful in the media industry where so many of staff and talent are the victims of unwanted and unsolicited activity from stalkers. Knowledge of repeat victimization assists investigators in their delivery of a professional and meaningful investigation and a subsequent solution to this and any other type of crime.
"They often rely on the records contained within IRIMS to support insurance claims for lost or stolen goods," says Halling.