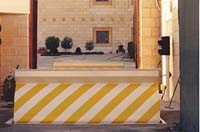 Hydraulic Barrier Protects U.S. Embassy in Jordan
The U.S. Embassy in Amman, Jordan, now has a hydraulic barrier system to help control vehicle traffic in and out of the facility. The wedge part of the barrier system can lower quickly to permit movement of authorized traffic. The dual-wedge system from Delta Scientific of Valencia, Calif., also serves as a gate or sally port. Approaching vehicles crossing the lowered front barrier are then contained as the rear barrier rises behind them. Following a security check, the front wedge then can be lowered to allow access to the embassy.
The U.S. Embassy in Jordan has installed a barrier that can rise and fall to control traffic in and out of the facility. Car bombings have triggered greater use of heavy-duty security at government building perimeters.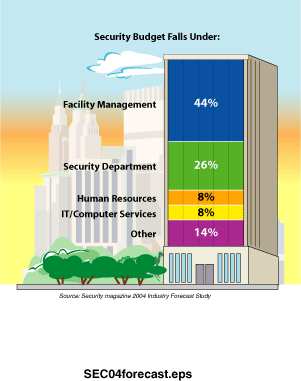 Info Security Buying Grows
The U.S. market for information security products and services is projected to increase close to 19 percent per year through 2008 to over $20 billion. This represents an improvement over 2001 and 2002 performance when information technology budgets were squeezed as part of the fallout from the U.S. economic slowdown and accompanying tech sector downturn. Much prospective growth will reflect organizational efforts to build integrated information security platforms on enterprise-wide bases, with the twin goals of maximizing protection while simplifying the performance and management of the information security function. These and other trends were published in Information Security, a new study from Cleveland-based industrial market research firm, The Freedonia Group Inc.
Each of the major segments of the information security market – hardware, software and services – will register strong gains, with the fastest growth expected in services, especially high-end activities such as consulting/risk assessment and managed security services.
$198 Million Awarded for Explosives Detection
The U.S. Department of Homeland Security awarded a contract extension worth an estimated $198 million to a St. Louis-based unit of Boeing. The contract is part of a continued effort to improve efficiencies in airport operations and further enhance aviation security.
The award, managed by the Transportation Security Administration (TSA), is a continuation to the original airport security contract Boeing won in April 2002 to install and maintain explosives detection systems at 429 U.S. airports serving commercial flights.
Homeland Security & Services, a business unit of Boeing Integrated Defense Systems, is integrating numerous advanced technologies.



BUSINESSNews: Partnership for Laptop RFID
Industry Canada, a giant Canadian government agency, is enhancing its access control system so it can track laptop computers. The wireless design brings together systems from Axcess International Inc. of Dallas, and Software House of Lexington, Mass. Altel, an authorized Software House dealer, completed the implementation of the ActiveTag asset management system with the Software House C*Cure 800/8000 system.
Tagging laptops with radio frequency identification technology and incorporating them into complementary surveillance systems will allow free movement of laptops within the enterprise. Simultaneously, unauthorized removal of properties will generate alarms and provide video documentation.


Fingerprint Scanner Earns Award
BiometriTech Systems, the firm that covers biometrics systems and technology, named Cross Match Technologies' ID 500 Live Scan system as a product of the year. Based in Palm Beach, Fla., Cross Match builds devices that simplify the digital fingerprinting process by automatically sensing finger placement and scanning upon touch, given that pre-determined quality criteria are met. The touchscreen also is heated, which helps reduce the halo effect caused by temperature and moisture differences between the print and the scanner, according to the award information.

Frequent Flyers Register Eyes
Frequent flyers on Lufthansa in and out of Frankfurt/Main airport in Germany now can register their passport data and personal iris scans to expedite passage through the border control checkpoint. Once enrolled, participants have reported their security check-in time significantly reduced. The first stage of this new system, led by the German Federal Ministry, involves passengers from 17 European Union countries and Switzerland. When a passenger enrolls in the program, the scan is stored in a database. It simply requires participants to stand within a meter of a video camera, which captures an iris image. The image is converted to a 512-byte file, half of which is used to record the features of the iris scan, while the other portion of the file is dedicated to the comparison process. At recognition points, the new scan is compared against the database. Verification is typically completed within three seconds.
Six iris recognition systems are now installed at immigration and emigration control gates in the airport. The primary goal of the system is to eliminate both fraudulent travel documents and multiple identities.


New Approaches to Nonlethal Response
Law enforcement agencies throughout the world continue to seek nonlethal means of handling individuals. One new approach from PepperBall Systems of San Diego uses high-pressure air to launch a frangible ball which breaks upon impact. The projectile is made from a pharmaceutical-grade pepper super irritant. The powder causes incapacitating coughing and a burning sensation in the eyes, nose, throat and skin.
Wireless Transmitter Milestone
Honeywell Security and Custom Electronics of Syosett, N.Y. announced earlier this year that it manufactured its 25 millionth 5800 wireless transmitter during 2003. "With the 5800 Series, we hit the right combination," said Vice President of Engineering Ken Addy.
Lending a Hand at Air Force Base
Scott Air Force Base in St. Clair County, Ill., is using biometrics to control access to the base from the Shiloh-Scott MetroLink train station. The total workforce numbers more than 13,000 people, including Air Force Reserves, National Guardsmen, civil service and other civilian employees. The base also provides services for more than 14,000 retired military personnel in the region.
HandReaders from IR Recognition Systems, Campbell, Calif., automatically take a three-dimensional reading of the size and shape of a hand and verify the user's identity. Scott is one of numerous Air Force facilities to employ biometrics.
Security forces at Scott initially manned the gate between the civilian and military sides of the Shiloh-Scott light rail train station, but access to the base is now controlled using the HandReaders in conjunction with a six-digit personal identification number, freeing security personnel for other duties.


Lenel Certitifes Partner
Cernium Inc. of St. Louis has been certified by Lenel Systems International of Pittsford, N.Y., as a partner for its Perceptrak software. Lenel's OnGuard OpenAccess Alliance Program certification allows selected software and hardware developers to use Lenel's security platform and technology standard. "We are extremely pleased that Perceptrak passed the stringent requirements for Lenel certification," said Cernium CEO Sean Patty. Perceptrak software is a proprietary technology designed for integration with security video systems to provide real-time behavior recognition and content analysis.
PEOPLEOnTheMove: New Consulting Business
Ray O'Hara, former vice president for Pinkerton Consulting and Investigations, recently established Ray O'Hara and Associates of Carlsbad, Calif. The security consulting firm will specialize in business security solutions. The firm provides risk vulnerability expertise, including analyses and categorization of business vulnerabilities, homeland security initiatives, terrorism and political threats, and also evaluates and benchmarks risk factors throughout the world. While with Pinkerton, a division of Securitas, O'Hara was responsible for supervising field offices in the Western states and oversaw client matters in Europe, the Middle East, Asia, Africa and South America.

ADT's Dunn Gets RFID Post
Boca Raton, Fla.-based ADT Security Services named Randy Dunn as director of sales and marketing for its radio frequency identification (RFID) line. Dunn, who has nearly 20 years of product management and marketing experience, is assembling a team of RFID specialists to work with retailers and consumer goods manufacturers to bring end-to-end RFID solutions to the retail supply chain.
Visitor ID Badging Dealer
EasyLobby of Needham, Mass., and MAC Systems of Avon, Mass., announced that MAC has become an authorized EasyLobby dealer. As part of the relationship, EasyLobby will integrate its visitor management system with access control systems supported by MAC. This integration will enable MAC customers to more easily track and monitor visitors entering and exiting their buildings. Visitors receive temporary proximity cards automatically programmed for a specific door, noting the employee being visited and expiration date/time.

Videolarm Makes National Hire
Videolarm of Decatur, Ga., brought Doug Greenway on board as its national account manager of integration. Greenway will be headquartered in Boise, Idaho and serve Videolarm's existing national integration accounts including ADT, Siemens, Johnson Controls and PSAsecurity. In addition, he will manage the company's Western region-based sales force.
Gatlin at Abloy
Abloy Security Inc. of Irvine, Tex., promoted Trent Gatlin to Western regional manager. In this role he will be responsible for developing business in existing markets, monitoring existing business and spearheading new industry market development.
Online Training
Wheelock Inc. of Long Branch, N.J., a self-paced online training program with a comprehensive course curriculum for end users and other professionals involved in fire alarms, security and facility communications. Courses include a range of topics covering technical, applications and sales approaches. The programs carry certified education units credits, or CEUs. Visit the company's website at www.wheelocku.com.
Morton at Senstar-Stellar
Senstar-Stellar Corp. of Ottawa, a supplier of outdoor perimeter intrusion detection security products and systems, announced that Edwin Morton has been appointed vice president of sales.
McGinty on Port/Waterway Security Board
Bill McGinty, a security solutions project development engineer with Johnson Controls, Milwaukee, was appointed to National Safe Waterways and Seaports Alliance's Board of Directors.