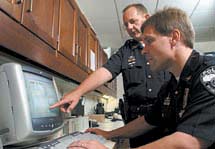 With the hundreds of thousands of students returning to the nation's colleges and universities this fall, there's a corresponding ramp-up in personal security.
Mandated by federal legislation to account for and report on certain crimes on campus, higher education institutions often have shifted their security officers to a sworn police force as well as now employ more security technology on campus.
In one unique application, Indianapolis, Ind.-based Butler University is testing a wireless personal alarm system in which students under duress use a pendant to alert campus security through more traditional emergency telephones.
Called the Circle-of-Safety Wireless Personal Alarm System, implementation of the system makes the university the first in the country to offer such advanced personal protection in a proactive application.
Wireless Transmitter
The system features a wireless pendant transmitter, which resembles a car remote and fits on a key chain. It can activate the 18 white cylindrical emergency telephone poles located throughout the 290-acre Butler campus. Several years ago, Butler installed Code Blue, Holland, Mich., emergency telephone poles.
Pendants are available to students, faculty and staff for a nominal fee, plus an annual administrative fee that will support the program.
"We are excited about the Circle-of-Safety," Dave Selby, chief of police, says. "Creating a safe campus community is an obligation we have to our students, faculty and staff."
Selby was promoted to chief of police in 1997. Almost from the beginning, he looked at strategies for better security. "One goal was to replace an old intercom system for emergencies on campus. Sometimes these old call boxes are affected by weather."
That's when the university called in Code Blue. "We opened the equipment up for more that emergency use. Each has two phone lines – a telephone and a panic button," Selby says.
Active Control Technology Inc. of Mississauga, Ontario, Canada developed the pendants, in collaboration with Code Blue. They have a personal identification code that allows the Butler University Police Department (BUPD) to identify the name of the user who activates the pendant and his/her location within a 200-foot range. As soon as the pendant is activated, the user's personal and medical information, as well as the location of the activated pole, appears on BUPD's computer system prompting an immediate response.
"Those who are in need of help no longer will have to physically go to an emergency telephone pole to activate the response system," Selby observes. Security also will increase significantly for disabled individuals, as well as those with medical conditions, who may not have the capability to reach a phone in the event of an emergency.


More Technology Coming
"This is just the first phase to continuing to provide a safe campus environment," Selby adds. The second phase calls for the university to add more Code Blue emergency telephone poles on campus, as well as to install additional diagnostic software that will enable BUPD to determine the exact X-Y coordinates of a user when the pendant is activated.
Founded in 1855, Butler University serves more than 4,000 undergraduate and graduate students.


SIDEBAR: Campus Crime Disclosure
The Jeanne Clery Disclosure of Campus Security Policy and Campus Crime Statistics Act is federal law that requires colleges and universities to disclose certain timely and annual information about campus crime and security policies. The Clery Act, enacted by Congress and signed into law by President George Bush as the Crime Awareness and Campus Security Act of 1990, was supported by Howard and Connie Clery after their daughter Jeanne was murdered at Pennsylvania's Lehigh University in 1986.
Schools have to publish an annual report every year. The report must contain three years worth of campus crime statistics and certain security policy statements including sexual assault policies, which assure basic victims' rights, the law enforcement authority of campus police and where students should go to report crimes. The report is available to current students and employees while prospective students and employees are notified of its existence and afforded an opportunity to request a copy.