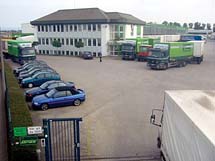 Faced with mounting demands from its insurers for effective damage-prevention measures and a faster and better substantiated response to customer claims for lost or damaged goods, Spedition Gras, a distribution company based in Neuwied, western Germany, found a security solution, which has solved these problems and significantly reduced its costs.
The effectiveness of a new digital video security monitoring system has far exceeded expectations. It has led to considerable improvements in operational efficiency, safety and security, eliminated most customer claims and paid for itself about five times faster than forecasted.
The system, supplied by Geutebruck GmbH and installed by W.I.S. Sicherheit GmbH & Co. KG, came into service early last year. It includes 61 cameras, four MultiScope II units networked together via Ethernet, a 1.2 terabyte video database and five workstations. The MultiScope II devices each handle 16 video channels and provide the system's digital recording, transmission and event management capabilities.


Efficient Oversight
Cameras cover the warehouse, the trans-shipment area, 60 loading bays and the site entrance, providing a complete overview of the site. It enables better management with faster, more efficient working procedures. Staff at the workstations can see all the loading bays, trucks and trailers in the yard. They can immediately direct new arrivals to free bays, tell the driver where to deposit his trailer, or where to pick one up. Having on-screen pictures for reference means staff avoid many errors and misunderstandings because they are no longer so reliant on the driver's information, and they can see for themselves that their instructions are followed correctly – that he takes the right container or hitches up the right trailer.
Monitoring Loading, Unloading
With one camera surveying each pair of loading bays, the system can monitor all loading and unloading activity. As each package or pallet is unloaded and the data from its barcode is scanned into the warehouse management system, its arrival is independently being documented by the CCTV system. This records the picture data into a ring memory where it is stored for about 2 1/2 months, after which it is automatically transferred onto digital tape and kept for two years. Whenever goods are lost, damaged or queried for whatever reason, the ring memory and the archives can be searched according to scanning date and time for a visual record of what was unloaded or loaded, where, how and by whom. Cameras in the warehouse document what happens to goods at other times, who puts them into stock, where they are stored, when they are picked, packed, etc.
This extensive traceability has significantly reduced stocking errors and the pictures have enabled Spedition Gras to avoid or deflect most claims for lost or damaged goods because they can now prove that the goods were already damaged when they arrived, or that they were still intact when loaded into a third-party vehicle.


Safer Workplace
Since the health and safety officer has access to the video record of warehouse activity including all forklift truck movements, he has been able to determine the cause of accidents, identify hazards and black-spots where near-misses occur, and together with other staff, take action to eliminate bad working practices. The system has enabled him to improve the company's accident record and reduce its associated insurance costs.
As an insider or an outsider, it is now very much more difficult to steal from the site without being caught. A card-based system controls all staff access to the site and the office, and the four selected staff who have access to the video recording equipment do not have system clearance to edit past history. Only the system administrator has the special password required.
During its initial operation, the video security system has enabled police to clear up three cases of theft; the company is now confident that the blanket recording of all the loading and unloading activity together with the date, time and registration details of all vehicles and trailers together act as a strong deterrent against further crime. As a result, Gras has been able to cut guarding costs and now only employs security staff on site at night over public holiday periods. The firm is considering to dispense completely with on-site guarding and replace it with video motion detection triggering alarm picture transmission to the remote emergency call center where duty staff will decide whether to investigate further or to alert the police.


Customers Benefit, Too
The extra efficiency, security and traceability, which the CCTV system provides, benefits the Spedition Gras distribution company's customers, too. They get a faster, more reliable service, and if they want confirmation of the whereabouts or condition of a particular shipment while it is in the Gras distribution center, they can receive both scan data and pictures by email.
Future Plans
More than satisfied with the performance of the equipment installed, Spedition Gras has expansion plans for this year. Besides installing an ISDN link to enable the use of the remote emergency call center, the company intends to add about eight more cameras and another MultiScope to eliminate the last few blind spots on the site; to upgrade to MultiMap, the site-plan-based interactive user interface; and to expand the current database to about 4 terabytes. Also under consideration are one or more dome cameras to provide some pan and zoom capacity within the warehouse and automatic number plate recognition to replace the current video-supported manual identification procedure for trucks and trailers.