Studies find that stationing cameras – particularly visible cameras – in classrooms, on school grounds and inside buses can greatly reduce theft, violence and vandalism.
Security cameras can be placed virtually anywhere on a school campus and can remain operational during evenings, weekends or vacation times when schools are typically not occupied. Schools using video surveillance report gradual but steady decreases in criminal activity.
In fact, most can cite at least one case where cameras helped prevent an incident from occurring or led to the arrest of persons engaged in criminal activity. Following are some examples of how security cameras are deterring crime at schools across the nation.



Campus housing security
Vanderbilt University in Nashville, Tenn., takes campus security seriously and is committed to maintaining a safe, secure environment for students, faculty, staff and visitors. New security upgrades at Vanderbilt housing facilities attest to this commitment. Vanderbilt is a private research university comprised of ten schools, a public policy institute and a distinguished medical center; has a work force of more than 13,000 and a student body population of more than 10,000, including 5,045 living in student housing.
Most Vanderbilt University residential buildings have front desk attendants after dark and 24 hours on weekends. They respond to a variety of situations and are trained in university resources, customer service skills and the operation of door alarms and fire alarm panels. The attendants, foot and vehicle patrols, night transport/escort service, 24-hour emergency telephones, lighted pathways/sidewalks, digital surveillance systems from Nice Systems (Rutherford, N.J.) and controlled dormitory access (key, security card, etc.) work together to create a safe campus environment.
The platform currently installed in 27 buildings consists of a sophisticated, layered software architecture with flexible interface capabilities and an easy-to-use, consistent graphical user interface. University administrators for each building or area are responsible for determining the need, location, installation and the maintenance of each system, which controls access, monitors traffic in common areas and most importantly increases security for residents.



Cameras, DVRs and access controllers are integrated to produce high-video quality and resolution in an IT-grade video networking and management system allowing university officials to easily perform searches and e-mail digital video footage to the appropriate authorities. As a result, Vanderbilt has received substantial return on investment in the form of saved time and reduced labor costs, not to mention obvious advantages of quicker incident response times.
Tempe Union High School District in Tempe, Arizona serves approximately 13,000 students in grades 9 through 12. The district has a staff of more than 1,200 and its buildings comprise more than 2.1 million square feet on 297 acres of land.
The district recently implemented the NiceVision Pro platform of digital video recording solutions at several of its schools and at the district office. ASSI Security of Arizona, which has been in the business of installing new and retrofitted security systems for over 20 years, served as the integrator of the new comprehensive security system.
"Safe and secure schools are a top priority," said Bob Anderson, Tempe Union director of operations.
The system, which was designed for maximum protection of students and staff, provides comprehensive camera coverage of all public areas along with direct access to recorded video. Video recorded at locations supporting 12,500 students and the district office is run over the school network. This allows school officials to view any camera from any location within the school district. Each school stores all video data 24/7 for 30 days, with the last 48 hours of recorded video immediately available on hard drive for retrieval and review.


Graduating to college
Nova Southeastern University (NSU), one of the largest independent institutions of higher education in the Southeast, is located on a 250-acre campus in Fort Lauderdale, with approximately 20,000 students. The school is comprised of an undergraduate college and several graduate schools.
In 1987, Steve Bias, executive director of public safety, came to NSU to establish and build the Public Safety Department. The department is unique in the campus protection industry in that it has been featured in several national and international publications (including Security magazine) and a local television affiliate as an example of progressive campus crime prevention. The 100-plus staff includes management, security officers, police officers and technical personnel.
Siemens Building Technologies Inc. (Buffalo Grove, Ill.) has been overseeing phased installation of the multi-site system, which earned them the 2004 Public Safety Business Partner of the Year Award from the university.
The initial phase of installation covered digital recording of security cameras located on the main campus as well as applications for access control, matrix switchers and emergency call stations with two-way audio in the parking lots and throughout the campus.
The campus-wide security system is managed from a new Security Operations Center (SOC), which currently monitors camera coverage for the new library, parking garages and additional areas around campus. The SOC is the command focal point for all information concerning security for the campus, including two-way radios, telephone, emergency telephones (blue light call boxes throughout campus) and campus surveillance with digital video recording from nearly 200 cameras.


Sidebar: Bridging the Server Gap
For many, there are two big worries: how to bridge from analog to digital and how to better protect the video data being stored.
A bridge answer: GE Security's SymSuite IP, which lets users already invested in legacy analog create an IP-based video network while continuing to use their existing analog equipment. Users can connect SymVeo IP platform cameras, SymDec digital video recorders, PCs and servers directly to the network as well as, thanks to SymNet encoders/decoders, to analog cameras and monitors.
A video server protection answer: a new controller from Applied Micro Circuits Corporation of Sunnyvale, Calif. Security operations which typically save between 30-60 days of digital combined images, video, time detail and transaction data, can better protect their server through the new platform which combines firmware and battery backup with cache memory for up to 72 hours. When power is restored, cached data is then written to the disk array providing uninterrupted data storage.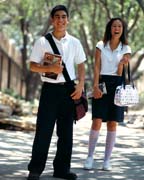 Sidebar: Clothes as a Security Strategy
A significant number of schools have instituted rules about what students can wear. The rules are as much for security purposes as to reflect the school culture or save parents money.
According to National School Safety and Security Services, Cleveland-based consulting firm specializing in school security, dress codes and uniforms can help reduce the potential for conflict in several ways:
n By reducing conflict stemming from socio-economic status, i.e., conflicts stemming from comments and personal attacks about who has better clothing and so on.
n By reducing ways in which gang members can identify themselves which, in essence, is a form of intimidation and creates fear.
n Dress codes reduce the risk of students being robbed to and from school, or for that matter in school, of expensive clothing, jewelry, etc.
In the case of uniforms, the strategy helps school administrators identify non-students, trespassers and other visitors in the hallways who stand out in the crowd.