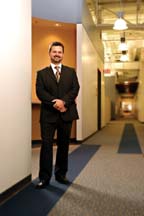 SEC: Your firm is a collection of well-known brands.
RIBINSKI: Yes. Bosch Security Systems combines the experience and expertise of three industry firms - Detection Systems, Radionics, and Philips CSI - with the 100-year history of Bosch.

SEC: What are end users looking for relative to a relationship with a product source?
RIBINSKI: End users, I believe, first identify their own priorities and then look for a technology relationship with strong network resources and integration capabilities. For enterprise end users, it is important that a vendor provides a single source in a long-term way.

SEC: Computer and communication technologies seem to be driving security development. Your view?
RIBINSKI: The key words include integration, convergence and open platforms. The time is up for proprietary systems. End users are choosing to go that new path. It's clear to see it in the development of the IP-based world. Such an evolution is driven by a number of factors such today's safer networks, their better stability and the gains in bandwidth to better handle security data.

SEC: What about future developments?
RIBINSKI: Today and into the future, end users have more influence and power to design (security systems) with the help of IT – digital video, video over IP, alarm monitoring, intrusion, fire, access control. Currently the industry is undergoing a transition, with hybrid systems now popular. The key is to do new things without doing away with the legacy equipment. The challenge for end users is to develop a new knowledge base, different jargon as IT and security work more closely together.

SEC: Technology aimed at niches also is important. What's happening there?
RIBINSKI: Personal protection is a growing area. One example is Security Escort systems, a multi-user distress call system allowing individuals to carry a personalized transmitter that can be activated in case of an emergency. The State University of New York at Oswego, for instance, took a proactive approach to the safety and security of their students and faculty by installing a security escort.