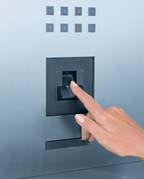 The FPM611-01 Fingerprint Module from Seidle, Broomall, Pa., features a compact design and simple operation. The fingerprint-based access control for residential and small commercial applications replaces keys with the unmistakable biometric characteristics of the fingerprint to gain access. Each finger read is compared with stored print information of entitled persons.
For free information circle 238 or visit www.secmag.com/webcard
Electrified Lockset & Conversion
Westlake Village, Calif.-based Security Door Controls (SDC) Selectric locks meet both life safety, building code and security requirements for locking fire rated interior and perimeter office, elevator lobby and stairwell doors – where the use of electric strikes and magnetic locks may be prohibited. They eliminate the need for request-to-exit devices, providing egress by turning the manual inside lever handle.