2004 Olympics Heavy on Security
In the first summer games following Sept. 11, organizers for the 2004 Summer Olympics, to be held this month in Athens, Greece, are taking security more seriously than at any time since the first modern Olympics took place in that city in 1896. Possessing a budget now nearing $1.5 billion, security forces at the games will feature a staff of over 70,000 military and police, well over the $450 million and approximately 15,000 officers deployed for the 2000 Summer Games in Sydney, Australia. Athletes will be under heavy and constant protection, while NATO planes patrol the no-fly zone above the games.
In comments published by the BBC, International Olympic Committee president Jacques Rogge noted, "everything that's humanly possible has been put in place. If it means more security checks, if we see more armed forces and measures have to be taken, then let it be." For its part, the United States – part of the seven-nation Olympic Advisory Group that provided resources and consultation for security at the games – donated over $26 million for state-of-the-art radiation detection equipment.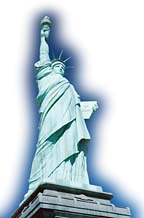 Protecting Lady Liberty
irst, she was a symbol of interminable friendship between the United States and France. But before her bronze visage could fade to green, Lady Liberty had become an icon of American freedom – an emblematic gatekeeper to a welcoming, open and democratic nation. And as the statue base and inner grounds reopen to the public this month for the first time since Sept. 11, she will have taken on a tertiary meaning as a showcase for American ingenuity, specifically, security technology.
Identified as a likely terrorist target, the Statue of Liberty was closed immediately following the Sept. 11 terrorist attacks until it could be determined that the building was secure. While Liberty Island reopened in December 2001, access to the pedestal, museum and star-shaped Fort Wood, the base upon which the statue was assembled, has only just recently become feasible – thanks to a $20 million renovation effort that included installation of new stairways and exits, an overhaul of the building's fire prevention system and a new visitor screening process.
E-mail Brian Feeney at brian_feeney @nps.com or call (718) 354-4606.



Security Experts Gather for AMAG Conference
Leading security consultants from across the United States converged in Scottsdale, Ariz., recently to participate in AMAG Technology's third annual Security Technology Conference. For three days, conference attendees were exposed to the latest developments in a range of electronic security technologies, including hands-on demonstrations of advanced systems integration capabilities.
Representatives from a select group of companies belonging to AMAG's Technology Partner Network educated conference attendees about their latest technologies and related application trends. NEC Solutions America demonstrated their new High Availability / Disaster Recovery Server, Verint teamed up with Object Video to give attendees a glimpse at recent advances in surveillance technologies while Recognition Systems and Bioscrypt discussed emerging biometric identification technologies and applications. Visit www.amagaccess.com.
FKI Logistex Wins $2 Million Project for JAX RFID Upgrade/Retrofit
FKI Logistex has won a contract from Jacksonville International Airport (airport code: JAX) for the retrofit and upgrade of the airport's RFID baggage identification system. The contract is valued at an estimated $2 million.
The project will retrofit the airport's existing RFID arrays to EPC Global compliant equipment and systems from Matrics Inc. and enhance the airport's systems so that every piece of luggage will eventually get an RFID tag for baggage tracking, tracing and sorting.
Visit online, www.fkilogistex.com, www.jaxairports.org, www.tsa.gov and www.matrics.com.


PEOPLEOnTheMove Sales Exec at
Protection Bureau Jim Arizini has joined the Protection Bureau as sales and marketing manager. Arizini brings over 25 years of experience in all areas of security with particular expertise in intrusion detection, fire life safety, digital video and access control.


Chambers at DVTel
DVTel recently added security industry veteran Ian Chambers to its senior management staff. Chambers was appointed vice president of business development for the Paramus, N.J. company.
BusinessNews
Backup Hosting Brivo Systems has established a second hosting center in Elmhurst, Ill. to serve as a redundant backup hosting facility for the Brivo® Access Control System. A basic replica of the company's primary hosting center located in Northern Virginia, the new hosting facility offers favorable geographic diversity in the event of major manmade or natural disasters in the greater Washington, D.C. metro area. Visit www.brivo.com.


Digital Video in the Schools
GE Infrastructure, Security says that the Arlington Independent School District of Texas is using GE digital video surveillance equipment throughout its campuses and on several buses to monitor and protect students, staff and district assets. Located in the heart of the Dallas-Ft. Worth area, the district currently has more than 62,000 students enrolled in more than 74 facilities, making it the ninth largest school district in Texas.
The district is upgrading from 16- and 32-camera mixed systems to 48-camera, standardized GE configuration systems on its campuses. Visit www.GESecurity.com.


DoD Seeks Anti-Terror Tech
Speaking at a luncheon in Washington, D.C. last April, Peter F. Verga, principal deputy assistant secretary of defense for homeland defense, announced that the Department of Defense is actively seeking new technologies from the private sector that could help with the War on Terror. He noted that the DoD invests approximately $100 million annually in its Technical Support Working Group (TSWG), a departmental forum that identifies, prioritizes and coordinates interagency and international R&D.