All-in-one Keypad with Piezoelectric Technology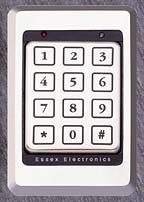 The Essex Electronics 12 Pad 3x4 is a virtually indestructible, piezoelectric keypad designed to mount to a U.S. single-gang switchbox. Constructed of stainless steel, the keypad has no moving parts to fail or wear out. It utilizes the company's piezoelectric technology and features an all-in-one design. In the field, the installer can select either a 500-user self contained access control system or one of several industry standard outputs (26 bit Wwiegand, etc.).


I want to hear from you. Tell me how we can improve.