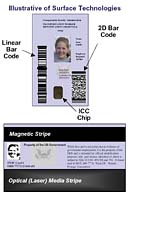 As government and military security executives seek better ways to identify good and bad people, they are embracing existing biometrics-based designs as well as investing in significant research and development. Such attention from Washington and the Pentagon will only accelerate the use of biometrics in the corporate and commercial sector.
One example: The Government Printing Office awarded $373,000 in contracts to four manufacturers to design a new generation U.S. passport. An embedded computer chip will store passport data as well as a digitized photograph of a traveler's face, among other proposed biometrics-based data.
A second example: The Washington State Department of Corrections uses biometrics (IR Recognition Systems, Carmel, Ind.) to help track and supervise offenders in more than 70 kiosks located in field offices statewide, and at most community outstations.
And savvy and cash-stuffed Microsoft Corp. late last year introduced its own fingerprint reader for access into a laptop, desktop or network. And then there is IBM. Working with GE, Big Blue is developing biometrics-based systems including retina-scanning security at its Institute of Electronic Government in Washington, D.C.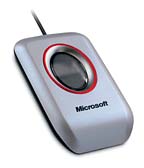 Biometrics ID for Transportation Workers
The Department of Homeland Security's Transportation Security Administration (TSA) is now in its second month of testing a prototype ID card that renders itself useless to anyone but its official owner.
The Transportation Worker Identity Credential (TWIC) program began testing at the Port of Long Beach [Fla.] Container Terminal and will expand to 34 sites in six states during the seven-month testing period. The TWIC is a tamper-resistant credential that contains biometrics information about the holder. Each transportation facility will be able to verify the identity of a worker and prevent unauthorized individuals from accessing secure areas.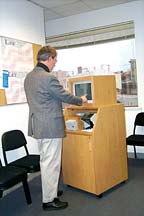 In other government-related biometrics news, Rapidtron of Costa Mesa, Calif., has finger-scanning reader that works in concert with its smart card. This tandem use provides increased security by validating the user of the smart card through biometrics identification in less than one second of scanning. The smart card is read first and then the finger is scanned providing the speed necessary for rapid access and increased accuracy as the biometrics algorithm is based on a one to one match rather than thousands to one.
Fujitsu Microelectronics America of Sunnyvale, Calif., has capacitive-based fingerprint Sweep Sensor. With its Auto-Finger Detection circuit and on-board FIFO memory, the compact design optimizes power consumption and CPU efficiency, making it ideal for the next generation of mobile phones used by government and military personnel.



And the Canadian Air Transport Security Authority selected Bioscrypt of Mississauga, Ontario, Canada, fingerprint readers throughout their facility restricting access for 155 personnel working within the building.