With millions of cards and badges for applications ranging from identification and financial services to access and government use, the reliability of card printers and their ease of maintenance have become key buyer features. The issue of reliability will grow with the explosive growth of cards as well as the growth of more complex cards containing magnetic stripe, proximity, barcode, biometrics and smart chips. One example: a month ago, the Homeland Security Department awarded a 10-year, $200 million follow-on contract to an existing five-year identification card deal.
What follows is a special report on reliability by ID printer expert Jennifer Sylvestre of Zebra Technologies' Eltron printer operation, Camarillo, Calif.
There are a variety of print technologies that can be deployed to print a badge, but direct dye-sublimation/thermal transfer technology still provides the best overall value to the user customer. It continues to provide the highest quality and most reliability at the best cost. The resulting cards won't abrade and can incorporate a series of security enhancements. In addition, new radio frequency identification or RFID-based printer technologies make producing cards extremely simple.
Whatever technology is used, ID badging printer buyers need to ensure that their users don't end up with an over-featured card printer that is too complex and too expensive for the job. To assure that purchasers get their best values, they want to keep the device as simple and straightforward as possible so that printer operators will be able to produce the cards they want on time in a trouble-free manner.
Important also is new enhanced color processing firmware with new richer ribbon color formulation optimized for printing on proximity cards for access control applications. Direct dye-sublimation printers produce increased pressure on the proximity card to assure printing is consistent, evenly coating the "hills and valleys."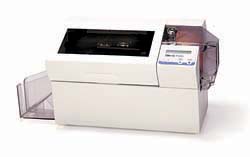 Type of Printer to Select
Generally, smaller organizations need lower-cost units that provide exceptional ease-of-use. The software and hardware must be error-free. For instance, printers such as the Zebra Eltron P320i use RFID, with the reader in the printer and tag on the ribbon, to perform tasks of convenience and security.
RFID technology automatically detects printer compatibility, determines ribbon type, provides automatic driver configuration and shows the number of panels remaining.
This system eliminates the need for users to reconfigure ribbon settings in the driver, reducing the risk of printing with incorrect settings. Automatically, the ribbon type is detected, the Windows driver is configured and defaults are set to provide the best performance. A regular dialogue between the messaging system and the user keeps the printer performing at its best. Users do not have to open the lid and look inside to determine ribbon usage. At all times, the user knows how many more cards can be printed with the presently installed ribbon.
Typically, larger companies want high reliability and advanced security features. When they need identification cards, they want them immediately, not a week or so from now. Whether the card will be used for access control, employee photo ID badges, government identification programs, loyalty cards or any other application, security management demands that cards must be available on-the-spot, printed at the source, ready to use at once. A broken card printer defeats their goals so hardiness is a prerequisite.
To prevent counterfeiting, alteration or duplication, there are unique techniques companies can use with digital printers. First of all, there are multiple security images or holograms. One security image alone increases the difficulty of counterfeiting; two makes it at least twice as hard. The holographic image lamination process also provides a very rich looking card. Multiple screenings of the same photograph increase integrity. This is almost the norm on driver's licenses.


Other Considerations
ID management is only one of several groups that should be specifying the goals and objectives of a card program. ID management wants to assure that the person with the card is indeed the authorized holder of the card. Quite often, they want two or more identifiers on the card. For instance, there can be a photo plus a signature. Perhaps it is a photo plus proximity or magnetic stripe encoding plus a biometric template, all of which can be encoded with the printer.
However, beyond ID and security management, there are many other inputs to get. Card applications tend to migrate to human resources, marketing, operations and other departments. For instance, at Cypress College in southern California, in addition to identifying that the person is an authorized student belonging on campus, the student ID, which includes a photo and barcode, is also used for check cashing at the bookstore, checking out books at the library and entering laboratories. A similar card at Six Flags Over Texas amusement park is used for season pass holders to enter the park and as a loyalty card at various merchandise booths.
There will be continued advances in reliability, ease of use and ultimate card quality. The value of technology will be judged by whether or not it helps users produce badges faster, better and at lower costs. If technology does not make the card printer more economical, secure and reliable, easier to use and produce a more robust, secure and/or cost-effective card, there is no technology advance.


SIDEBAR 1: Extending Printer Reach
Card printer makers are extending the reach of the technology through partnerships and agreements with others as well as through specialty systems.
From Ultra Electronics Card Systems of Redmond, Wash. – the firm with its MagiCard printers has partnered with Honeywell's Ademco Access Systems to produce secure access control solutions based on OmniSmart contactless smart card technology from Ademco subsidiary OmniTek.
Contactless smart cards are much more versatile than traditional 125KHz proximity cards, according to the partnership. The card uses licensed technology and contains read/write memory, mutual key authentication and encryption functions.
Contactless smart cards are not limited to pre-programmed access numbers and site codes like standard proximity cards and can support multiple applications on the same card, each with its own security key-protected memory space.
In addition to the encrypted ID credential data, the cards can store biometric information. Full color portrait ID cards can be printed on Ultra's Rio, Tango or Prima series of dye sublimation printers, with simultaneous encoding of access codes, biometrics, stored value functions.
From Zeosoft of Scottsdale, Ariz. – the firm centers its services on helping an organization create badges at remote facilities. Its Mobile Badger creates and issues photo ID badges from remote locations for university campuses, corporate facilities, multi-tenanted buildings, entertainment venues and law enforcement emergency services locations. Security personnel using a Zeosoft-enabled PDA device can remotely capture ID photos and text information. This data is securely transmitted wirelessly to an ID badging database where badges can be immediately printed. The Mobile Badger provides a rapid return on investment for any organization that needs to create and issue photo IDs.
Among benefits: remote photo capturing, verification and issuance of ID badges; end-to-end security from image and text capture to badge issuance; increased processing speed of ID badge enrollment from remote locations; reduced congestion at central badging stations during enrollment periods; and quick deployment of ID badges to emergency services personnel at the site of accidents or natural disasters
From Fargo Electronics of Eden Prairie, Minn. – the firm has entered into a strategic distribution agreement with ImageWare Systems. It establishes Fargo as a master distributor of ImageWare's off-shelf photo ID badge design and management software.
ImageWare's EPI Suite products will be sold with Fargo's Professional and Persona Series card printer/encoders and Fargo certified supplies. Fargo printer/encoders will remain on an "open architecture" platform for users who want to use their own or previously purchased software. ImageWare's identification software will also retain its open architecture and continue to work with a variety of printers, cameras and other devices