Credit Sharp Images
An average looking man wearing a dark blue hat and an over-sized parka walked into South Jersey Federal Credit Union (FCU) in Egg Harbor Township, N. J. The man waited patiently in line with about six other customers. But when he reached the teller window, he was no longer an average customer. "Give me all of the money," he said to the woman behind the counter. The robber threatened he had a gun by sticking one hand in his coat pocket. According to the credit union staff, it all happened so fast. Because the man wasn't shouting or creating a scene, the other patrons and staff members had no idea what was happening.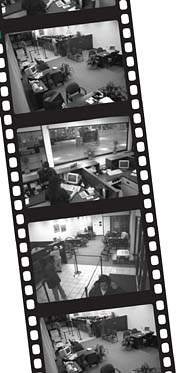 Dangerous Situation
The teller was terrified. She froze and was unable to follow the robber's demands. A customer walked by the robber and accidentally nudged him while moving ahead in the next line. This was enough to scare the attempted robber and he exited the credit union without any money. Credit union officials notified the proper authorities and South Jersey police officers and agents from the Federal Bureau of Investigation (FBI) were soon on the scene. "We hope for two things in a photograph – clarity and immediacy," said FBI Special Agent Robert Hawk who has worked bank robberies for 20 years. Thanks to the assistance of a video surveillance system from North Canton, Ohio-based Diebold called AccuTrack, this was not a tough case for local law enforcement and the FBI to solve. Vice President of Operations Donna Wilmerton at South Jersey FCU was able to immediately download a digital picture of the robber for law enforcement.
Sharp Images Impress FBI
The FBI was very impressed with the system," Wilmerton said. "The sharp images were exactly what they needed to do their job quickly and effectively" The digital photo was ready to be sent to local media outlets right before the robber turned himself in only an hour and a half after the attempted robbery at the credit union. According to the police report, the thief went home and told his brother what he had done. His brother drove him to the police station and told him to turn himself in. In commenting on the digital video system, the Credit Union's Wilmerton said that the technology is absolutely the way to go. "Employees feel much safer with the high-tech security." South Jersey FCU has installed the AccuTrack system at all cash operating facilities. "Before the installation of the [new equipment], we used standard VCR surveillance, which most police hate," Wilmerton noted. "Digital video photography is becoming a trend for the world," Hawk of the FBI added, "and I see digital video surveillance cameras becoming a trend for financial institutions in the near future." The AccuTrack system is a digital video recorder (DVR) that captures digitally signed images and transaction data in real-time from one to 24 cameras. Live and stored images can be retrieved online by authorized personnel using any standard personal computer with a Web browser. With the help of a DVR and law enforcement, other thieves will think twice before robbing a South Jersey FCU location. According to FBI statistics, there has been an increase of bank robberies of 19 percent 2001 compared to 2000, the latest year for the analysis. Robberies of credit unions are growing faster than commercial banks. Security video plays an important role in prevention and identification of robbers. Such technology is even more important when security executives realize that only about 13 percent of bank robberies end in a conviction. The number of incidents was 8,498 in 2001, compared to 7,127 in 2000. About 95 percent of the perpetrators were males in 2001, while the sex and racial make-up of perpetrators essentially did not change from 2000 to 2001. Bank robberies occur more frequently on Fridays than any other day of the week. And bank robberies occur most often between the hours of 9 am and 11 am. Nearly every bank that has been robbed had a security camera and alarms while about 88 percent also had bait money. Almost one-third had dye packs, which explode and give off a dye onto the person holding the money taken. The most popular modus operandi used in bank robberies is the verbal demand, followed closely by a demand note. Weapons were threatened almost half the time.


I want to hear from you. Tell me how we can improve.