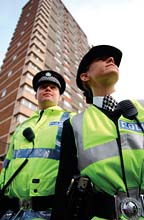 Dedicated Micros' RAID Protects G8 Summit
Dedicated Micros Inc., Chantilly, Va., announced that its division in Manchester, England, provided two RAID (Redundant Array of Independent Disks) high capacity systems to the Tayside Police in support of the force's security commitments for the G8 summit which took place at the Gleneagles Hotel in Perthshire, Scotland.
The units were used in the Tayside Police's custody suite at the Force's District Headquarters in Perth during the summit, providing a secure storage backup of CCTV images recorded on the force's existing BX2 digital recorders.
"As the lead force for the policing of the G8 summit it is important that we have the right CCTV systems in place," said Sarah Craig, senior media relations officer at Tayside Police. The force requested a RAID unit with six hard disks and 1.2 TB storage capacity, or 100 days of recording time in 24-hour time-lapse mode.



ADT President Honors Women
Mike Snyder, president of ADT Security Services Inc. joined members of the U.S. House, Senate and Cabinet in Washington, D.C., last July to celebrate women and diversity. Snyder was called on to introduce Congresswoman Jane Harman, D-Calif., a ranking member of the House Intelligence Committee. The event commemorated the release of the 2005 edition of WOW! Facts, an almanac of women and diversity.
The almanac, which is published annually, is a collection of thousands of interesting facts that show how women are changing the landscape of business and the global marketplace.



Memorial Healthcare System Receives Award
Memorial Healthcare System, Hollywood, Fla., has been named the 2005 recipient of the Lindberg Bell Award, given by the International Association for Healthcare Security & Safety (IAHSS). The award is presented to a facility that has demonstrated an outstanding healthcare security and/or safety program and has made measurable changes in their total security program over a one-year timeframe.
"It is an honor to receive this award in the first year of implementation of our new security plan," said Peter Ochinko, director of security for Memorial Healthcare System. "This is a testament to Memorial Healthcare System's commitment to providing a safe environment for our patients, employees and visitors."
The Lindberg Bell Award focuses on levels of service provided, enhancement of security program, changes or establishment of programs in the area of crime prevention, risk management, services, training, their innovativeness and the application of contemporary technology. The IAHSS has presented the Lindberg Bell Award since 2001.



Security Pros Gather for DICE Users Group Conference
Last August, the DICE Users Group gathered in Bay City, Mich. for its second annual users conference at the Bay Valley Hotel & Resort. The three-day conference included discussions about new software technologies, a vendor exhibition of products and services integrated with DICE software, and an evening of fun and relaxation dockside on the Saginaw River.
The conference, provided by DICE and sponsoring vendors at no cost to attendees, gave users the opportunity to network, exchange ideas and build relationships with DICE staff members. Users formed more than 10 sub-committees to develop ideas for new areas of integration into DICE, like voice recording, document imaging, and electronic ordering through popular vendors like ADI.
"The teamwork displayed by the customers in attendance and the DICE staff was tremendous," said Mike Simpson, CFO of Per Mar Security Services.


Prison Plumbing Guarded
Noble Correctional Institution, a medium-security, adult male prison in Caldwell, Ohio, can now better prevent plumbing system misuse and abuse by using a networked system that remotely monitors and controls plumbing fixtures. Mike Thompson, Noble's plumber, noted that the MICROPlumb® Control System from Sloan Valve Company's Programmed Water Technologies group "gives us the control to be able to restrict all or any part of the plumbing that we need to take care of, pretty well immediately" to thwart inmates' vandalism attempts. From his desktop computer, Thompson can turn showers, sinks and toilets on and off in specific cells or entire sections of the prison, either in real time or on an automatic, pre-selected basis.